Q & A with Sean Busher, founder of the City Block Project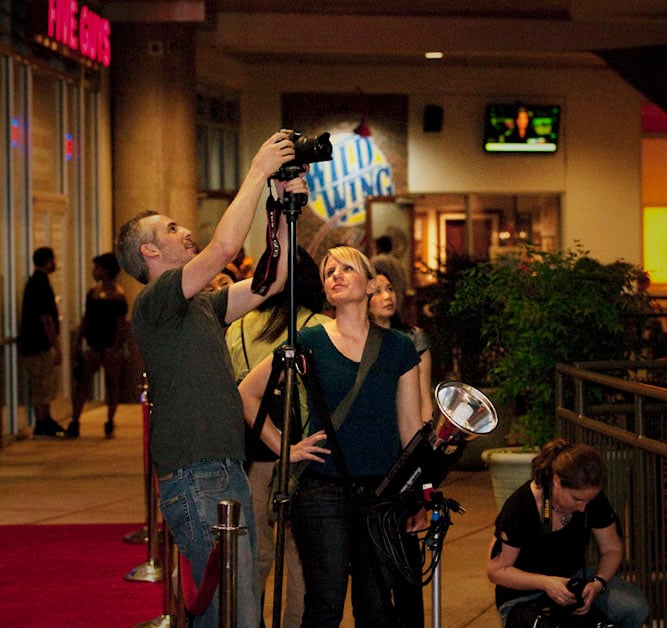 If you're passing by the NASCAR Hall of Fame today, rest assured that the swarm of photographers snapping pics on all corners of the block aren't part of some sting operation. Starting today at noon, the second annual City Block Project, sponsored by the Light Factory, kicks off. Local commercial photographer and videographer Sean Busher started the project last year, inviting local photographers to take pictures of The Epicentre for 24 hours, and to then submit their favorite shots to be peer-judged and, if chosen, hung in South End's Doma Gallery. We chatted with Sean about where the idea came from, what made him choose NASCAR for this year's subject, and what the project might look like in the future.
Where did the idea to start the City Block Project come from?
You know, I'm not really sure. I have no idea if it was just one of those sparks of creativity that comes up one day, or if it grew. I don't think the initial concept started out looking like this. I had this idea to line photographers up along Tryon to shoot at the same time, so we would get an Uptown street over the course of one second. I think this is what came of that. It was like, "what if Tryon's too long, what if we lined people up at the Bank of America block, but that would have issues, so what if it was a different block, and a different project altogether."
Last year, and this year, they can show up and shoot anything they want. In future years, we think we could pick an empty block and make something even more creative. One thought was to get a comedy troupe out there, and you have 24 hours to shoot. There's a gazillion ideas we could fit around the idea of a block in 24 hours.
How many applicants have you gotten this year?
Last year, we had 50 people. There were 181 entries. Somethign tells me we'll be at that or bigger this year.
So why NASCAR Hall of Fame this year?
I think it will make it interesting for photographers. Last year, we did the EpiCentre, and there's still a lot of great energy like that for photographers. We wanted to give them a lot to shoot, a lot to look at. There's also the All-Star race on Saturday. But the NASCAR Hall of Fame is like the newest, biggest thing in town. I thought, we gotta get in with these people. The phtoographers are all granted free access to the museum. It's open from noon to six on Friday and 10 to 12 p.m. on Saturday, and everyone can get in with their camera. We just can't bring in a lot of crazy equipment.
So what did the block look like last year? Was it a ton of photographers everywhere, or just a handful here and there?
We had a kickoff party at noon last year, but it was the middle of the workday, in Uptown during lunch, and not a lot of people coudl get there. There were a few people here, though, so we got to watch some people mill about. I came back up at dinnertime, and there were flashes popping everywhere, lots of tripods. People thought someone famous had come. I don't know what the peak time will be this year since nothing's going on at the Hall after it closes at 6 p.m. I think it'll be more architecture and skyline shots. Last year, I counted up to 20 photographers at one time.
Are there photographers that stay the whole 24 hours?
You can come for as long as you want to come. Some show up at sunset or sunrise for the lighting. Others come for a few hours waiting for the right moment, and others just come, shoot, and leave. There are some groups, like a Meet-Up group that are meeting at the Pineville light rail station,a nd they'll come together and shoot as a kind of group lesson. There's a lot of different ways that people are doing it.
How are the entries judged?
For every one entry you make, you get two votes. You can vote on any work except for your own. It's a peer voting thing, so it's not like we picked a curator. It's more about the community event, so I thought this would be a cool way to handle the voting. It's not just someone saying, "you're the winner." I thought they did a good job taking the time to pick quality entries, last year.
What are you hoping to see more of this year in the entries?
I think it's just interesting having it at the NASCAR Hall of Fame. It's both exciting and cool, but also interesting because of it being a sort of controversial use of public money and that sort of thing. I think it'll be cool to have people being out there, getting the word out. I for one am a big supporter of the museum and what they're doing with it. i was in Dallas doing a shoot close to their NASCAR track, and this lady told me that she had been wanting to go to the NASCAR Hall of Fame in Charlotte.
So this is a great way for photographers to get the word out. But it's great because they have different eyes and perspectives. It's so interesting to put people in a confined space and say, "make art," and see what happens. Some pictures came in last year that weren't even of the block. I just kept seeing this flock of white birds [painted above the bar in Mez] and could not figure out where tehy came from. I had crawled all over this block. So people are always seeing new things.