Q & A with Shawn Mullins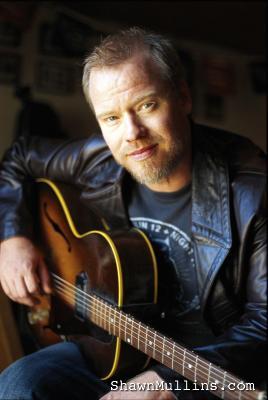 You probably remember Shawn Mullins from his 1998 hit "Lullaby." Though "Lullaby" has come and gone on the airwaves, Mullins' career has hardly been put to rest. The acoustic-folk singer-songwriter just released his 6
th
album since
Soul's Core
, a new collection called
Light You Up.
We caught Mullins as he was house-hunting in his hometown of Atlanta, just a week before
his March 19th show at McGlohon
, and found out a little more about the stories behind "Lullaby," the new album, and how he finds his style.
In your latest album, Light You Up, we hear a lot of the same style we heard in "Lullaby," where you mix spoken lyrics and a sung chorus. Is that something you've always done?
I'm not sure I'd say it's something I've always done, or that I always try to do. For some songs, it seems to enhance the "story-telling" aspect, so it's a natural fit. But I remember listening to U2 and Bono growing up, and really liking what he did with falsetto singing. That's something that's stuck with me, and something I try to incorporate into a lot of my songwriting.
You wrote and recorded "Lullaby" while still unsigned—did you foresee it becoming the smash success that it did?
Not at all, really. I started to get the sense that it would be recognized when I started hearing it get played on local Atlanta radio stations that played a lot of local bands and independent musicians. But at the time, I wasn't able to find any major label to sign with, nor did I have any interest in doing so. All of a sudden, I had my pick of labels to market Soul's Core, and quickly found myself needing an agent, a booking manager, and all that. I can attribute a lot of the success of that time to them knowing what needed to happen. For a couple years, I was the guy that came out with an acoustic guitar between the Backstreet Boys and Britney Spears. It was great, and it was interesting, but in some ways, it sort of allowed me to get to what I really wanted to be doing, which was just writing songs and playing great shows.
You probably get this all the time, but did the song come from a particular person or experience?
Oh, absolutely. I was playing a small show at a place in Los Angeles that was both music venue and a Chinese restaurant. It was sort of one of the places that up-and-coming acts would go before they could get into some of the bigger venues. There was a girl in the audience while I was playing, and she came up to me after the show, saying she really like my music, etcetera. We ended up sitting down to get Chinese food, and she just started telling me about her life in L.A., and I remember thinking what a great story it was. I went straight home and wrote it down in my journal. I still have the journal page, actually, and the first two lines are the same as the opening lines of "Lullaby": "She grew up with the children of the stars."
You grew up in Atlanta. Did growing up in the South influence the way you thought about music, and approached your own style?
It definitely did. I grew up listening to Johnny Cash and a lot of similar country, folk artists. That, as well as a lot of the blues and soul you hear around Atlanta, stuck with me when I first really started songwriting in college, and playing around town with my band…but every time I sit down to write a song, I try to do something a little different than the time before. I think that's what's made it tough for me to try to fit my sound into any particular genre. It's the way I keep challenging myself, and keeps me from getting bored.
To you, what's made Light You Up a little different from other recordings?
For one thing, we recorded it in my cabin in Georgia in under two weeks. The band all came up, and we would rehearse a song a few times, do a recording, then try it again. This really isn't how recording's done anymore. It's too expensive and time-consuming.
Also, any time I do an album, having a new set of song co-writers brings a whole new influence to the sound. For "Light You Up," Chuck Cannon, who I've done a lot of collaborating with, sat down, and he had the idea to write "I just want to light you up," and then I said we should do "I just want to turn you on," and so on. And the rest was just us finding ways fill in the verses with things people always think they want and need, with the idea that, you know, "all I want is to light you up." We were cracking each other up, coming up with stuff that rhymed, but when we played the song for people we knew afterward, everyone kept hearing sexual innuendo in the lyrics. We had a line, "everybody wants a lick of your ice cream" that we rhymed with "pipe dream." Everybody thought we were trying to suggest something, and we just thought it was hilarious.
When you're in Charlotte this weekend, can we look forward to hearing tracks from Light You Up?
Certainly. But I also like to play the older songs that everyone wants to hear. Part of my job, I know, is being an entertainer, so I like to give the audiences what they want to hear.