Q&A: 5Church's Jamie Lynch Describes Top Chef Experience, New Ventures
The chef and partner of 5Church and Sophia's Lounge returns to the Bravo competition show on March 19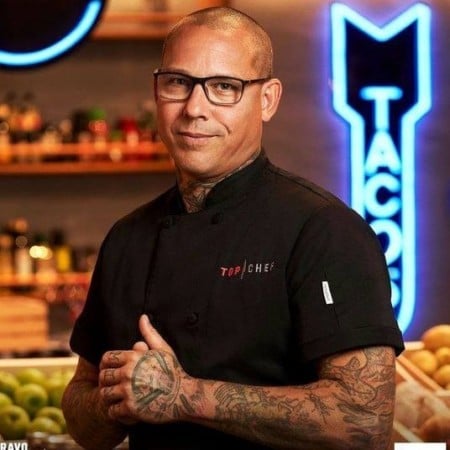 Jamie Lynch, chef and partner of 5Church and Sophia's Lounge, returns for another season of Top Chef, which premieres on March 19 at 10 p.m. After appearing on the 14th season of the Bravo competition show in 2017, Lynch left a strong impression on viewers for his decision to give up immunity. It was a first for the TV series and ended up sending him home.
The 17th season of the show brings back 14 "all star" contestants from past seasons for another shot at winning the Top Chef title. We caught up with Lynch ahead of the premiere to talk about his TV comeback, the competition, and the two new restaurants he'll open in 2020.
What made you want to return to Top Chef two years after your first appearance?
Considering how my first season ended, I definitely felt like I left something on the table. Tom (Colicchio) said it—if I hadn't offered up immunity, somebody else would have gone home. I knew I had a chance to go further than I did. All of that lingered, so when I got the call, it might have taken me 15 minutes before I called them back with a yes.
Did you ever think your decision to give up immunity on Season 14 would leave such an impression with viewers?
I expected a shocking moment, but I didn't expect to be sent home. Padma (Lakshmi) didn't like my dish—it wasn't a cooking failure, it was a taste preference. I was upset by the result, but I stand by my decision. Some viewers thought I'd given up, which wasn't the case at all. I wanted to be judged with everyone else on the bottom.
Any chefs you were excited to meet or compete against this time?
We found out (who was competing) the day we all started. The only person I knew this season was Bryan Voltaggio. I'd known of everybody, but hadn't met most, so it was really exciting. Everybody was a pro—we'd all been through this before, so we were aware of the game and how it's played.
Was it friendly?
It was mostly friendly, but there was a lot on the line. $250,000 is a lot of money. When it's time to compete, everyone's focused on the competition. When you're not, everyone's friendly and respectful.
What was the best part of this experience for you?
Competing at that level with those chefs is really what it's about. Not everybody gets to do this—being a competitor on T­op Chef means you're in a really small pool of people.
What was the most challenging part?
The clock is the worst. We don't have clocks or timers in the (5Church) kitchen. With the time constraints on show, you can't rush the creative process, and on the show you don't have the luxury of time. Six weeks of being sequestered is hard, and pulling out of your life is hard. It's a very tight ship—we don't have TVs, cell phones, radio. They give you a blank notebook when you show up. That's it.
How hard is it to disappear for six weeks of filming?
(At 5Church) we make stuff up when I'm gone, but we keep it as close to the truth as possible. My partners told people I was out west doing research and development for new projects.
Does the cooking energize or exhaust you?
Both. At the end of the day, I'm completely drained. I put everything I do into it. It's how I communicate with people. At the end of the day, there's not a whole lot left in the tank.
Is it a different level of stress than a typical night at 5Church?
Cooking in your restaurant kitchen is like cooking in your house, but when you're competing, it's hard to get used to that kitchen. It's not laid out to be easy. That's very difficult. A restaurant is designed to be very efficient.
Any new skills you learned from competing this time around?
I learned a strong pasta game from Joe Sasto. He helped me refine my pasta skills—pasta is his thing.
What have you found to be an underrated ingredient?
MSG. People have this big stigma against MSG, but it's been tested and proven that it's not linked to cancer. It's like salt—too much will give you high blood pressure—but I learned from other contestants how to use it. It's amazing how it amplifies flavor. I'm an old school purist, but after tasting my competitors' food, I saw it as next level.
Any other ingredients you always have in your pantry?
My arsenal has grown. I usually have something fermented, bubbling away on a shelf, and some leftover vegetables from the farm. And olive oil, really nice olive oils. Until you've had really good olive oil, you don't know what it should taste like.
Anything you observed during filming that might surprise us?
Padma doesn't age (laughs), although she jokes about it. She's a big time jokester; she'll get us laughing.
Any other teasers you can share?
Everybody that showed up to compete on this season is a complete baller. It's anybody's game. I'm going to do something special for the premiere, but I'll have more details to come later.
What can you tell us about Tempest in Charleston, and your new concept in Nashville?
Both should be open in 2020. I can't talk about Nashville yet, but Tempest is going to be my take on south Atlantic, sustainable seafood. Sustainability has become such a huge thing for me personally, with everything I've been learning about our food system. If we're gonna keep growing as a (restaurant) group, we need to find ways to be sustainable and keep systems where we can run these restaurant for years and years.
How will you split your time?
I've got a new team here in Charlotte that I'm training now. As we get closer to the opening, I'll spend more time in Charleston. Our projected opening is March. So I'll have a lot going on in March with the (Top Chef) premiere. But my home base is here—I live on the farm in Belmont, so Charlotte is my surrogate home. My 15-year-old son was born here. So I guess I'm a Southerner by default.