Q&A: André Leon Talley on His Oscar de la Renta Exhibition at Mint Museum Randolph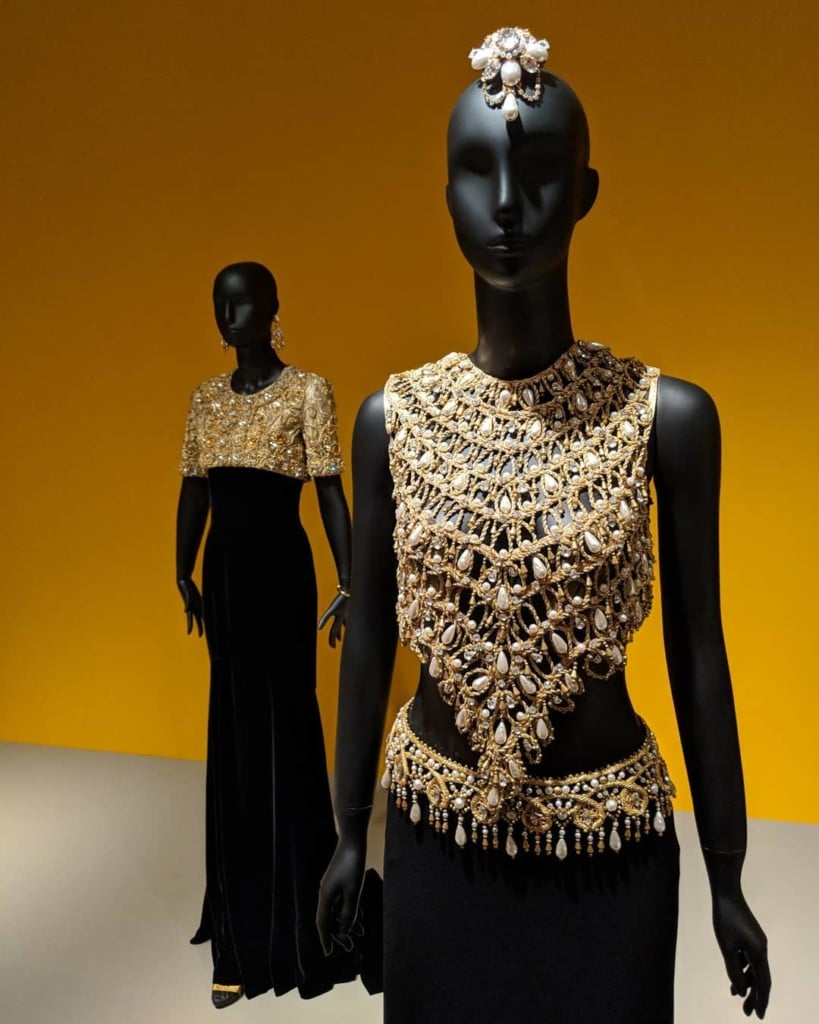 FASHION DESIGNER Oscar de la Renta was a force in his field from when he was dressing Jacqueline Kennedy in the 1960s until he passed away in 2014. A new exhibition at Mint Museum Randolph surveys that long, globe-trotting career. And the man at the curatorial helm is journalist and fashion figure André Leon Talley, a former editor-at-large at Vogue and a lifelong friend of the late designer. In a Q&A with Charlotte magazine, Talley talks about their bond and creating the exhibition The Glamour and Romance of Oscar de la Renta.
---
Charlotte magazine: You've designed the show into a few different galleries: one showing his Spanish influences, another emulating his famous gardens on his Connecticut estate, and so on. What made you curate this in such a way?
André Talley: These were very significant inspirations and themes that Oscar went through every season of his career, from when he was at (fashion house) Jane Derby, up until the moment he died. He always had the influence of Spain. He had a beautiful garden, and he spent 40 years creating it. That's 40 acres, and he took 40 years to make that garden. It was a masterpiece. These things always came back and always evolved in his work.
CM: And when did your paths first cross?
AT: I met Oscar in December of 1974, the first year I lived in New York City.
CM: This is when you were at The Factory, Andy Warhol's studio?
AT: Yes. That's where Oscar and I became fast friends and remained close for years. It was a great, long friendship. How I came to do these exhibits is after Oscar died, his family asked me if I would (lead) the exhibit at San Francisco and that became very successful, so then we did one in Houston. And now here.
CM: What was it like to navigate that close friendship when you have an editorial role at Vogue or other magazines?
AT: It was very easy, because Oscar was very sophisticated—and charming. So I knew how to balance this friendship with Oscar and his wife and be able to analyze his collections. He was a very sincere friend: It was a true friendship. And it also helped me to be friends with him, because he was such an important social designer, so the people he dressed were his friends. He knew the Kissingers, the socialites. It was important to know him and learn from his lifestyle.
CM: Well, you've also had many roles over the years, with leadership positions at major magazines and advisory roles. Are there similarities between curating an exhibit and curating what's in a monthly magazine?
AT: Absolutely, absolutely. You have to have a vision. If you're a good editor, you have to be able to hone down your work and have an eye for detail. Laying out a magazine and similar to telling a narrative story, in two pages, or four pages, or eight pages. You have to give a vision of the complete story in a compact way, like I've done here. It's all very much akin.
CM: You have to be able to "kill your darlings" in curating exhibitions.
AT: You have to be able to edit. You have to throw out dresses. They're all such beautiful dresses, but you have to throw some out and keep going.
CM: Although there have been previous versions of this exhibition, this one is customized to Mint Museum Randolph, using items from the museum's own collection or just dresses that are specific to this one version of this exhibit.
AT: Yes.
CM: That said, I want to ask you about your personal collection to North Carolina. What is it like to bring this exhibition back to this state, as someone who was raised in the Durham area?
AT: Well, I'm very proud of that I've been able to sustain myself. I'm 69 years old; I'll be 70 on October 16. I'm proud I've been able to bring this to North Carolina, and I'm proud to be from here. I grew up in Durham, though I wasn't born in Durham. I was born in Washington, D.C. I went to public school in North Carolina before I went to Brown.
And this is my favorite version of this exhibit. I feel it's like a a jewel snuff box. This is a distillation of the finest work of Oscar de la Renta, and within these three galleries, I've honed in the true depth and breadth of Oscar's wonderful sense of romance and glamour. You have dresses from as early as '67, dresses from 2013. It spans his career, and I think he would be pleased. This was an act of love, and I have to say that this is my best show.
---
The Glamour and Romance of Oscar de la Renta runs through July 29 at Mint Museum Randolph.