Q&A: Anthony Foxx's New Mission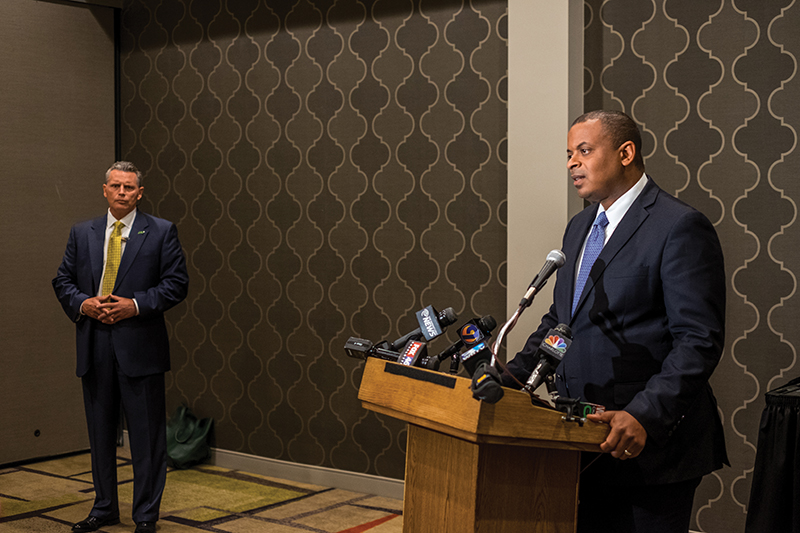 IN MARCH, U.S. Transportation Secretary and former Charlotte Mayor Anthony Foxx returned to Charlotte to launch a national dialogue about building road, rail, and other transportation systems that connect communities to economic opportunities. While he was here, he sat down for a one-on-one interview with Charlotte magazine in which he discussed that plan, federal funding for Charlotte's contentious streetcar project, and the prospect of coming home.
Charlotte magazine: Last year, the General Assembly capped state funding for individual light-rail projects at $500,000. Given that, what are the long-term prospects for the full build-out of the CityLYNX Gold Line streetcar, deep into east and west Charlotte?
Anthony Foxx: You know, when the (LYNX) Blue Line was initially put together (before 2007), there was an expectation of a 25 percent state match, and with the legislature's recent actions, that expectation has kind of withered away. Now, hopefully, they'll walk back off of it, but if they don't, you still have a traffic problem here. My view back when I was mayor was that, reading the tea leaves, I sort of expected the state to come that way on projects like the streetcar, and my view was that we had to make the trip anyway. We'll see what local government does. But I think it's very important for local government to keep plugging away, because the traffic problems aren't going to get any better.
CM: The most recent federal budget included $75 million for the second phase of the Gold Line. How much of a role did you play in making sure that money was there?
AF: It's interesting, because as I was leaving as mayor, I made sure that we set aside the matching dollars to give us a shot at a federal grant. The process of getting the FTA (Federal Transit Administration) side of the grant is a very technical process … and if it goes through those paces, then eventually the recommendation will come through. That was a process I didn't need to steer at all.
CM: Do you anticipate possibly coming back to Charlotte when a new administration takes over the White House in January?
AF: This is always my home, and I have no idea what the future holds in terms of immediate steps after Washington. But, you know, I always endeavor to hang my hat here in Charlotte somehow. So we'll see.
CM: What was your goal in launching this speaking tour, and why now?
AF: Because, primarily, we're going to be replacing and rebuilding a lot of our infrastructure, and if we cut and paste what was done in the 1950s and early 1960s, I think we're going to miss an opportunity to do some repair work in communities and to reattach communities to their central business districts, to their economic centers—and frankly, build infrastructure in a way that allows communities to realize their economic potential, which in fact helps people. … Because there are some people who may feel like their voices don't matter, and I'm trying to convince them that they do matter.
CM: Where do you hope this conversation goes?
AF: It needs to go to the state capitals, the city council, and county commission chambers. … I think our transportation system does reflect what we think about places, and if we think places and people matter, we should be doing things differently than we did 50 or 60 years ago.
---
This article appears in the June 2016 issue of Charlotte Magazine
Did you like what you read here? Subscribe to Charlotte Magazine »
---