Q&A: Behind the Scenes at Speedway Christmas
What it takes to pull off this regional tradition at Charlotte Motor Speedway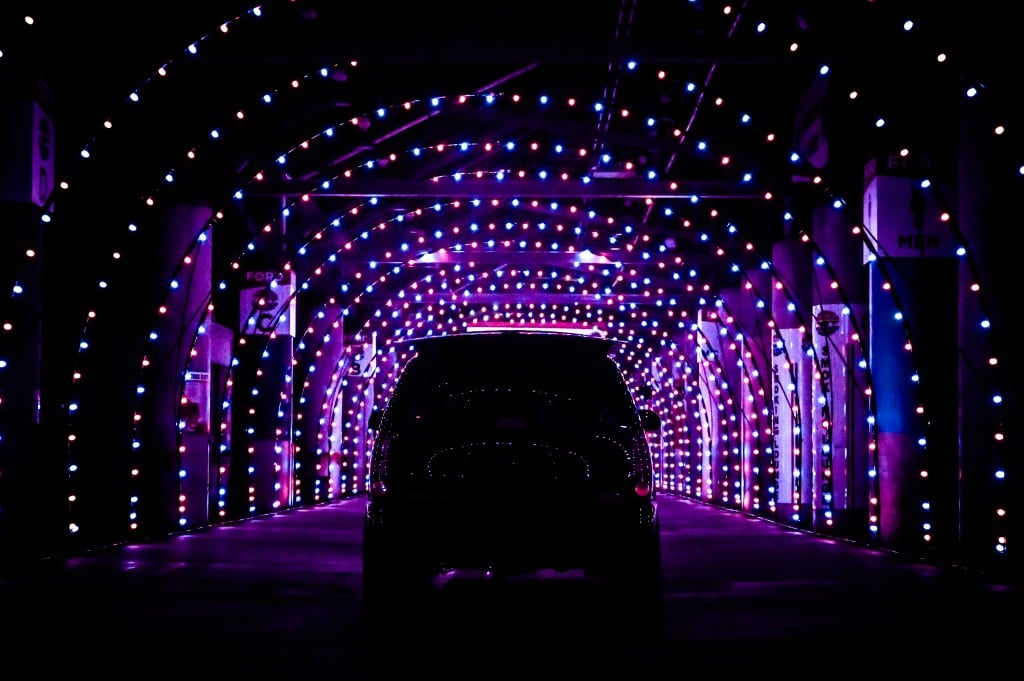 It's crunch time for Garrett Carter. As Charlotte Motor Speedway's vice president of operations, Carter oversees Speedway Christmas, Concord's drive-through event, which uses roughly 4 million twinkling lights and dancing displays timed to holiday music. We caught up with the magic maker in mid-November to learn about what goes into this annual tradition, now in its 13th year.
Charlotte magazine: For people who haven't been, what's the event like?
Garrett Carter: Speedway Christmas is a drive-through show that features decorated lights and displays on the track's road course. You end up inside the karting track and eventually stop at our Christmas Village, where Santa and food vendors wait. There's also an indoor movie theater, fire pits, and rides, so you're not in the car the entire time.
CM: What is the setup process like? When do you start?
GC: We started setup two days after the Roval 400 race on October 9, unpacking lights, setting up the areas we knew we could get started on. A crew of about 10 works in multiple shifts for about five or six weeks leading to opening night. Setup goes in phases. Most of the infield synchronized portion is first, followed by static displays at turns 1 and 2.
When we've gotten as much of the infield set as possible, crews move to the concourse and start on displays around the outside of the track. At the same time, we're working on Santa's Workshop. The last 10 days or so is the final setup, filling in lesser-lit areas and testing everything.
CM: What makes you most nervous in the weeks leading up to and during the event?
GC: We have daily track rentals booked all the way up until Tuesday of opening week, so there are portions of the road course that we are unable to set up because we have cars on track for driving schools. As of midday Tuesday (November 15 this year), we can start setting the course and finishing all the large displays. It's crunch time.
CM: This isn't like a few decorations in the attic. What's the scope of your storage?
GC: We have a few buildings behind the facility and about 10 mobile storage containers, like tractor trailers and shipping container boxes. It's very important to store it all away correctly, because then it's a lot easier to set up.
CM: Does the theme change from year to year?
GC: A lot is the same, but a good portion changes yearly. We partner with Shadrack Christmas Wonderland, and they bring a new set of displays for the road-course theme. Last year's theme was "Twelve Days of Christmas." This year, it's "Santa's Mountain."
For the light show, we do something new and different every year. We have to update lights every five or six years because of technology. We want it fresh, and we want the newest and greatest stuff. So even though it may look the same in some spots, the newer technology works best with our live music.
CM: The show is synchronized to music on 101.3 FM. How does that work?
GC: Shadrack specializes in synchronized light shows, and we brought them on about seven years ago. They really brought our show up to a neat, fun experience. You can see the displays from all angles as you drive through, so they do a good job of making sure you miss nothing.
CM: What would surprise people?
GC: If people were to come out and see it during the day, they wouldn't see a light show. The amount of wire and drop cords, data cords and overall supplies we use to put the show on—it's pretty fascinating. We've used over 30,000 zip ties to fasten everything to structures. We estimate 14,000 feet of cords. We are talking about millions of lights. In the middle alone, there's a 75-foot RGB Christmas tree linked to the show.
CM: Any past hiccups or funny mishaps?
GC: We're not perfect, and sometimes people run over things. We pick on each other if someone does that. There's one internet cord that connects the show to the computer. If you sever that, you may lose half the show. That's happened before. Sometimes rain will make it short-out, but it's usually pretty well oiled.
CM: Any insider tips?
GC: We encourage people to come on Thursday or Sunday, since Friday and Saturday nights are the busiest and can create wait times of three to four hours. People run out of gas. Cars overheat. We've seen it all. But people have to come when they can, so if it's a busy night, make sure you bring drinks and food.
Speedway Christmas runs now through Sunday, January 8, from 6 to 10 p.m. and is closed on December 24.