Q&A: Hodges Taylor Marks 40 Years, Heads to New Space
Owner Lauren Harkey on what the move to Railyard Southend means for the consultancy-gallery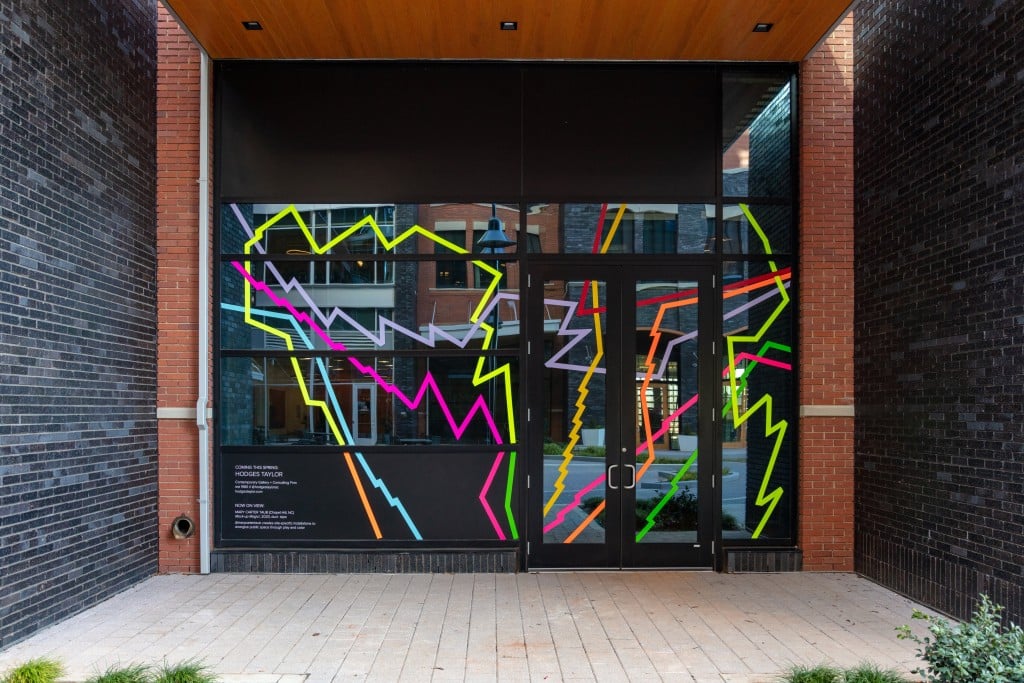 Lauren Harkey, a 33 year old Charlotte native, was working in family law when an opportunity arose to become part-owner of Hodges Taylor Art Consultancy. She jumped. This professional track seems incongruous, but that same problem-solving, solution oriented approach from her attorney past is the perfect fit for doing what she does—not to mention the two degrees in art history and former role as president of the Young Affiliates of the Mint, the museum's millennial-focused social arts group. When it comes to choosing a path, Harkey says, "there's a lot of serendipity and following trails that intrigue you, especially the ones you have a certain competence in."
In its 40th year, Hodges Taylor is the oldest gallery in town and still holds tight to what it knows: partnering with Southeastern artists working in new ways with storied materials, like fiber, ceramics, sculpture and painting. Harkey will expand on what founders Dot Hodges (retired 2011) and Christie Taylor (retired 2018) grew, which was part-gallery and part-art consultancy. She has big plans, most importantly the opening of a new space in June:
Your professional trajectory hasn't been linear. Can you talk about your career path and how you got to a solid place in the art world?
I have undergrad and graduate degrees in art history and also a law degree. I was practicing law after returning to Charlotte but saw that my dreams aren't as interesting when they aren't around artwork. I kept a foot in the door to the art world, and lo and behold, an opportunity came knocking that was a dream job for me.
How did you get connected to Hodges Taylor?
The full story is that my dad took Christie Taylor on a blind date in college. When I started studying art history at Chapel Hill, my dad encouraged me to connect with Christie and Dot, the original owners of Hodges Taylor. I got to know them tangentially, and we kept up with each other through the years.
Did you ever think you would eventually own their gallery?
When I came back and was settled into Charlotte, Christie reached out to me to discuss legacy planning and the future of the gallery, and very generously and trustingly asked if I would become her business partner. It is amazing to have such a stake in something you believe in from day one. I came on board in 2016, and the official handing of the baton was in 2019.
What are some of your hallmark achievements at Hodges Taylor?
As things evolve and change I find a way to make my own aesthetic mark. Opening the new space is a big part of that as well as making new connections with emerging artists—a term that is not age-dependent. But it's also about the little things, like this morning when I helped install a commission by a young artist who hadn't had a large-scale corporate experience. Orchestrating that and seeing it come to life was so satisfying. Those little moments, in the aggregate, are awesome.
What do you look for in an artist, and what generally catches your eye?
For me, it's an initial response to artists being clever about process and material, especially in a spatial and architectural sense. We do a lot of work with sculpture and fiber, or people that are using materials in an unexpected way.
Tell me about your new space and what you plan to do with it.
We wanted to stay in the neighborhood, so we are moving into the ground floor space of The RailYard Southend. I've been working with a great team of creatives and getting into the nitty-gritty with contractors and construction, and I'm hoping to open early June.
It's a symbolic and a beautiful luxury for me to put my stamp officially on a new space. A huge percentage of the conversation about art is placement and placemaking, and so it's a fun, self-reflexive process to design the space to make sense for what I'm doing now in terms of programming.
How do you balance the art consultancy and exhibition sides of your gallery?
The exhibitions allow me a platform to introduce a new artist or new part of their practice to clients I consult with. It's important to let people physically be around art to feel more comfortable with it. So I'll continue both because they present complementary opportunities.
What are your plans for the future (both immediate and long-term)?
In the short term, we'll continue with rotating exhibitions and consulting. I've been methodical regarding additional commitments in that I want to be authentic to those we already have. I'm using this upcoming opening as a re-introduction of what we were, honoring the history of our artist partners by telling their stories in a more focused and robust way. In the long term, let's see if we can make this roll another forty years.