Q&A: Jeni Britton Bauer, Owner of Jeni's Splendid Ice Creams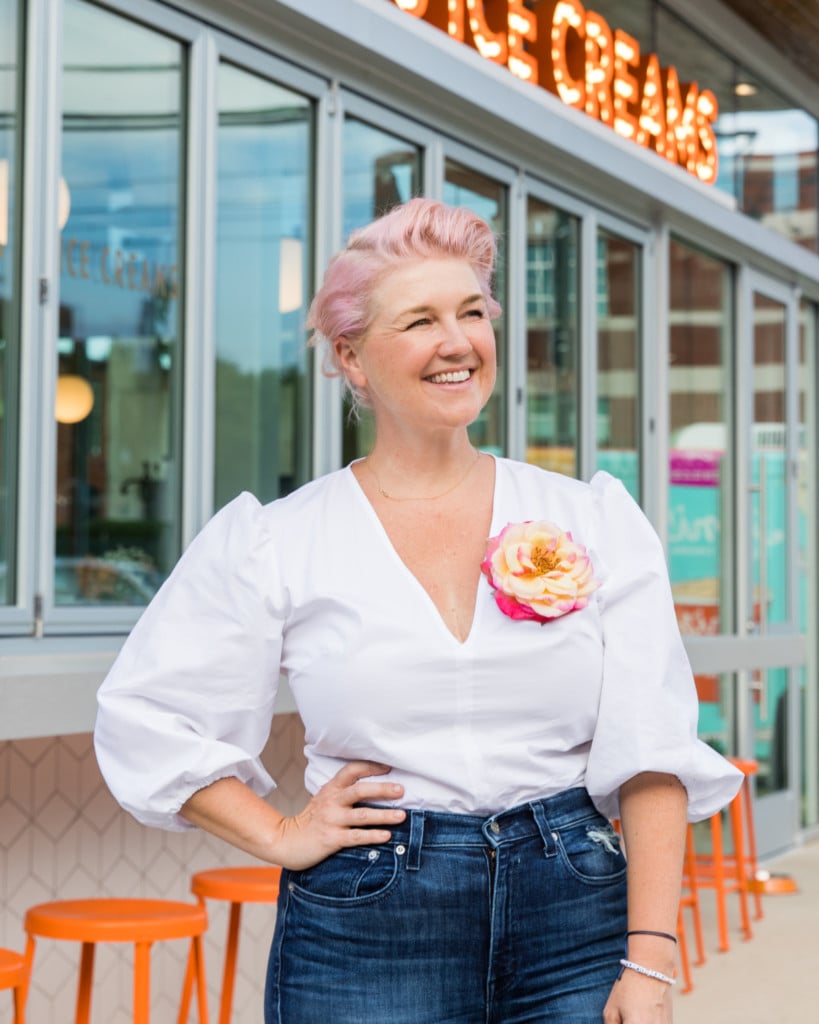 Jeni Britton Bauer is the "Jeni" in Jeni's Splendid Ice Creams. The self-proclaimed "ice cream nerd" turned a single ice cream stand into a chain of 36 shops across nine states, and her first cookbook, Jeni's Splendid Ice Creams at Home, became a New York Times bestseller and won a James Beard Award in 2012. We caught up with the entrepreneur and ice cream maker on her stop in Charlotte before the grand opening of her newest location in NoDa to chat about flavors, formulas, and her first memories of ice cream.
Congrats on the newest location! How does it feel to be expanding in Charlotte?
We're so excited to be opening in NoDa. The district is creative, historic, inspiring— we felt like we had to be there. And we've got some fun new flavors coming up that we can't wait to share with the community.
Why is ice cream such a universally loved dessert?
Ice cream is more than just a wingman for other desserts. Or a carrier of junk food. Nothing hides in ice cream. It tastes exactly like the ingredients it was made with. It's not that way in baked goods. In pastries like cookies and cakes, a lot of the flavor bakes out when it cooks. But ice cream is all about scent and flavor. I think it's sublime.
What's one of your earliest memories of ice cream?
Eating ice cream right before bed with my grandmother. She always made fresh strawberry freezer jam. We would serve it on vanilla ice cream.
Tell me about your ice cream making process.
We are ice cream nerds—rearranging the molecules and putting them back together, taking out the stabilizers, and instead using the power of milk proteins to build texture. We do this for every flavor. There is no one set base recipe—every ice cream has its own formula, depending on the ingredients.
Any flavor fails—or happy accidents?
One of the first experiments I did was add oil of cayenne to store-bought chocolate ice cream. It was cold and sweet, then burst into flames in the back of my throat. I was hooked. I knew from that moment on the potential of ice cream. Still today our ice cream is all about taking the feelings of scents and how you can experience that with every bite of every flavor.
How many hours a day do you spend in the kitchen?
About an hour, on average.
How much ice cream do you sample on a daily basis?
About a scoop (usually tasting small amounts of a few different flavors we've got in the works).
What's your favorite food (other than ice cream)?
Cauliflower with a tiny bit of butter and some sea salt.
What's the most surprising thing about you?
I love libraries and public pools. Ancient and modern. They are my happy places. I seek them out in every city.
Does that ever inspire new ice cream flavors?
When I read Marie Antoinette: The Journey, the book that Sofia Coppola based the movie on, I was developing flavors. Her Austrian roots took me to thinking about Riesling. That was when I started making pear Riesling ice cream. We also did toasted brioche with a butter and jam. When I read that book, my mind was almost experiencing it through scent and flavor.
What would you say is your most under-appreciated ice cream flavor?
Lemon buttermilk frozen yogurt—in summer we make it with blueberries! It's gorgeous!
What's the best part of your job?
Serving ice cream. Loving people. I work hard each day on projects—from new flavors to artwork or service training—but I channel all of my love for our customers and community into that always. Then when I get out to stores, I love to see people interacting with it and learn from their reactions.
Chocolate or vanilla?
Depends on the day!
Crunchy topping or sweet drizzle?
Both—at the same time.
Cup or cone?
Absolutely CONE!
Sundae or parfait?
Parfait.
Cake or pie?
Pie, warm, a la mode.
Sweet or savory?
Sweet!
Coffee or tea?
Coffee. Copious amounts.
Dog or cat?
I recently became a "dog person" and am in love with my two-year-old chi-weenie (named Joey) and my six-month-old pug (named Pug).
More money or more time?
This is not even a contest! Time, Time! Time!!!!!
Facebook or Instagram?
I love instagram! Follow me @jenibrittonbauer.
Jeni's will hold a grand opening event on June 27 at the NoDa location, 416 E. 36th St., Suite 400. Doors open at 7 p.m., and the first 50 guests get Jeni's swag. There will be free ice cream for everyone, and Jeni will be on site greeting visitors.
Look for Jeni's third Charlotte location to open in Park Road Shopping Center, in the space that used to be Va da Vie Gelato, with a soft opening in the next few weeks.