Q&A: Laura Ashley President Penne Cairoli
Fort Mill-based Laura Ashley turns 65 this year. Cairoli shares what homeowners get wrong about decorating with fabrics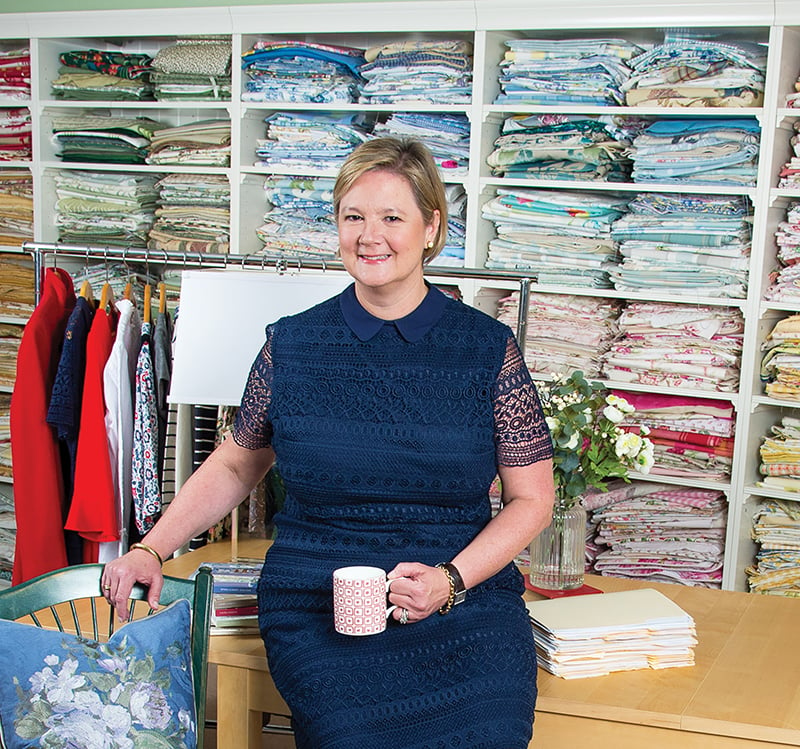 ONE CANNOT reference the rise of patterned fabrics in the home without remembering the floral prints of Laura Ashley. This heirloom-inspired brand has been synonymous with classic design since its inception in 1953, when Laura Ashley and her husband, Bernard, first began printing scarves from their kitchen in London.
Penne Cairoli, president of Laura Ashley, has lived in Charlotte since 2000, and, unsurprisingly, her home is casually peppered with Laura Ashley prints. Cairoli signs off on every design the brand puts out—including the new celebratory and commemorative collections launching this year. Learn more about the woman who started as a simple fan of the brand and rose to her place as president of Laura Ashley 30 years later (edited for clarity and space).
---
Charlotte Home + Garden: Laura Ashley is celebrating 65 years—wow! How have things changed or stayed the same?
Penne Cairoli: To stay relevant with the consumer, we have to change with the times and the trends and the colors and things like that. But, overall, I would say that the Laura Ashley brand has stayed the same as the original thought process of the Ashleys when they founded the company—and that was simply for people to be able to purchase items, both for themselves and for their homes, that would accent their wardrobes and their homes, without sticking out like a sore thumb.
CH+G: What kind of professional background do you have that attracted you to a home and fashion brand?
PC: Ironically, none. I was an economics and business major, and I started working for Laura Ashley as a shop girl. I just loved Laura Ashley—I grew up in Laura Ashley, my mother dressed me in Laura Ashley—I was a fan of the brand. It was by the good luck of the company being willing to train me that, after they saw I had an interest in the product, they trained me on fabrics and understanding decor. And then I became their interior designer for all of the Canadian stores, to start with.
I was sent to London and learned how to design, and we would go to the factories in Wales to see how we printed our fabrics, wove our fabrics, made our dresses. I really understood from the ground up what our product was. From there, I moved to the head office in Boston at the time, and I was a buyer, I was a product developer, I managed all the stores at one point (as regional manager). I've done a lot of different things within this company, which has kept it fresh for me for 30 years.
CH+G: And how long have you been the president?
PC: I think it's been six years. And Laura Ashley moved to Fort Mill in 2001, so we've been here almost 20 years.
CH+G: On the Fort Mill note, and with you living in Charlotte, do you have any favorite home furnishings stores that you frequent in the area?
PC: Yes, absolutely. There's a really cute store called the Southern Nest in Indian Land (S.C.) that I love, if you have an eclectic mix of furniture. Also, Transformations in Park Road Shopping Center, Cotswold Marketplace, Classic Attic—one of my favorites to hunt, Sleepy Poet—of course, and B.D. Jeffries.
CH+G: Could you share trending fabric patterns or prints we might see in 2019?
PC: The whole animal look is very big. It can be an animal print, like a leopard, for instance, but it can also be the actual animal. It's trending across both the adult and juvenile categories. The other side of that is a very graphic, almost wood-blocked design. Simple designs, simple colors—it's very, very modern and not as overly designed.
CH+G: Do you have any advice about what people get wrong about using fabric in the home?
PC: It's a matter of owning your decision. If you decide that floral is your look, you have to own it. I think a big misconception is that you can go completely plain and just put a piece here and there. Committing to curtains or committing to wallpaper, for example—that's a big trend we see—you don't have to commit to four walls in your room, but you can commit to a statement wall. But, owning it. If you put it a pattern on a wall, then you should be putting it on the curtains, probably. And that, I think, people sometimes get a little bit scared. The beauty to modern wallpaper is that it comes off the walls, and it can even be painted over if you want to. It's not as big of a commitment as some people fear.
CH+G: Which is kind of funny, since home decor enthusiasts are the ones who want to change up the looks so frequently.
PC: Totally! I'm one of them. There's ways of mixing together, though—we love mixing the old with the new, so that's one of the reasons some of my favorite stores are vintage stores. Mixing it together doesn't mean you have to redo a whole room. A pillow is probably not going to cut it. But, being able to put new curtains up, or new rugs, or reupholstering a piece of furniture, I think that's the key to being able to add newness without completely committing to a home renovation.