Q&A: Nora Orton of Charlotte Storytellers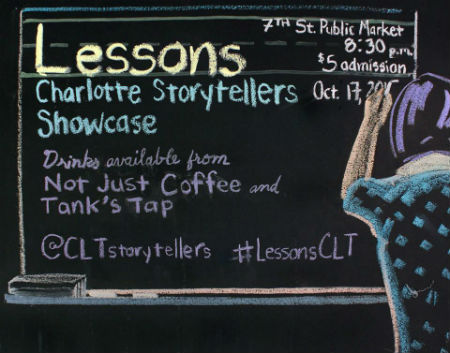 NORA ORTON moved to Charlotte only a year ago. But things have happened quickly with Charlotte Storytellers, a group she co-founded last spring. "I didn't really have any kind of easily accessible network here, no friends or affiliations with schools or religious institutions," Orton says. "Storytellers is something I did in college [at Brown University]. Here, I just met the right couple of people and blasted it out. We had 13 people at our first meeting, and it just kind of grew from there."
Now, Charlotte Storytellers' recurring showcases have a new venue: 7th Street Public Market. It's a big move for the group, which is garnering new sponsors and, for the first time, charging admission (at $5, cheaper than typical uptown entertainment). The concept is simple: Storytellers hit the stage with anecdotes under a unifying theme. Last week, it was "Lessons." Ahead of the show, Orton answered three questions about their process.
So how does this work, with the storytellers involved?
There are different levels. We want to be really accessible, but we also have this aspect of an elite, polished performance. Every week we meet, and we tell stories surrounding a theme. Some do off-the-cuff stuff, but people come in with work that they've already done or any idea of a story they want to tell. We take the best stories from that. We heard a story about the nerdy table in the cafeteria. Then we heard a story about a teacher, and they were both really good. So we said, "Maybe we have a school-related show?" But after that, we ended up with the idea of Lessons.
Some people go to the meetings and never tell a story. Some people and write something every time. Saturday's show was the next level commitment, where we meet more and workshop each story. I've probably heard these stories 5 to 10 times. Sometimes, we get compared to The Moth. The Moth is awesome, and we love it. But it's mostly people who have these incredible stories or professional writers. We want to create an amazing performance from people who are just people, and like to tell stories.
What kinds of people will be telling stories this time?
The first story will be by a bike courier, a former Jimmy John's delivery boy. There's a suprising overlap in the Venn diagram of storytellers and Jimmy John's bike messengers. They are adventure-seekers, and they acquire a lot of stories in their job. [Ramya Mahalingam] is an industrial designer and one of the other founders. We have a teacher, who teaches high school chemistry. For our last show, I think our age ranged from 22 up to 45. That's something we want to keep fostering.
Some people say they don't want to hear the thoughts of a 20-something. Is that a difficulty for young storytellers?
It needs to be about more than just you. Because you're not important. I'm sure your mom thinks so, but you're not, objectively. A lot of it is adding in "I think … " That can be hard, I think, because you're taught in persuasive conversation to not say that.
But I think—ha, "I think"—that with my story, I'm 23, I'm coming to this lesson about sexuality, and saying maybe nobody knows the answer to these things. It's about universal experiences. You'll have someone say, "I'm not a woman, but I know what you're saying." You need that uncertainty aspect. Sometimes, you can tell when a story gets prescriptive when people put on their TED Talk voice.
---