Q&A: Patty and Alex Funderburg on Supporting the Arts
Donating to the arts does more than make a city pretty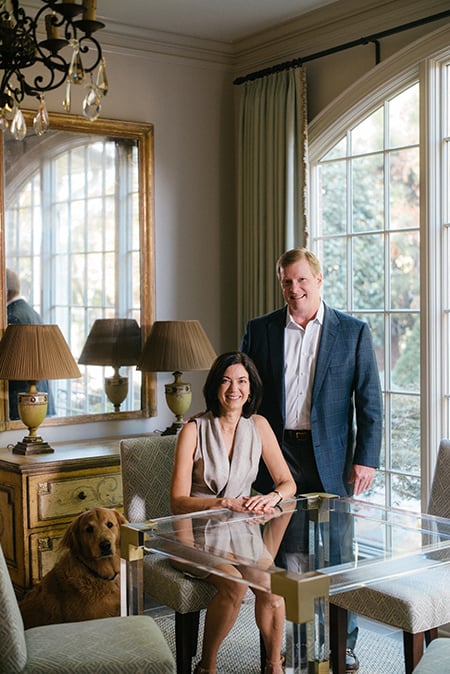 WHEN PATTY AND ALEX FUNDERBURG moved to Charlotte as bankers in 1989, they were too busy raising young children to prioritize supporting the arts. But as their family grew, their community roots deepened. The Funderburgs appreciated their own early exposure to the arts, and they vowed to continue that tradition for Alex Jr., Caroline, and Emily.
Nearly 30 years later, the Funderburgs are prominent arts patrons in Charlotte. Patty, 55, is president of the Mint Museum Auxiliary, a fund-raising and volunteer organization that has donated more than $13 million to the Mint since its inception. Alex, 54, is a managing director for Bank of America's leasing division who sits on the board of the Charlotte Ballet.
---
Charlotte magazine: Tell us about your work with the Mint Museum Auxiliary.
Patty Funderburg: The auxiliary is a phenomenal organization of women whose primary focus is supporting the Mint. We offer a wide range of social events that expose people to the Mint, like the Room to Bloom and the Fall EnrichMINT series. We are able to make substantial contributions based on the money raised at these events. Our endowment allows us to buy art for the permanent collection. We have such a dynamic group of women who benefit from the history of volunteering and educating the public about the Mint and its role in the community.
CM: How did your personal interest in art begin?
Alex Funderburg: My parents were very much engaged in the arts, both in our community of Rockford, Illinois, and in Chicago. My dad was on the board of the Arts Institute (of Chicago), and he was also involved with the Ravinia Festival, which is where the Chicago Symphony Orchestra plays in the summers. My mom was on the women's board of the Lyric Opera for 25 years. They were both big supporters of local arts in Rockford.
CM: What did you think of the arts scene in Charlotte when you arrived in 1989?
PF: Having moved from Chicago, the arts scene didn't seem as vibrant. We did support the Mint Museum's Young Affiliates program, but our involvement was limited. We were finding art activities, like the Lollipops Series that the symphony offered for kids, and the Nutcracker ballet, and other programs geared to families. But we just didn't have time to explore beyond that.
CM: What was the first serious arts activity you committed to?
AF: We first became more involved in the community through other issues, like education and health care advocacy. That led to positions on the boards of several health related nonprofits, and then to the board of Novant Health. From there, somebody recruited me to the board of the ballet. It's probably the one art form I wasn't exposed to as a child, but I've really gained an appreciation for it. It's a great cross of beauty and athleticism, and it reaches people across all generations and demographics.
CM: When did your personal financial support of the arts begin?
PF: Early in our careers at the bank, we participated in annual giving through the Arts and Science Council. When we participated in different activities like the symphony, we chose to support by buying season tickets and then through providing financial support. We explored various projects and whether they were sustainable, and how they engaged with the community. That's how we made our decisions about what types of donations to make.
CM: How would you advise others to start contributing to the arts?
PF: I think it's important for people to find out what their passion is, what they enjoy, and what they use most often. Almost all of the arts organizations in the city have special exhibitions, special programs that you can underwrite. There are many entry points for deciding what makes sense for you.
CM: What about people who feel the amount they could donate wouldn't really make a difference?
AF: Something to remember is that nonprofits really benefit from talent. The volunteer piece is every bit as important as the money. To me, that's actually the best way to figure out where you want to put your financial support. You get to learn about the organization's mission and whether it's in alignment with your ideals and goals.
CM: Why should people support the arts?
PF: I think Charlotte's arts scene has been a central part of its progressive development. A strong arts community attracts bright, talented, creative people to our community. The texture it gives the community attracts employers, who consider it along with things like education and health care. The arts connect all sectors of a community towards a common goal of growth and enlightenment.
RACHEL JONES is a freelance writer based in south Charlotte. You can reach her at rjconsults@gmail.com.
---
THE ARTS: GIVE MORE
THE ARTS EMPOWERMENT PROJECT
This organization was founded to help children whose lives have been affected by violence, abuse, and neglect by giving them the chance to explore the arts. It's a nonprofit collaboration of the state Department of Juvenile Justice, social services departments, the guardians ad litem, and Mecklenburg County's 26th Judicial District. The project screens kids referred by the court, and then matches them with a range of arts-related activities, from painting to cooking.
CHARLOTTE ART LEAGUE
For more than 50 years, CAL has highlighted the important role that the arts play in building a vibrant, diverse community. It's a nonprofit organization that offers emerging and professional artists, educators, and patrons a mix of open working studios, classes, and community outreach programs. There's also a public gallery with work by Art League participants.
JAZZ ARTS INITIATIVE
Jazz is an important part of Charlotte's history, and the Jazz Arts Initiative wants to preserve that legacy. Patrons and passionate jazz fans who participate in the initiative fund quality jazz education, attend community performances, and support local musicians.