Q&A: Retiring CPCC President Tony Zeiss
Leader reflects on nearly 24 years of growth, influence, and making Charlotte home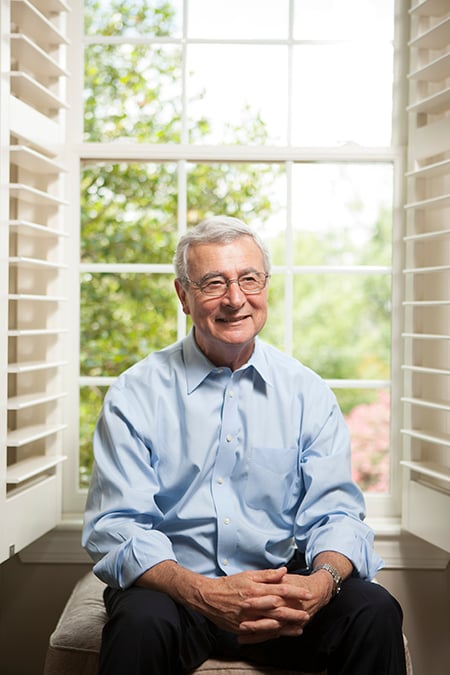 TONY ZEISS announced in February that he'd be retiring after nearly 24 years as president of Central Piedmont Community College, effective at the end of July. At the request of the college board, he decided to stay on as president until CPCC secures his successor sometime this fall. Under Zeiss's leadership, CPCC became a major civic player in Charlotte and a national leader in workforce development—almost doubling its enrollment, expanding from one campus to six, and more than quadrupling its annual operating budget. We spoke to Zeiss, 70, in May, about his legacy and what's next.
---
CM: What are your post-retirement plans?
TZ: Well, my wife and I don't intend to leave Charlotte. We love Charlotte. It's our home. … We'll continue to be very active on community things we care about—in my case, I'll continue to lead the Global Vision Initiative, where we're developing assets for the 29-county metropolitan region. We've got 185 key leaders representing that region and 15 community colleges working together to make sure we're providing the training employers need.
CM: It sounds like a lot of the things that you plan to do post-retirement aren't very different from what you're doing now.
TZ: No. But I don't have the stress of 24-7. "Stress" is probably not the right word. … But you become the personification of the institution you lead. And that's fine—I've loved it, and it's been a privilege every day. But to all things there is a season, and it's just time.
CM: Why have you stayed so long?
TZ: You have to stay awhile to get anything done. We set a vision and strategic plan back in 1993, right after I got here, and we have followed that plan. Our vision was to be the nation's leader in workforce development; we are. We began to turn our focus from being accessible, which we are, to student success, making sure they're completing the goal they were after.
And then building six campuses? That takes time.
CM: You're originally from Indiana, and you came to Charlotte from Pueblo, Colorado. What about Charlotte made it feel like home to you?
TZ: I had a little concern coming at first, 'cause I thought, "Well, that's getting into the South," and you think of Richmond and Charleston, and they're all sort of bluebloods, and they don't let outsiders in. Charlotte's not like that at all. It's very inclusive. They welcome people with new ideas and backgrounds other than their own. So if you want to become influential and make a difference, you can do it here.
CM: In 2014, CPCC raised a record $63.9 million—more than double the goal— from its five-year capital campaign. What are CPCC's fundraising efforts like now and for the near future?
TZ: Some people will give you a five-year pledge, so you want to let them get through their pledges before you go back and do another one. We're concentrating on annual campaigns and on other key donors that we know have the capacity and interest to do more.
CM: What's your proudest accomplishment?
TZ: It's that we—collectively, the college—have put so much focus on student success and student completion. And that's not always degrees—40 percent of our students don't even want degrees. They want a welding certificate to go to work, or they want to get their GPA up so they can transfer to the university. So we can't be measured the same way universities are measured. … You could say, yes, we've built five new campuses, we've transformed the central campus, beautiful buildings, and we're proud of all of those. But I'm most proud of the faculty and staff for seizing on this notion that it's all about student learning and student success. That's what we're about.
---
This article appears in the September 2016 issue of Charlotte Magazine
Did you like what you read here? Subscribe to Charlotte Magazine »
---