Q&A: Rodney Stringfellow on the Making of 'Manhood'
His short film has traversed the festival circuit. This month, it comes home to Carolina Film Festival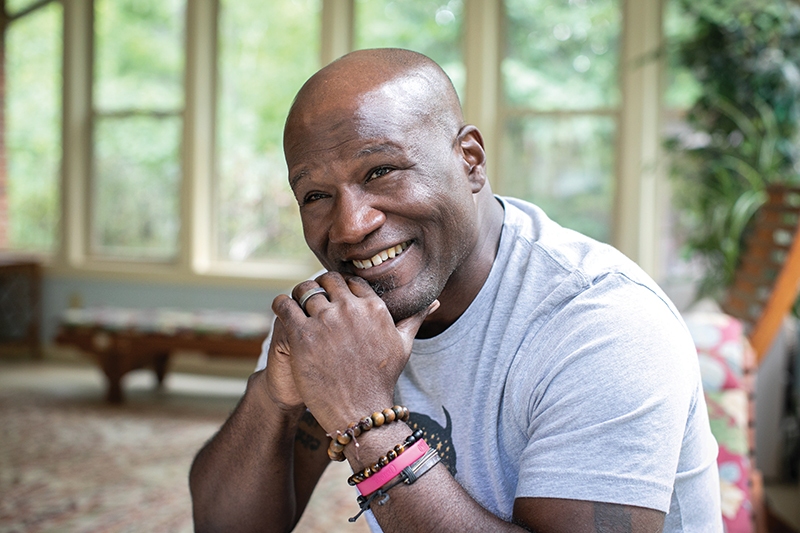 FILM COMMUNITIES in Charlotte and beyond are taking notice of Rodney Stringfellow's edgy new film, Manhood. Although the 57-year-old screenwriter's credentials center on children's television—including two Emmy nominations for his work on Nick Jr.'s The Backyardians—his 11-minute drama, which he wrote and directed, has received acclaim at a slew of independent film festivals. It won Best Dramatic Short at the Arizona International Film Festival in April, and in June, Stringfellow was included in the American Black Film Festival Emerging Directors Showcase. Closer to home, Manhood won Best Regional Film from CineOdyssey and was shown at Joedance Film Festival in August. This month, see Manhood at Carolina Film Festival on October 19.
Charlotte magazine sat down with Stringfellow in July at Pineville's The Dive N, a 1950s-themed diner about 30 minutes north of Stringfellow's home in Mineral Springs, where he filmed Manhood. Over a cheeseburger, fries, and a chocolate milkshake, he talked about Manhood and Charlotte's film scene.
Charlotte magazine: You and your family moved from New York City to Charlotte in 2010. How has the film scene in Charlotte changed over the last decade?
Rodney Stringfellow: When my wife and I were talking about moving here, there was all this talk to make a studio out of Eastland Mall. Showtime's Homeland was here, Hunger Games was wrapping up shooting—there was all this production here. And then the state legislators got rid of the tax incentive (in 2014), and everything just dried up. I was quite heartbroken about that. I'd still like them to bring back the incentive so the film industry can have a resurgence here. But one of the things I love about the film community here is that I've met so many filmmakers who love film and make film because they're artists, whereas in New York, every film they did or pitched was a stepping stone to greater influence, greater money, and it was all so calculated. The film community here is unbelievably supportive. There's all these film meet-ups—like the Carolina Film Community, which is the gateway that introduced me to all of these different filmmakers.
CM: What's the most fun you've had with a script?
RS: Writing for The Backyardigans because there wasn't a hardcore curriculum. (The producers) wanted it to be an adventure; they wanted it to be fun. They liked stories that took strange turns and twists.
CM: Even at 11 minutes long, your film takes some strange turns and twists, centering on one family's ritual. What's significant about this?
RS: The father and the sons had built up this mythology around the ritual of manhood, and it wasn't real for anyone. Although I love the magic of ritual, it doesn't have the power to give you anything—you have to discover who you are. Losing the illusion is more than a fair trade-off for the truth.
CM: Manhood is only the second film you've directed. How do you like it?
RS: My strong suit is screenwriting, so I came about directing in a roundabout way. I met the wonderful guys of Strawhouse Pictures, out of Rock Hill, and they asked me if I wanted to direct my film. I am not a subscriber to the auteur theory; I rely on the expertise and craftsmanship and the artistry of my friends. I love the community coming together to create something. So I directed and wrote Manhood, but it's our film, our work. They made the film stronger. I'm so happy the film has been successful in terms of getting into festivals because I want to reward all those people who gave me their blood, sweat, and tears—that their work is seen.