Q&A: Soufra Filmmaker Thomas Morgan
His latest project punched his ticket to Cannes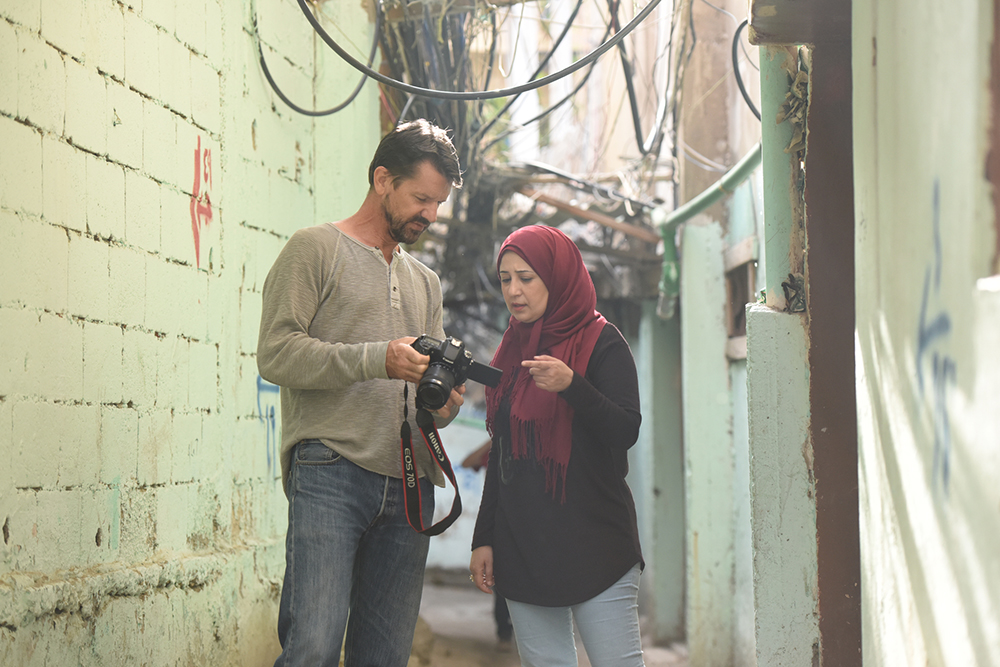 THOMAS MORGAN'S JOURNEY from real estate and green energy guy to indie filmmaker is itself a film-worthy story.
The Charlotte producer's latest project, Soufra, screened in May as an official selection for Positive Cinema Week at the 2018 Cannes Film Festival, the internationally renowned, invitation-only showing of newly released films, held annually since 1946 in Cannes, France. The festival is regarded as one of the most prestigious preview venues in filmmaking. Morgan's feature-length documentary showcases social entrepreneur Mariam Shaar and her sisterhood of refugee women, as they seek to secure a food truck for their fledgling catering business inside Beirut's infamous Bourj el-Barajneh refugee camp.
Morgan's success comes after producing and directing the critically acclaimed and award-winning documentary Waiting For Mamu, which chronicles one Nepali woman's struggle to educate and house orphaned children of imprisoned mothers, and Storied Streets, a documentary about homelessness in America. Susan Sarandon served as executive producer on both films.
We asked Morgan about the chance meeting with Sarandon that turned him into an accidental filmmaker, the voyeuristic nature of documentary filmmaking, and what nomadic life has taught him about himself. (Interview edited for clarity and length.)
---
Charlotte magazine: Your first documentary film, Storied Streets, was released in 2014. How did it come about?
Thomas Morgan: Quite by accident. I was selling and developing real estate and financing it, so I was also doing green energy finance in Charlotte. While I was always interested in film, I'd never made one. I had written a couple of screenplays and one got optioned. It touched on the issue of homelessness, and after a reading, one of the readers engaged me in a story about his personal experience with homelessness.
It became very clear (that) my ideas of who was affected—drug abusers, criminals, indigent—was very misplaced, and this could happen to anyone. A few weeks later, my daughter was supposed to have a play date with a friend, and I said, 'Well, you can go to Justine's house or Justine can come to our house.' My daughter said, 'Dad, I can't go to Justine's house. Justine's family lives in the Walmart parking lot.' That really bothered me, and I began to explore the issue through research with the National Coalition for the Homeless, and began to think about how I might be able to shed light on homelessness.
Very shortly after, I was in New York quite by chance doing an investment bank deal, and one evening was invited to a party where several Hollywood-types were in attendance.
I was talking to this guy and he asked me if I was in the film business, and I said, 'No, no. But somebody should do a documentary on homelessness in the United States.' I started telling him these things that I knew, and he said, 'Well, maybe you should do it.' It just gave me pause for a second, like, 'Yeah, why couldn't I do this?'
I said, 'Well, what about you? Are you in the business?' He said, 'Yeah. I'm a documentary filmmaker.'
I was talking to Morgan Spurlock. Susan Sarandon walked over, and Morgan said, 'Thomas is going to do a documentary on homelessness.' She said, 'How do I help you?' I jokingly said, 'Well, you could be executive producer or do some voiceover or something.' She said, 'Of course.'
I went home, and I said to my wife, 'I know this sounds crazy, but I want to quit my job, I want to downsize our entire lives, and I want to go for it. I want to try it.' Surprisingly, she said, 'Of course.' I was like, 'Are you sure?' She said, 'Well, how're you going to tell your kids to chase their dreams if you're not willing to chase yours?'
CM: Describe the relationships you form with your subjects when telling such emotionally charged stories.
TM: There's a voyeuristic, weird mentality about this filmmaking. With Waiting for Mamu, we went into the prisons and interviewed some of the mothers, who talked about their lives and what they hope for their kids. Then we basically showed the story of Pushpa through the eyes of these kids, who saw her as their mother, and told their story, as well.
We used that film to raise the money to build the first orphanage to international standard in Nepal, and built it twice. We built it, and then it fell due to the earthquake in Nepal. I had gone back a couple times before, but I was the first one that went back after the earthquake. I took tents, and I took water purification.
Pushpa told me, 'You were the first one that came back. You were the first one who made me smile. You were the first one who made me know it was going to be OK.' As a filmmaker, you're like, 'Oh, my God, I'm just a guy making movies.' I came because I thought this is what any solid human being would do, but then you realize the relationship that you have to the subject, as well, and that never leaves you.
CM: What's the common thread among these three films for you?
TM: I guess I'm the champion of the underdog. I love the underdog's story. I was an underdog. I grew up in a very blue-collar town, the middle of Michigan.
CM: What have you learned about yourself since becoming a filmmaker?
TM: I always grew up with this idea of what success looked like. I had this idea that success was a bunch of money and a big house and all of these material things. I think I've redefined that for myself, and I think I've redefined it for my kids. I think there's a happiness quotient that's somewhere between destitution and absolute wealth that is the most important, and when you're doing work that you feel is purpose-driven and you're doing things that you think you can make a difference, that's where I find this place in my life that I'm the happiest.