Q&A: Staging The Book of Liz at Charlotte Art League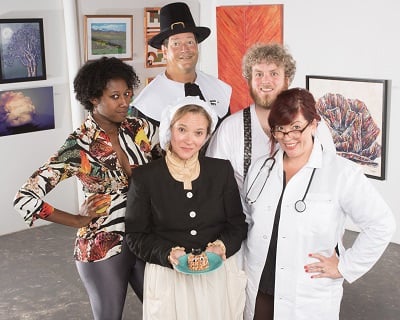 The Book of Liz, running Aug. 6-22, marks the second play staged at Charlotte Art League, a non-profit organization and gallery that typically promotes visual art. Donna Scott Productions presents the tale, written by Amy and David Sedaris. The Raleigh-bred siblings have made waves in both the theatrical and literary worlds, and this zany comedy is in line with their separate reputations for the quirky and subversive. Donna Scott, who produced the play with Glynnis O'Donoghue and Tonya Bludsworth, participated in the below Q&A about the show. Here, she talks working in a nontraditional space and how cross-medium collaborations are changing Charlotte arts. Grab tickets to The Book of Liz here.
How long have you been doing shows with the Art League?
This is our second show. We've had the relationship with them since February of this year.
What have you learned since that first show?
Well, we had a lot more of an idea of what we're dealing with, in terms of lighting and those types of things. One of decisions we've made since then is that we wanted an extra week. And it was actually the Art League that asked us for the extra week. That's when I figured out we were selling a lot of art. I had said to [Charlotte Art League executive board member] Cindy Connelly, "When this is all over, I'd like to get a list of what's happened, because I think we're selling a few pieces of art." And she said, "Oh, you're selling art. I can't wait to tell you how much."
Well, with this production, you picked a story by Amy and David Sedaris, with those North Carolina ties. Was that aspect important to you, in picking a play?
Well, North Carolina is important to us, but so are female playwrights, in particular. We also love comedy, and we're huge fans of Amy, for sure. I loved David first, and then I found out he had this wacky sister. Glynnis O'Donoghue, my production partner, found the play. And we were immediately like, "Wow, this is it." It's 90 minutes, with an intermission. Usually, with something that's 90 minutes, you don't have an intermission. But we wanted people to get up and check out the gallery and look at stuff. It gives people an opportunity to get another drink and just hang out for a bit. And it helps us reset and catch our breath. Because it's a fast show with a lot of changes.
That seems like it would be difficult in this kind of space. What are the challenges in working outside a traditional theater?
One challenge in a nontraditional space is that there are no dressing rooms, and this show requires a lot of dressing. We've been trying to figure out how we can create areas where people can do a quick changes, and if we happen to run into an artist, we don't want to terrify them while changing. Actors don't care, but we have to worry about startling other people. That's something that's been sort of a moving target for us, and we've tried to put up screens.
Has that situation happened yet, with an artist?
Oh, yeah. It totally happened during Shiloh Rules. I saw someone and said, "I'm sorry, just give me a second!" I'm hiding behind a piece of furniture in the back at the time. And it's sort of mortifying for them, so I had just yell out to warn them. This time, we were lucky, because one of the artists gave us half of his space. Prior to that, we were sequestered in the kitchen area.
Shared space between artistic mediums is a growing trend, it seems.
I'd like to think think we're building a model. The thing with a show especially like this, we can get people to a space. So we become a destination. And if you have a space that's open, that's very attractive. I think that's something business owners with spaces can think about. They're doing something similar with Skyline Charlotte. [Editor's note: Read more about that here.] That's a transitional space, but they are specifically getting people in that space because they want people to get used to going there, when they have the new building. And of course, places like NoDa Brewing have hosted Chickspeare and other things.
I think sharing space is the way to go in the future. Because as Charlotte continues to grow and change, space is going to becoming only harder to find and afford. There are a lot of things popping up, and not just theatre—pop-up markets and pop-up restaurants. People can see that it's mutually beneficial, if it's done correctly. You can introduce your products to a whole new crowd, and I hope this continues.
Have any collaborations have happened with artists outside of theater, because of your use of the Art League space?
For one of the portions of our set, we needed a drawing. So Raed Al-Rawi did a set painting for this particular show. He created this aquarium, which is very much a part of the story. I think being around other creative people fuels artists. Just like for us, being around that art and rehearsing among it is energizing for us. There's just something about that. I think they feel that way about us, too.