Q&A: Suffolk Punch's Chef Rob Corley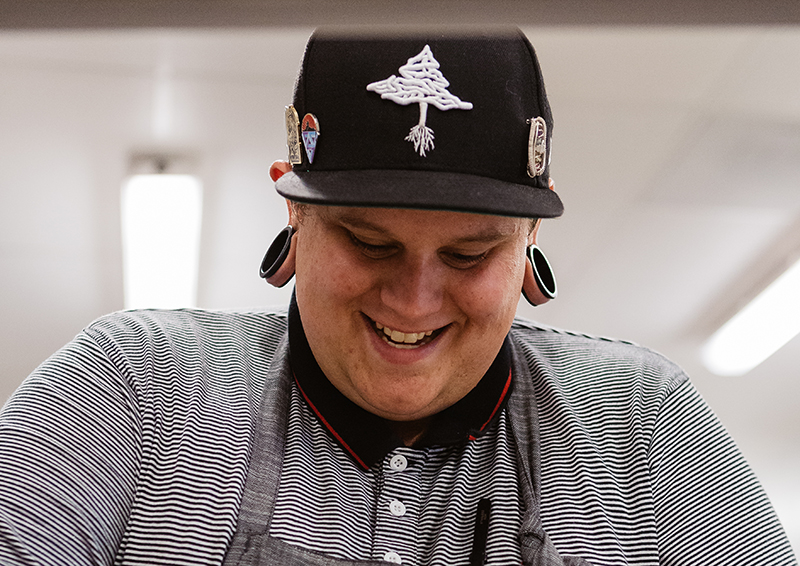 SUFFOLK PUNCH HASN'T EVEN had an official grand opening yet, but it has still been packed almost nightly. Behind the combined restaurant-brewery-coffee shop's seasonal menu is Chef Robert Corley, sometimes known as RJ. He's a Johnson & Wales graduate who grew up in western Maryland, where his parents owned a restaurant supply store. He left Charlotte for bigger cities after graduating from school here in 2008, coming back to town a few years ago for family. You might recognize him from his time working with Chef Aaron Rivera down at Tapas 51. We sat down with 30-year-old Corley to get to know him—and his menu—a little better.
CM: When did you decide to become a chef?
Chef Robert Corley: I started working in kitchens right out of high school—typical high school jock scenario. I graduated high school; I had a shoulder injury so I wasn't able to play in sports, and didn't really know what else I was going to do. I started working at Outback Steakhouse, I started as a busboy and I pretty much immediately fell in love with the high pace, the speed. It reminded me of being on the sports field. I decided I wanted to be a dishwasher as opposed to a busboy, because I just saw the guys in the back under the high pace and everything and I thought it looked awesome. Then I moved to a prep cook role, where I learned what it really takes to work in kitchens.
CM: What are the highlights on your resume?
RC: I moved down south to Charlotte, went to Johnson & Wales, graduated in 2008, and I worked in small restaurants around town trying to get line cook experience. Then, I opened BLT Steak as a line cook here in Charlotte in 2009. The executive chef (Aksel Theilkuhl) and Laurent (Tourondel, owner of BLT) himself at that time took me under their wings. I moved from Charlotte in 2010 went to Philadelphia and worked for (James Beard Award-winning restaurateur) Stephen Starr for a little over a year, at which point I moved to Chicago to open BLT American Steak Brasserie. We ended up closing doors on that. I went to work with Mercadito Hospitality in Chicago for a while. … I went to become chef de cuisine (in New York) at STK in the Meatpacking District restaurant. I went there originally as executive sous chef, to work under my mentor Aksel Theilkuhl—the executive chef from here in Charlotte. After a couple months of being there, they moved him to the midtown location and I took over the meatpacking one.
CM: What brought you back to Charlotte?
RC: I moved down here in the middle of 2015 to take care of my grandfather. Last year, I started working with Aaron Rivera over at Tapas 51—I was helping him out. Mike Long (sous chef) from The Asbury introduced us. … In the winter, Aaron decided he wanted to go back out west to be closer with his family. The first person I interviewed with was Dan Davis (owner of Craft and co-founder of The Suffolk Punch). He told me a little bit about what they wanted to do (at Suffolk Punch) and I was pretty much sold instantly. Then I met (owners) Collin and Dana and Glen and honestly I couldn't be happier with this team that they've built, with them in general.
CM: What direction did you get in terms of creating the menu?
RC: At first (Davis) just let me talk, and I told him about the style of food I do and what's important to me. The guy who was my mentor, Aksel, all those years working with Laurent and everything, we only ever did seasonal food. I learned that at a young age as a cook, you only cook what's in season. You don't cook corn in December because you're not going to get good quality corn in December, and it's always about giving the patron the best quality food. So seasonality was always a big thing for me, it was what my mentors always taught me, I'm not the kind of chef that seasons a lot. You're going to see hard spices in there, but that's for our pickling. I'm a salt-and-pepper type guy, and I talked to Dan and he told me after I spoke, yeah that's pretty much exactly what we're trying to do: seasonal, locally sourced.
CM: What inspired the dishes?
RC: I'm sure you know about Collin and his wife Debbie and their child's eating situation (and severe allergies). That really touches me just because food, even before I was a chef, my family owned a restaurant supply store and restaurant in West Virginia. I remember going in there as a kid, and everything just looked like a toy to me. I used to ask for spatulas and chef hats as Christmas presents because It thought it looked cool. There's a photo of me in a deep fryer as a baby. So just that little girl, some of the stories they've told me about her first blueberry experience and only being able to really eat chicken and bone broth. That's awful, and anytime I can in any way help that girl be able to taste more food, have more experiences… I'm a guy who really lives his life based on experiences. That's what I think this is all about. When people come in to eat, I think it's all about the experience, from the food to the steps of service to what the restaurant looks like and everything.
CM: What's your favorite dish on the menu?
RC: The carrot dish will always hold a close place in my heart because that last place that my mentor and I worked together at, we did that same dish, but we wanted to be very avant garde. So we were trying to do like 10-13 different preparations of the carrot. Carrot's also just one of my favorite vegetables. I think it's got a lot of a different availability to prep with it and do different techniques with it. And I think that I love that a lot of people abuse it, and it gets passed over peoples' heads in a way. I think it's just a really good piece of produce.
The burger means a lot to me just because I've fought having a burger on the menu for a long time in my career. I thought I was too good of a chef to do a burger. It was that young arrogance, and I think I've matured a lot as a chef. I think it's like, you've gotta have a burger on the menu. How are we going to make the best burger? I spent a lot of time with farmers talking about what I want them to put in the grind, what the ratio's going to be in the grind. And then, I don't like brioche. I think that it's not very original to have that, so I've been working with our local artisanal baker.
CM: What was it like creating the just-a-touch menu for folks with dietary restrictions?
RC: It's another one of those things where it's like, for me, I wouldn't necessarily say it's a challenge, but it's something new. I'm a French-trained chef. We want to add butter and salt and everything. Working with Collin, we didn't want to call it clean eating because everything else on the menu, then what is everything else? Dirty? So it was Monday night, me and him were at The Asbury cranking out a conversation—that's how things change in this world, by discussing it. It may be heated, whatever, but that's how things work out. And on my way home—I'm a huge Jerry Garcia and Grateful Dead fan—and Touch of Gray (came on, and) is one of my favorite songs, so just a touch. I think it conveys what we want to get across to people and it also for people who have these eating restrictions, it allows them to not have to feel like they're being a pain in the butt to anybody. They don't have to look through the menu and be like, 'Oh, can I do this without this?' It's just there for them.
CM: How do you make your food stand out against all the local or farm-to-table restaurants opening?
RC: It's not a bad thing that more and more restaurants are doing seasonal food locally sourced. If anything, that's a great thing. That shouldn't be a thing that makes you stand out. That's just doing the right thing. That is like, well, everybody is looking both ways before they cross the street now. … I think it's good for the community, it's a good thing for our patrons, it's a good thing for the famers. Everybody is starting to become more conscious about what they eat, and that's a great thing. That's how we make the world better. Maybe in 30 years some of these new gastrointestinal diseases and stuff that are around will start to decline. As chefs are becoming more educated on the importance of sourcing responsibly, and not using GMOs and stuff like that, I think it's a good thing. There's enough out there for all of us to do well. I think the way I would stand out is in my plating techniques, the boldness yet simplicity of my flavors. I want people to come in here and think that it's just bar food or whatever and my menu reads very simple, so that way nobody's put off. Nobody's confused about what they're getting. Then when the dishes come, I want people to be really like shocked and awed, like oh my gosh, this is brewery food now?
CM: How do you describe your food?
RC: I don't like to use these farm-to-table terms, things like that. I like to think what I do is different based on the fact that I'm a different guy, I'm kind of a crazy guy. I guess you could say it's seasonal, it's modern American, we do have some modernist techniques but not really, that's why I hate to use that term. I'm not Grant Achatz (chef/owner of Alinea in Chicago) back there, I'm not making green apple balloons or anything. That's just not my scene, I don't think it's right for this demographic. I would say, I would describe it as sourced responsibly, non-GMO, no soy—we're really looking out for the benefit of our patrons, but making something for everybody. The guys that want to come in here and have a 34-ounce steak with bone marrow foie gras butter, black truffle crust, we have that, for the person that can't eat something like that, we have the smoked tomatoes, the lightly touched cucumbers and stuff like that.
CM: How often will the menu change?
RC: As often as possible. That's one of the things we want the restaurant to really be based on—constantly evolving, always changing. One week my farmer might have an abundance of this, the next week they might not. So we go with what the farmers have in aviaablity. We of course change with seasons, we will also do a small balckboard specials that might be run for three days or five days.
In my experience as a chef, sometimes chefs can really fall into these ruts almost, as you're doing the same thing. It's a good way to challenge myself, challenge my sous chefs, challenge my line cooks, so they can always be constantly evolving and becoming better cooks, better chefs, better people. That's what it's all about for me.