Q&A: The Filmmaker Behind Ric Flair's '30 for 30'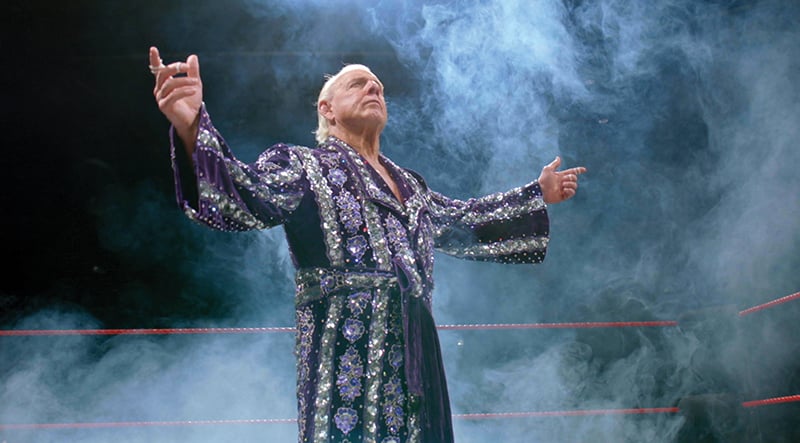 CHARLOTTE-BASED FILMMAKER Rory Karpf had just wrapped up a project for ESPN's successful "30 for 30" documentary series when network executives asked him to consider making another movie for the series. Specifically, the Worldwide Leader wanted a project about Ric Flair, the flamboyant Charlotte wrestler known for his signature catchphrase—"Woooooooo!"—and his extravagant behavior out of the ring. The result, Nature Boy, promises a revealing look at Flair (his real name is Richard Fliehr), who now lives in Atlanta. "There's some shocking revelations in the film, from the amount of women he slept with to his lifestyle back then to admissions about wrestling," Karpf says. Nature Boy also hints at Flair's difficult family life, including his relationship with his daughter, who wrestles in the WWE under the name Charlotte, and his son, Reid, who died of an accidental overdose in 2013 in a SouthPark hotel room. The "30 for 30" film premieres November 7 at 10 p.m. on ESPN.
Charlotte magazine: How did this project come about?
Rory Karpf: Flair's management team, which is also based in Charlotte, they were talking to ESPN about doing a '30 for 30.' I don't know how serious the talks were going. I actually interviewed Ric for a film I did called I Hate Christian Laettner and he was just in one sound-bite talking about what makes a good villain. But it got a big reaction online and ESPN noticed that. I grew up a huge wrestling fan. I'd been pushing them for a while to do a documentary on wrestling, and they brought up Ric Flair and said, 'Would that be interesting for you?' I said, 'Definitely.' I reached out to his management and got the ball rolling.
CM: As someone who grew up watching wrestling, what surprised you about who Ric Flair is today?
RK: He has a saying about paying the price, and I think he really did pay a price for being this character in real life. In the world of wrestling, especially in the 1980s, you're not really sure what's real and what's not. Most of the characters were just that—characters. But the Nature Boy wasn't a character. The Nature Boy really was Ric Flair. He really was doing all this stuff that he was saying on TV, and just doing it for decades. At the same time, his family suffered for it. I found that any kind of greatness comes with a sacrifice. If you want to be great at something, there usually is some kind of price to be paid. I think for Ric, which gets detailed in the film, what made him great could also be his greatest weakness.
CM: Flair's story is very much a Charlotte story, so much so that his daughter now wrestles under the name Charlotte. What role does the city play in his life? How did that affect who he is today?
RK: She kind of learned from him what to do and what not to do. Unlike him, she doesn't really party at all. She's kind of addicted to working out, perfecting her craft. We get into in the film that nobody really expected her to become a wrestler. He had two sons. His first son, David, never really materialized as a wrestler. Those two have kind of a rocky relationship. His youngest son, Reid, passed away. It's kind of a sins of a father story, and (Reid) really wanted to be his father in many ways. There's only one Ric Flair. Then Charlotte got into wrestling, maybe at first to honor her brother or gain her brother's approval. In time, she's become her own person, away from her dad. She really stands out.
(Flair) settled his roots here at a time when a lot of people weren't coming to Charlotte. He came here in the late '70s, early '80s. I think that's because Crockett Promotions was based out of Charlotte and he came out of the NWA (National Wrestling Alliance) at the time. You know, Charlotte was really the center of Southern wrestling at the time. He wound up settling here and lived here for most of his life. He now lives in Atlanta. His son passed away here, you know, so I think there are probably a lot of bittersweet memories for him here.
CM: Flair wrestled in a different era, the '80s, where things were much flashier, much more absurd. What was that like?
RK: I think it's just the opposite. There was no absurdity. They kind of protected professional wrestling like the CIA back then. We have clips in the film of Ric on Sally Jesse Raphael and they ask him if wrestling is fake, and he's comparing it to any athletic endeavor. They really tried to protect the business back then, and didn't want to let the secrets out. If someone called wrestling fake, I mean, those were fighting words. Now, with the internet, everything's kind of been let out of the bag. Everyone knows they're performers. Wrestlers today break character all the time, including Ric's daughter. She's a 'bad guy' but is always signing autographs and is very friendly if you went up to her in an airport. Whereas Ric, when he was a bad guy, he was perfectly a jerk in public. He didn't want to let that get out. Ric didn't wrestle for WWF (the World Wrestling Federation) in its heyday in the 1980s. That was considered probably its top promotion in the '80s, with Hulk Hogan and Macho Man Randy Savage, and the Ultimate Warrior and those guys. Ric wrestled more regionally for the NWA, WCW (World Championship Wrestling), which is based in the South, in Charlotte and Atlanta. But he was still on par fame-wise with those other wrestlers. He still managed to kinda break through, which is really a testament to him.