Q&A: Tony Bennett on His New Tour, Family, and Arts Education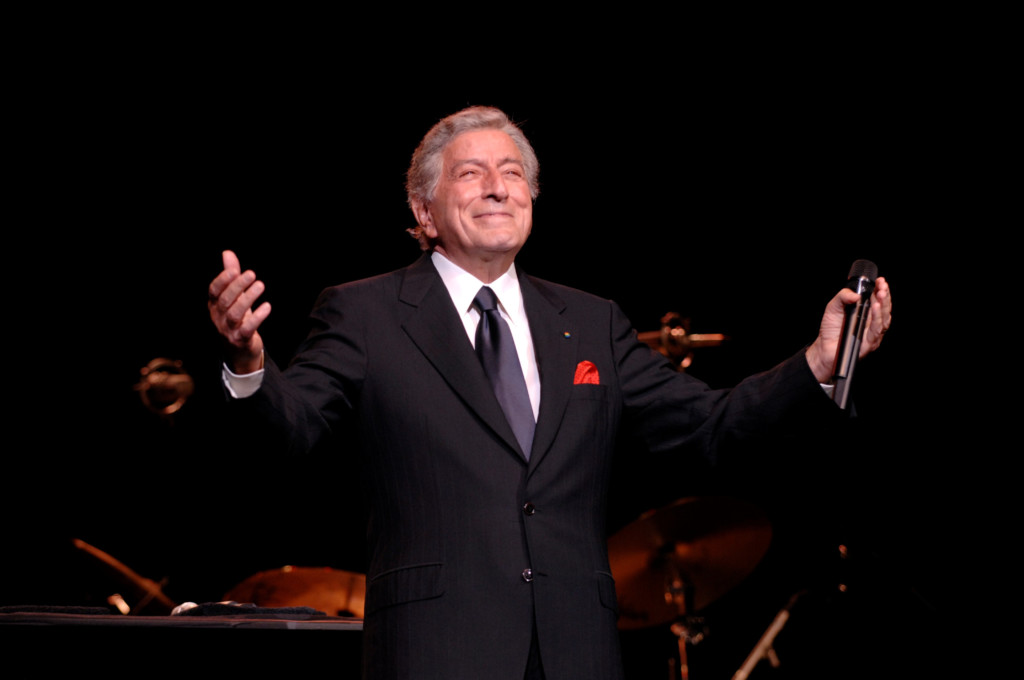 TONY BENNETT HAS BEEN a force in jazz and pop since the 1950s. The 91-year-old brings his legendary stage show to Charlotte for a date at Ovens Auditorium (March 15, tickets here). We had the chance to correspond with the singer ahead of his appearance in the city. (He preferred to talk via email, so we obliged. He's Tony Bennett.) The legendary singer talked about his nonprofit work, family, and how his passion for painting plays into his better-known passion for performing.
---
Charlotte magazine: Tony Bennett Celebrates 90 just won a Grammy in January, and the line-up of collaborators and genres was quite diverse. Are there any musical genres you haven't explored yet but plan to?
Tony Bennett: I love jazz and the Great American Songbook so bridging the jazz (and) pop genres is still what I want to explore. When working on the Duets projects, one of my hopes was that having all these artists singing popular standards would serve to introduce this music to their fans who may not be familiar with some of the songs.
CM: Members of your family continue to have prominent roles in your music. Can you talk about the importance of family in your long career?
TB: Well, I love the fact that all my children are creative. My son Danny manages my career, my other son Dae is the producer of my albums, my daughter Antonia tours with me, and my other daughter, Johanna, has established a film festival for first-time directors. So they are all very artistic people and having them involved with my career directly is very meaningful to me. My granddaughter has also worked with me as she is a wonderful photographer and has taken photos for my albums.
CM: Your tour heads to some areas of the country that have their own musical history. How do you decide the setlists for your tours? Do you tailor it, depending on where you're performing?
TB: I have a magnificent jazz quartet that tours with me all over the world and one of the reasons I have always gravitated towards jazz artists as they are such consummate musicians that they are able to be very spontaneous on stage—in fact they thrive on it. So although we have a setlist, if we decide to change a song on stage or alter a tempo, it's not a problem. in this way it keeps every performance in the moment and even if we might be performing the same songs from one night to another, it never sounds the same. I think that is what keeps it fresh not just for the audience, but for the performers on stage.
CM: Can you talk about how you first concocted the idea of your group, Exploring the Arts, and how you feel about the state of arts education?
TB: With my wife, Susan, who is an educator, and myself, we wanted to support arts education in public schools, and shortly after Frank Sinatra passed, we decided to create an arts school in his name. It was important to us that the school be a public not a private school, as that is where the need for quality arts education really lies. So we approached the Board of Education in New York City and were able to found Frank Sinatra School of the Arts in Queens, where I grew up … We raised a lot of private funding to assist and with some very dear friends who supported us, we got it done, and the school is state of the art, both in facilities and arts education. We decided to keep going, so now, Exploring the Arts supports and partners with almost 40 public high schools in (New York City) and Los Angeles. We have found that when the kids have a strong arts program in their schools, they like to come to school and they stay in school.
CM: You have your own artistic endeavors outside of music. Are you still painting? And do you plan on exhibiting any more of your visual art?
TB: I try to paint or sketch every day, and we just did an exhibition at the Paley Center for Media in (New York City). … It's a thrill for me as when I finish a painting. It gets put away for safe keeping so it's rare that I get to see all my work in one space. So when we have an exhibition, then I have a chance to see them all together. I love the fact that I paint and sing, as its a yin-yang relationship that allows me to stay in a creative zone all the time, but I never feel burned out. If I get a bit tired of performing, then I go and paint for four hours, and when I am done, I am ready to hit the stage again. The two art forms compliment each other.