Q&A: Ty Pennington on Charlotte, Design Trends, and the Southern Spring Home & Garden Show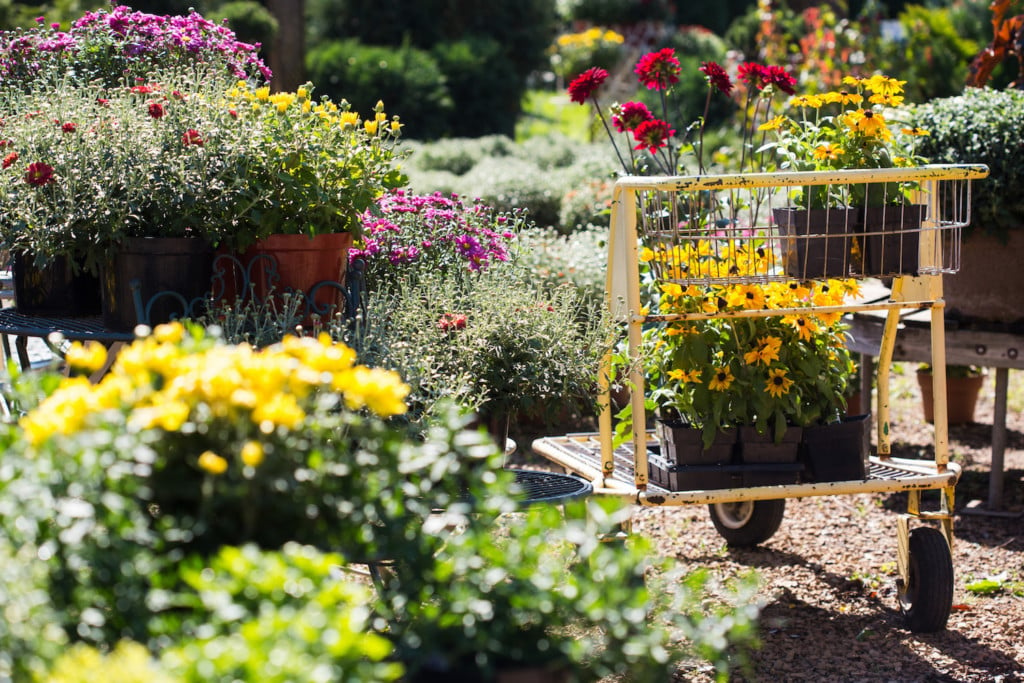 YOU PROBABLY REMEMBER him as the handsome OG of home improvement shows like TLC's Trading Spaces and ABC's Extreme Makeover: Home Edition. From carpentry and landscaping to commercials and book deals, there wasn't a project Ty Pennington couldn't tackle. Today the self-proclaimed "jack of all trades" has reunited with the cast of Trading Spaces for a reboot on TLC, and he'll release a new book, Life to the Extreme: How a Chaotic Kid Became America's Favorite Carpenter, later this year. We caught up with him ahead of Charlotte's Southern Spring Home & Garden Show, where he'll appear onstage during the event's first weekend, to talk about pushing boundaries, making an impact, and the evolution of the home makeover genre.
Age: 54
Hometown: Atlanta, GA
Currently reading: Right now I'm proofreading my own book. But I like David Sedaris, and I just read Furiously Happy by Jenny Lawson. It's that type of humor that I'm drawn to.
Favorite sports team: Georgia Bulldogs
Current TV shows: The Handmaid's Tale is probably the greatest thing I've ever witnessed. The writing is insanely good. I always love The Office – you can't beat the reruns – and any design shows on Netflix.
Favorite thing to do in Charlotte? I hit so many thrift stores, and there's some really good ones there, and rare gems on the outskirts. But you have to be dedicated. The food scene has gotten so amazing too.
How would you describe your approach to home renovations? I like to consider myself an artist, and my canvas is drywall. But I'm better off giving people ideas – I'm quick on my feet and I see what a space needs. I can see a quick solution. I'm all about the visual impact in a room. That's the fun part, helping people realize what they're missing in the home. We customize so many things in our lives from our phones to our clothing, but so many homes don't scream, "this is me." I like to immediately get a sense of who lives here. In my home, you see a bunch of old school vinyl albums, a there's a star I'm making out of old piano parts. I'm a guy who makes crap fantastic.
What do you think of Chip and Joanna (and other trending HGTV stars) building their empires? I love that we've been able to create a genre where so many people can find a spotlight as designers. It's amazing; there are enormous branding capabilities. But I have mixed feelings. It's awesome because everybody wants to be successful, but I like people who push the boundaries a little bit too. Right now this is the formula: a cute wife with good taste, and a husband who is jovial and funny while building things. I know it well. I'm all for it, that people want to tune in and see it. Storytelling is what it is.
Any design trends you're following…or predict will be big in the coming year? Masculine is really in right now, so lots of blacks, dark grays, and wood tones. Certain trends – like the farmhouse trend – are about being safe and appealing to the masses. I'm the other guy. I like pushing the boundaries. In certain areas like bathrooms and kitchens you have to stay safe, but other rooms you can take more risks. I think we'll see more of a pop of brighter colors against the new dark neutrals.
What is the most surprising thing about you? I collect vomit bags. I travel extensively…so the really unique ones I collect, and other ones I do drawings on. Or I'll put little tea candles in them and display them in my house. And when someone has too much partying, they can use it to vomit in. So it's beautiful yet functional.
Rules to live by during a home renovation? I never say things are going really well. In the building industry, Murphy's Law is waiting around every corner.
Most comfortable shoes to wear on a job site? On a job site I wear work boots with super cushy soles, and I collect old military boots. If you're not comfortable, you can't laugh the whole day. I also wear converse high tops and low tops a lot.
Chocolate or cheese? Both. My brother's a wine guy, so I've gotten into cheese lately. But I can't end the night without a sweet.
Call or text? Call, but make it short. I'm not an emoji guy. You'd think a guy with an art background would be okay with it, but idea of us looking back, trying to decipher what we were saying to one another…I just can't.
More money or more free time? Twenty years ago, I would have said more money. Now, more free time. I'd like to give other people free time. Everyone works so hard just to survive.
Guilty pleasure? Vintage guitars. And mid-century modern furniture. I just love really great furniture design.
Any other designers who inspire you? Frank Lloyd Wright was the biggest asshole, but the biggest gift to American architecture we've ever had. I like David Hicks, the wallpaper designer. But there's so many, it's hard to pick.
What are you looking forward to at the home and garden show? I really like cruising the show and seeing the products. It's amazing the technology that's happening now with smart homes. We're all focusing on the house we live in and making it what we want. It's all constantly accelerating, and products are getting better every year. I also really enjoy talking to human beings and hearing what kind of struggles they've had in with their houses. We've all had nightmares, right?
The Southern Spring Home & Garden Show will be held for two consecutive weekends at the Park Expo and Conference Center, from Friday, Feb. 22, through Sunday, Feb. 24, and from Friday, March 1, through Sunday, March 3. Show hours will be 10 a.m. to 8 p.m. on Fridays and Saturdays and from 10 a.m. to 5 p.m. on Sundays. For more information, visit here.