Q&A: Will Ruark, Trail and Stewardship Coordinator for the Carolina Thread Trail
Land stewardship is a family legacy for Will Ruark. Here, he shares insight into his role and the future for the network of trails he oversees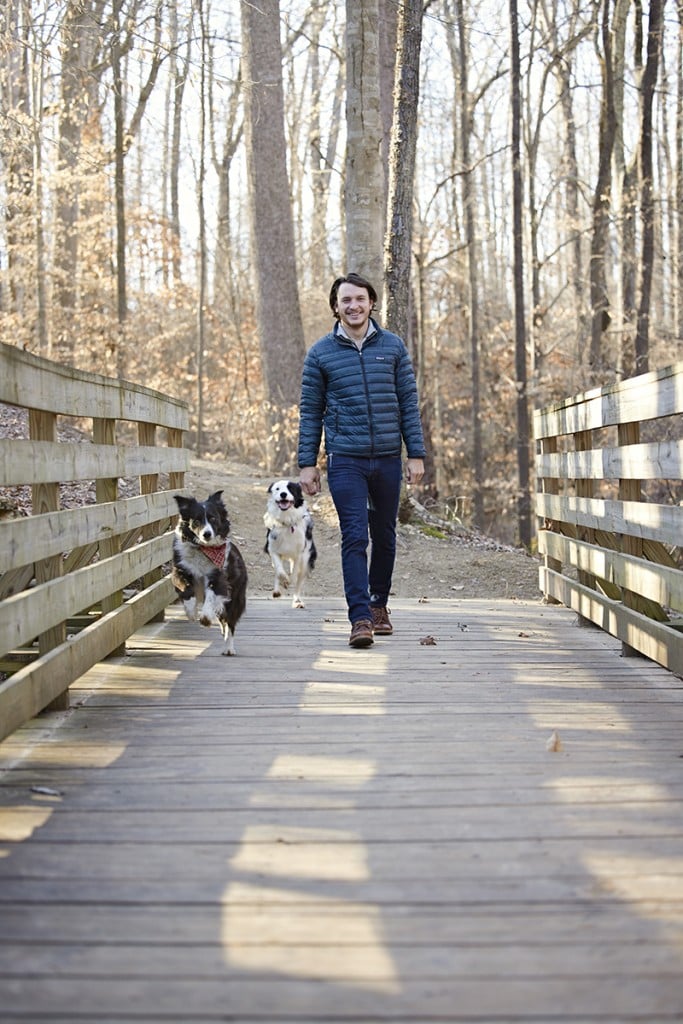 Will Ruark—with a colleague, a couple of college interns, and a chainsaw in tow—set out at dawn last summer to tend to the South Fork River Trail, 15 miles west of uptown Charlotte. Two more hardwood trees had fallen across the trail he jokingly describes as his "bane" of the 300 miles of trails he helps manage across 15 counties in the Carolinas. Once he'd cleared the trees, we had our first conversation about his work for the Catawba Lands Conservancy (CLC) and the Carolina Thread Trail (CTT).
Ruark spent much of his childhood exploring the mountains of western Maryland with his father, a park ranger. "I never thought I was going to follow in my dad's footsteps," he tells me. But after he graduated from Presbyterian College in Clinton, S.C., with a history degree in 2012, he spent a year in AmeriCorps and had a change of heart. He spent the next five years as a park ranger in North Carolina, including at Lake Norman State Park, before he joined CLC and CTT as trail and stewardship coordinator in February 2020. The energetic 31-year-old, who says he's always loved "getting down and dirty," enjoys maintaining the trails and expanding the regional network of trails, blueways, and conservation corridors that connects nearly three million people. He and his wife, Stuart Yochem, live in Charlotte with their dogs, Jasper and Ziggy. (Yochem and her mother, Jeannie DeMarco, co-own Amina Rubinacci Charlotte, a women's boutique in SouthPark.)
Will and I met a second time on the McAdenville Greenway in November to talk more about his livelihood. Towering sycamores hem the town's paved trail, which runs along the banks of the South Fork River. He spotted a bright blue and orange kingfisher as it flew across the river, and he explained that they sometimes hover like hummingbirds above the water before they dive for fish. Our conversation, edited for clarity:
What were your career plans when you came south for college?
I was thinking I would go into education, but right after college, I got a job with the parks and AmeriCorps with the Maryland conservation team. I was based out of Gunpowder Falls State Park, east of Baltimore, and I got to live in an old hunting shack on the Chesapeake Bay. That's when I realized I don't like talking about it, I like doing it. I love doing the hard work and the positive impacts you can have on the environment. And I realized one of my ways of getting into that world was being a park ranger.
So why did you move to North Carolina to be a park ranger?
I had a lot of acquaintances in the Carolinas from college, and I've always loved the Carolinas. I grew up coming down in the summers to Montreat. I worked as a ranger there and built and rebuilt some of the trails.
What drew you to the CLC and CTT job?
My dad's love for conservation and the environment is something he instilled in me, and my grandparents were real involved in that kind of work, so it's always been something I was into. As a park ranger, I was protecting those preserved areas, but my main focus was on trying to make sure people were being safe recreating, and I didn't get to do as much of the management or the trail development that I envisioned.
My real passion was always doing the natural resource management aspect of the job, like coming up with a resource plan. For example, when I see a forest, I look at how I can make it better. That might mean I'm going to implement fire—I'm certified to start controlled fires within the state of North Carolina—so I look at those aspects. When I see a field of fescue that's growing up tall, I look at how I can turn that into a pollinator garden or native grasses for bird species.
What are your main goals?
We currently have 300 miles of trails that are on the ground, and we're proposing 1,300 more miles. It's a huge spiderweb of interconnecting greenways and natural surface trails and rail trails, which is unique from the other large metropolitan trail systems like, for example, the Atlanta BeltLine, which is one big greenway that circles the city.
One of my main priorities is to maintain the trails that the CTT and the CLC own. I work in four counties (Cabarrus, Gaston, Iredell, and Lincoln) on about 15 miles of the entire system. Our goal—and one of my other priorities—is to partner up with local towns, municipalities, and developers to get them to build the trails. We help them, whether that's through grant implementation or helping them promote it. They create it and maintain it, and we sort of adopt it with our logo on it. Currently, one of our highest priorities is the South Fork River corridor, mostly because the towns in Gaston County are super-enthusiastic about their greenways. Hopefully, by the end of my lifetime, you will be able to walk from there to Charlotte, and then from Charlotte to Statesville.
How has COVID affected your first year?
It was challenging. We survive with volunteers. A lot of the major companies in Charlotte volunteer with us—Bank of America, Wells Fargo, Duke Energy. That's normally my workforce. Unfortunately, we did not have our volunteers (through much of 2020) because of COVID. Meetings are often held online with volunteers, but now we have the opportunity to sometimes meet in the outdoors. We have a program on trail-building where some of them come out in the woods and work with me on trails.
We're still getting trail development done. And we're seeing a huge influx of users on our trails because everybody wants to hike. We try to remind people how awesome the connection to nature is. They forget how this is a holistic approach to health, getting outdoors, hiking, thinking—this is a perfect time to work on your mental and physical health.
What do you like best about your job?
I love that I've had the chance to get back in the field, reconnect with Mother Nature. I really like the boots on the ground, hands-on work, especially with trail work. I can actually see the physical labor and time I spent, so I love going home feeling accomplished. I love meeting wonderful people on the trails that you just don't meet anywhere else, people who adore the outdoors and the trails as much as I do. It's such a rewarding experience.
Cheryl Spainhour is a senior journalism lecturer in the communication studies department at UNC Charlotte. Reach her at caspainh@uncc.edu