Q&A with Author Ben Marcus (Plus: Weekday Arts Events, April 11-14)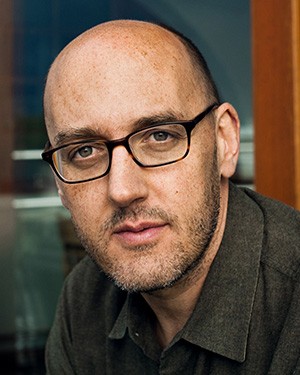 JUST BEFORE WE spoke by phone, I listened to author Ben Marcus read Cold Little Bird, his short story that appeared in the New Yorker in October. He recorded an audio version for the magazine. That's why my first question focused on what it's like to read your own stuff aloud, after it's already published and out in the literary ether. He answered with words like "intense," "grueling," and "a reckoning" to describe revisiting pieces in that way.
But that's reading in a recording booth. It's different reading to a captive audience, he says. Marcus, author of the novel The Flame Alphabet and The Age of Wire and String, does just that Tuesday, as he visits Central Piedmont Community College's Sensoria Festival and McColl Center's New Frequencies series (7 p.m., tickets here). He enjoys these public readings much more, yet it still comes with that initial caveat: "Unfortunately, I'm restricted to reading my own writing," he jokes.
Below, find a snipped of our conversation, in which we discuss public readings and the advantages of backdrops like the McColl.
After readings, you must be approached by budding writers with questions. What do you say to students about to enter the world of professional writing? I'm thinking of young writers who attempt "difficult" fiction, in particular.
You know, what I really try to do is listen. The world of writing isn't mapped out, really. There's so much more out there now for writers, so many outlets that are more open to new ways and thinking. But I tell them that writing has to sustain and nurture you. People's reactions are ephemeral, even if they're positive. You can't rely solely on that.
At these readings, do you find that people share more personal stories with you, as compared to other writers? Family is a theme that often appears in your writing, so it seems like you'd hear about their own lives.
The process of reading is already so intimate, no matter what someone's reading. I do feel like people always want to talk about kids, parents, and family with me, but I don't know if it's because of those topics. Reading is private and personal, yet it's also about connecting to someone else.
I tend to love those conversations that happen after. If it was up to me, I'd read for five minutes and then go into Q&A. I like meeting new people and seeing what they like about the work. It's better than staying at home and never being connected to others.
In reading at the festival and a venue like the McColl Center, is there something about those creative atmospheres that galvanizes you?
Definitely. You can be reading in a bar, and you know, sometimes people go into a bar to forget themselves. And you're fighting that, and that loudness, and the vibe of the place. Museums and galleries, with that art and architecture, put us into a place to receive. People are there to hear what you have to say.
MONDAY
SENSORIA FESTIVAL
Readings from acclaimed authors, talks from nationally recognized artists, and performances from Central Piedmont Community College's own theatre program are just a few of things to see at the annual Sensoria Festival. The fest aims to give students a special experience in several disciplines, but the public is also invited along for each of the events.
TUESDAY
MCCOLL CENTER FOR ART + INNOVATION
With its multiple artist residencies, exhibitions, and open workshops, McColl lets you get up close and personal with contemporary artists. New Frequencies, the program that features jazz, author readings, and film at the venue, has two events in April. Novelist Ben Marcus comes for a reading on April 12.
WEDNESDAY
THE MILK CARTON KIDS
The Milk Carton Kids sure know how to play guitar. Yet, the duo's harmonies are their biggest strength and often cited as the magic that makes them a must-see. The pair's third record, Monterey, came out last May.
THURSDAY
MUMFORD & SONS
Wilder Mind transformed the band's folk rock brand into a broader "indie rock" label. Acoustic instruments were traded for electrics; a drummer was added. And then, they had yet another record that topped the charts.
PAGLIACCI WITH ALEKO
One is the U.S. professional premiere of a Rachmaninoff work. The other is Pagliacci, a piece already regarded as a classic. Any fan of the form has a reason to check out this Opera Carolina production.
FLY BY NIGHT
This musical, conceived by Kim Rosenstock, is labeled as a "rock-fable" by Actor's Theatre of Charlotte. A sandwich-maker's monotonous days are interrupted when two sisters come into his life.