Q&A with CIAA Commissioner Leon Kerry
On the eve of the tournament, we sit down for an exclusive interview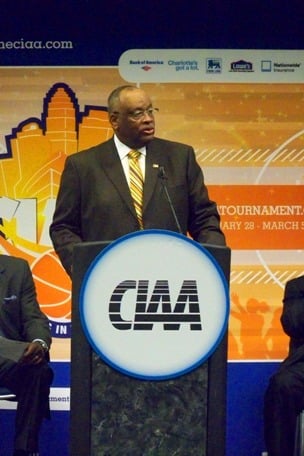 Since 1990, Leon Kerry has led the Central Intercollegiate Athletic Association (CIAA), which consists of thirteen predominantly African American colleges and universities located along the East Coast. The CIAA is headquartered in Hampton, Virginia, and its member schools compete in NCAA Division II. Here, Kerry shares his outlook on the conference, which celebrates its 100th year next year, as well as the state of educating young African Americans.
What do you say to people who view Division II sports as second class?
We want to be the best conference in Division II. I like Division II because of the academic success and the athletic pride that we've had. In other words we're not building a ground to send people to the pros. If they get selected, fine; if they don't, fine. But we're trying to graduate our kids. Academic success and graduation rates are a pride for us.
As colleges have integrated over the past fifty years and African Americans have become the faces of many large sports programs, it would seem as if it's become more difficult for conferences like the CIAA to attract the talent they once did.
As long as African American athletes will attend majority schools and sit on the bench and not play, and be satisfied because they're at that school, it's incumbent upon us to go after the best athletes and the best students. With us, you might get a more supportive alumni base. The key term today is about survival, and not about the color of a person's skin—survival and trying to keep what you do successful. We have a lot of kids who have come into CIAA who are not African American, who have done well academically and athletically. I think as America continues to be the melting pot, CIAA will be a melting pot also, and will try to be successful.
The CIAA made headlines a couple years ago when Chowan University became the first non-HBCU (historically black college or university) to join the conference.
Chowan has more student-athletes than any of our schools. Fifty percent of the kids who attend Chowan are minorities. And they have great athletic facilities. It opens the door to other kids who might take a look academically at CIAA member institutions. They play football and all the championship games we play, so they bring a different look as far as our private schools are concerned. They're one of the best private schools we have in CIAA. We're looking for new members. We have another school we're looking for that might be able to help us academically and athletically. We would like to have sixteen members if we could. We're trying to be the best we can be, and the physical makeup is not about color. It's about what we can do for each other and if you're in our geographic proximity.
What challenges do you think HBCUs face that might be different from other schools?
I think historically black schools have a different role and a harder job in their communities. A lot of things are need based, trying to bring programs to the community that will help bring kids into college. Our job is to help educate young people—to be a beacon for all people, but especially minorities. And unfortunately, some of us need nurturing before we get to those schools. And some of us need nurturing after we get to those schools. It's a totally different job. Financially it's different. Some people look at HBCUs as the second place they want to go to; not the first place they want to go to. So the job is for HBCUs to prove that we're the first place you should look at.
A report released last August by the Schott Foundation for Public Education revealed that only 47 percent of black males are graduating high school (compared to 78 percent of white males). How does this affect CIAA schools?
It does impact us. It has impacted us for years. There are more females in college than males. I recently talked to an elementary school and everybody in the room wanted to play in the NBA or NFL because of what they see on TV. Some of them are going to be too short to play, and some are going to be too big to play. But the bottom line is, from where they are they see success as being an NBA or NFL player. But graduation isn't on their radar. Somewhere we have to turn this the right way.
This seems to be why you've added a strong emphasis on education during the events at the CIAA Tournament.
The number-one thing is that these kids have to graduate high school. They have to graduate from college and become productive citizens. What we try to do in CIAA is get the best student, bring them to the institution, provide scholarship money for them, find internships for them and possibly jobs. So this is a complete marketing process for us. We're selling hopes and dreams in America—through our scholarship programs, through high school day, through the job fair. I feel pretty good about the CIAA Basketball Tournament because we're able to take a part of the money we spend and get it back in scholarships and give to the schools. What will we be known for? We'll be known for over the last ten years having given over $15 million back to the schools in the form of scholarships to help educate young people. And that's what we do. The basketball is a byproduct that brings all of this together.
For more details on CIAA Education Day (March 2) and CIAA Career Expo (March 3) at Charlotte Convention Center, visit ciaatournament.org.
Visit www.charlottemagazine.com/ciaa for our comprehensive coverage of the events and parties surrounding the 2011 CIAA Tournament.