Q&A with Lark & Key
Co-owner Sandy Snead tells us what she and her customers enjoy about the SouthEnd shop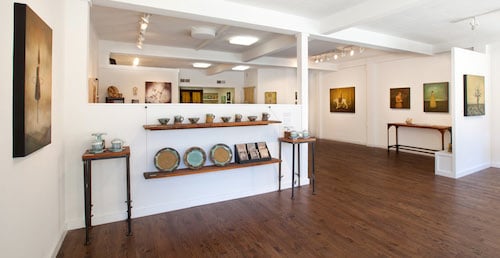 Located on Park Avenue in SouthEnd, Lark & Key Gallery and Boutique showcases work by local, regional, and national artists. Paintings, pottery, paper goods, jewelry — you'll find it all here. We connected with Sandy Snead, who co-owns the shop with her husband, Duy Huynh, to tell us more about why they chose to open this space and what you can expect to find here.
Q: Tell us about the inspiration behind your gallery and boutique.
A: My husband, Duy Huynh, and I opened Lark & Key in 2008. After many years selling our work at galleries, outdoor shows, venues, and events we produced with other artists, we decided to open our own space. We gathered our thoughts and our creative friends and set out to create a warm and inviting space that would be accessible to all.
Q: How do you select the artists and pieces for Lark & Key?
A: Lark & Key has a very distinct visual aesthetic—interweaving a warm, rustic sensibility with the paintings, functional pottery, and jewelry that are showcased. We are drawn to the slightly whimsical, the subtly surreal, and quiet nature. When choosing artists, the quality of their work and how it complements our aesthetic is key.
Q: Tell us a little bit about your current exhibit, "Common Ground."
A: "Common Ground" explores different approaches to painting a very common theme—the landscape. Donna Baldassari attempts to capture and convey the quietness and tranquility found when creating her oil paintings. She focuses on color to enhance the mood and the use of layered brushstrokes to speak more of the abstract than the representational. Architect Ellen Delaney edits and abstracts vast expanses to simpler forms while maintaining a strong sense of place. Her acrylic landscapes offer clean lines with rough textures and color combinations that are often bright and energetic. Katherine Mead uses her architectural background as a prism through which she views the world. Her layered, mixed-media pieces are deeply personal visualizations of thoughts, images, and ideas that haunt her daily—travel journals of her inner world. The oil paintings of Ralston Fox Smith are infused with personal experience and emotion. As an explorer and observer of nature he is fascinated by its harmonies of form and color, elements that provide infinite inspiration for his intuitive, dream-like paintings.
Q: If someone is new to purchasing artwork for his or her home, do you have any tips for how to approach it?
A: When considering new pieces, space and color palette can be important factors. There are many technical aspects that could be considered, but ultimately you should choose something that speaks to you, something you connect with. We believe strongly in filling your home with things you love, that express your personality, remind you of a cherished memory, or simply make you smile.
Q: What is your favorite part about running Lark & Key?
A: We are fortunate to work with individuals who create for a living, those who put their heart and soul into their work and allow us to share it with others. The best moments are when customers laugh out loud or are brought to tears (in a good way) over a piece, or simply when they find that perfect something for themselves or for a gift.
Q: What is your next exhibit?
A: Our next exhibit, "Interwoven," features the artwork of gallery co-owner, Duy Huynh, and local potter Jennifer Mecca, as well as paintings by Vicki Sawyer and Judy Klich. "Interwoven" opens April 4th.
Lark & Key Gallery and Boutique
128 E. Park Ave. Suite B Charlotte, NC 28203 704-334-4616 Monday-Saturday, 11 a.m.-6 p.m.