Q&A with Nurse Ratched
Actress Donna Scott, who plays the iconic character in Theatre Charlotte's "One Flew Over the Cuckoo's Nest," stops in for a chat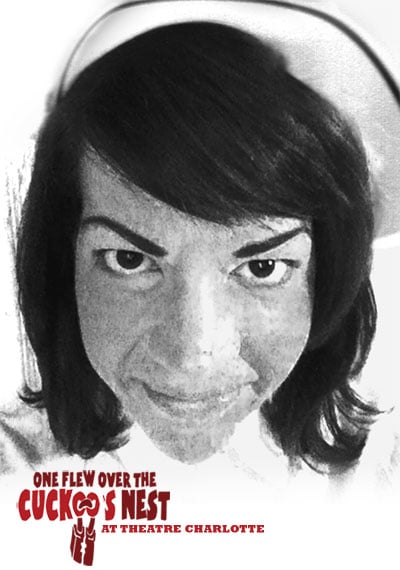 Theatre Charlotte's production of One Flew Over the Cuckoo's Nest (Oct 28-Nov 13) is more like the book than the movie, says actress Donna Scott. But, there's at least one thing that the book, movie, and play have in common, and that's the stricter-than-strict, rule-following, my-way-or-the-highway Nurse Ratched. But, Scott says there's more to the terse nurse than meets the eye. Learn more here.
Scott is an actress and producer who may be best-known and loved for her 2006 The Body Chronicles, in which she examined in sad, funny, and poignant detail women's complex feelings toward our bodies. The play — a series of sketches, a poem, and a memorable mime segment — was a relief, rallying cry, and victory lap for women everywhere.
Q. Is it fun, scary or a little of both to play a villain as well-known (and loathed) as Nurse Ratched?
A. It's definitely fun.The big challenge is figuring out how to make an iconic role that is very well-known your own. I played the role of Annie in Misery in 2002, and it was a very similar situation — iconic movie role that for which the actress won an Oscar, in an equally well-known and thought-of movie with almost a cult status, so I have been having a lot of deja vu. Some people really want you to channel the movie actress' portrayal. The comparisons will be inevitable regardless of what you do.
Q. Is there any humanity to her? Where do you see it?
A. You can never judge the character you play and their choices. As an actor, you function as your character's advocate, and you have to understand the play completely from their point of view, without the filter of your own feelings and judgments. She absolutely believes that she is truly helping the patients in her ward through a method that she feels is completely fair and democratic.
Q. What have you done to prepare for the role? Have you re-watched the film version with Louise Fletcher in the Oscar-winning role? What do you think of it?
A. Our version of the play is much more true to the book than the movie, so I specifically did not re-watch the movie. I did, however, read the book for the first time, which is very different from the movie and have used it during the rehearsal process for character source material. Charles LaBorde, our director, wants our version of the play to stay more true to the book than the movie. I saw the movie years ago and think it does deserve its honored place in cinematic history. The main difference between the two pieces is that while the movie obviously belongs to Jack Nicholson's McMurphy, the book and play are seen from the eyes of Chief Bromden, portrayed in our piece by the ultra-talented Matthew Corbett.
Q. What can people expect from this production?
A. It's stylized and very creepy. I am impressed with the creative production team from Theatre Charlotte — the set, lighting, and sound have really given the show a forebodingly ominous feel. Seemingly perfect for this time of year! It's quite different than the movie, although fans of the film will certainly recognize much of it.
Q. What drew you to this play?
A. It was the right part at the right time. I executive produced a film in 2010 (Aphasia) that is currently touring with its star, Carl McIntyre, and on the film fest circuit. I had been working on that project for almost two years and although it has been incredibly rewarding, producing film or theater is highly administrative in nature and not at all artistic. I was really feeling the pull to dig into something just as an actor. The opportunity of this part was perfect.
Q. How heavy are the rehearsals? How hard is it to play such a bitter, rigid woman night after night?
A. Truly, it's not any more difficult than playing any other character. It's our craft as actors. We get to step in and out of other lives, so you step in and live it and I believe you should also be able to step out of it as the show is over each night. The most interesting and exciting characters for me personally are the ones that are making bold choices. It's nothing short of thrilling to get to land some of the one-liners and play out these dynamic scenes with the other talented actors in the show. It's creepy fun!
Q. I don't recall any levity in the movie. Is there any in the play?
A. Yes, there actually are lots of moments that are very funny — usually brought on by the antics of McMurphy, played by the comedically gifted JR Adduci. Nurse Ratched is the straight man, of course, so I just have to stand there and take it. Charles chose, wisely, I think, to play up the bits of humor in the show so we do take the audience a bit of a roller coaster ride.
Q. You have a loyal fan base (I'm one!), especially from your work writing and producing The Body Chronicles. What's next for you? Will you bring that show back?
A. I am so flattered! Actually, I have been working with two writers in development of two separate theater projects for over a year now and we're getting close to public reads on both of those. Also, I am planning to team up with some of my past theater buddies (Tonya Bludsworth, Chandler McIntyre, Jim Gloster) for a show at up at The Warehouse in Cornelius in February 2012. And The Body Chronicles revival question is one that I am asked often! It may have a revival in its future or another version of some sort. I am not ready close the book on it yet.
Q. What else should I ask you that I haven't asked you yet?
A. Since the beginning of our rehearsal process I have been writing a blog post in my head: In Defense of Nurse Ratched. When I post it, I'll let you know …