Q&A with Queen City Theatre Company's Founders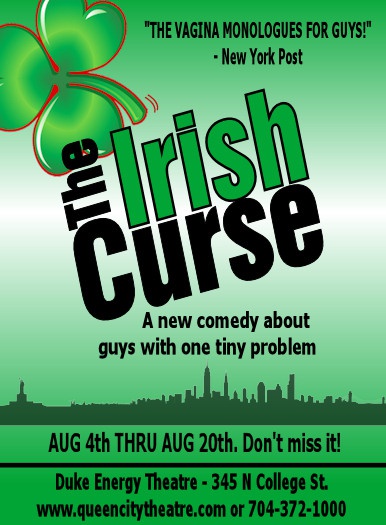 Queen City Theatre Company's The Irish Curse, about guys with "one tiny problem," is running Aug 4-20 at Duke Energy Theatre. I sat down with QCTC founders Glenn T. Griffin (who's directing the show) and Kristian Wedolowski and asked them to size things up. Details, ticket info.
Q. Let's talk about size. Does it matter?
Glenn: Well, in the spirit of the show, I should definitely say: No, size does not matter! But, let's be honest. It matters a little bit. You want something to work with, right?
Kristian: Well, obviously that was Glenn being politically correct. Of course, it matters. Who do we want to fool?

Q. What does this play have to say about size?
Glenn: The play says that size is all in our head — that, as guys, the size of our penis is what makes us guys. But, it isn't true. It's when we dwell on our size that we go crazy. But, it's hard not to do that.
Q. The Irish Curse has been called a male version of The Vagina Monologues. Is that true? How so?
Glenn: Guys think about body image just as much as women do; you just don't hear about it very much. The Irish Curse finally puts before an audience what guys are really thinking.
Kristian: All guys have had these thoughts. And if you [say you] haven't, then you are lying!
Q. What can audiences expect from this play?
Glenn: A really good time. It's like hanging out with five of your closest friends, and they are willing to talk about anything. Nothing is off limits. It's also very tender.
Q. I'm going to Ireland in late August. Any advice?
Glenn: Take a side trip to Scotland. I'm not sure what they have in their water, but damn!
Kristian: Stay in Ireland. Everything looks bigger through an empty pint glass.