Q&A with Two Men on Roller Skates
Queen City Theatre Company brings Xanadu to Spirit Square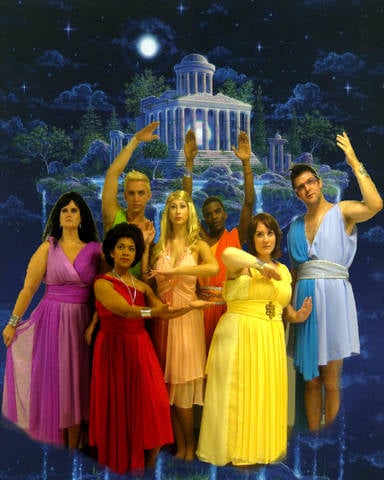 Your intrepid arts blogger had to put on a pair of roller skates to catch up with Queen City Theatre Company's Glenn T. Griffin and Kristian Wedolowski. But, I'll endure anything to bring you, dear readers, the scoop. The duo who will try anything is opening Xanadu, the iconic 1980s musical on roller skates at Spirit Square's Duke Energy Theatre. Tickets, showtimes.
Revue: Kristian, you're a hot South American with an accent that makes women and men swoon. And, you're playing Aphrodite, the goddess of love. It seems like the role you were born to play. Are you worried about being typecast?
Kristian: Well, first of all, thanks for the compliment. I'm never afraid of being typecast. I always said that I have too much love to give; I'm kind of a South American Angelina Jolie … only a man and with an accent! I guess you are right; I was born to play the goddess of love.
Revue: Be honest. Is there a storyline to Xanadu? Or, is the "plot" sort of an excuse to sing all these great songs from the 1980s? If there is a plot, what is it, exactly?
Glenn: Xanadu has a wonderful storyline. The plot basically follows the movie of boy meets girl who happens to be a Greek muse from the chalk drawing that he created. Along the way, she helps him create a timeless art form … a roller disco. Throw in two evil sisters and an amazing soundtrack and you have an incredibly fun musical. The musical is very smart, makes fun of itself and pays homage to the cult classic that Xanadu is still today for so many people that are so fond of the '80s.
Revue: How hard is it to sing, act, and roller skate at the same time? Did anyone have to learn to skate just for this play?
Kristian: Well, everyone in the audition marked a high score in their self-evaluation of roller skating techniques, but it has been a … challenge. It is one thing to go around the rink 80 times and call it a day. It's another to jump one leg, go up and down ramps, and recreate all the disco moves from the movie. The choreography is challenging, but everyone is having an amazing time learning it. And, yes, it is very hard to put all those three together, but the musical is so much fun that it becomes almost natural. We even got a pair of skates for Glenn so he can direct on wheels!
Revue: Is the entire cast on skates? Are you all taking skating lessons in addition to rehearsing your lines and moves?
Glenn: Lauren Segal, who plays Kira, is on skates during most of the production just as Olivia Newton-John was in the film. For the grand finale, the entire cast gets to be in on the fun and roller skates to the tune of Xanadu. It's truly an amazing musical theater moment.
Kristian: We didn't take lessons. We all remembered roller skating very well. We just didn't think it had been so long since our childhood! But … the Charlotte Roller Girls are going to help us polish our moves and feel more comfortable and natural on wheels. Just know that if you sit on the front row you may have to catch an actor or two! But, on the [bright side], you will get plenty of glow sticks and be up close and personal with the action.
Revue: Have you seen the Olivia Newton-John movie? How closely does the play stick to the movie?
Glenn: When I was eight years old, I saw the movie for the first time and I used to skate to the soundtrack. The musical follows the basic plot of the movie but has added in a lot more comic touches as well as an amazing side plot about two of Kira's wicked muse sisters played in this production by Lisa Smith and Kristian. As I mentioned earlier, the musical pays tribute to the movie, and you will be able to recognize a lot of iconic moments in it.
Kristian: Yes, I saw the movie too, but it was in Spanish when I was six. You could follow the plot, but then the songs would begin and you didn't have an idea what they were saying because it was not translated. Then I was happy when Menudo released the song Xanadu in Spanish. It was a hit all over the world and another song from the musical!
Revue: What do you think will be the biggest crowd-pleasing number?
Glenn and Kristian: Xanadu!
Glenn: The show opens with the amazing song "I'm Alive," which is my favorite. It always makes me smile and I think is the perfect opener for this musical, but honestly, all of the songs are show stoppers.
Kristian: I love "Evil Woman." Come see it and you will know why. No spoilers!
Revue: What's the most important thing our readers should know about the show before coming to see it?
Kristian: The show is ninety minutes of amazing music, non-stop laughter, and a wonderful way to remember the 1980s or experience what this beautiful era was like. You will have everything, from legwarmers to glowsticks, disco balls, and roller skates. This is a big party on stage like we have never produced before. It's our largest production to date, with a stunning display of lighting, set, and costumes, combined with an all-star cast, and of course, directed by Glenn T. Griffin. We always know we are up for an amazing theater experience.
Glenn: Xanadu is not a serious musical, the audience should come prepared to enjoy themselves and have the time of their lives.