Q&A: Wolfgang Puck on WP Kitchen + Bar in Charlotte
Owner, Wolfgang Puck Fine Dining Group and Wolfgang Puck Worldwide, Inc.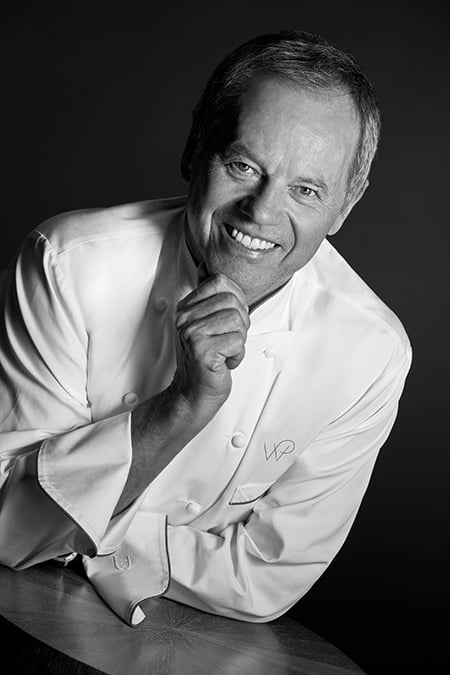 You might know him from: WP Kitchen + Bar in Charlotte and restaurants worldwide, plus several cookbooks and cookware lines
Hometown: Sankt Veit an der Glan, Carinthia, Austria
Lives in: Los Angeles, California
Family: Wife, Gelila, and four sons, Cameron, Byron, Oliver, and Alexander
Sports teams: Carolina Panthers; a soccer and tennis fan
---
You rebranded your Charlotte restaurant last year from Wolfgang Puck Pizza Kitchen to WP Kitchen & Bar. What spurred that?
It's not that it wasn't working. Actually, it was working just fine. But I thought when (online review sites) categorize us in certain ways, they put us with Papa John's and all these pizza joints, yet we were so much more than a pizza place. Even then, we had salmon, we had pastas, and most of all, we had talent in the kitchen. I thought, It's not right for them to be put in a category like that. So now, it's really a restaurant with some of my favorite dishes. Some I grew up with, like the Wiener schnitzel, like the chicken with the peppers and the lemon.
You've been doing this since before the Yelp and OpenTable era. How has that changed your role as a chef?
Older people like me, we didn't grow up with that. The young people are so into that. … You can see kids are on their iPhones, on the tablets, all the time. It's just the way of life now. Teaching a kid now, I think schoolteachers, they don't have to teach to do multiplication or division or things like that. Now, kids just have to figure out where to get the answers. Even writing. My boys write; it's terrible. They say no, nobody cares about the writing anymore.
That hurts!
I had to write perfectly. I told the class when I gave a speech once, I said, "I don't know as much as you do about the computer, but I can write better than any of you. If you want to challenge me, come right up and write on the blackboard." And nobody came up.
Are smartphones having a negative impact on the way we dine?
It's good and bad, obviously with everything. … It gets annoying, especially when people have flash at night. You're there to enjoy. It's not a bad thing if you like it, you take a picture, you tell your friends—it's good for the restaurant and it's good for your brand, for you. But I think at the end of the day, you come to a restaurant to have a good time.
In Europe, it seems like it's much more simple to support local artisans, because there aren't as many food regulations on small businesses.
You know what? Restaurants like us, and many others, don't have a lobby in Washington, don't have a lobby at the state capital, and then you have all these huge money factors of food, who add so many ingredients which are not necessary, which keeps the food OK, but is it really OK for us to eat it? From bread on down. You can buy bread in the supermarket in a plastic bag. It feels the same after one week. Nowhere in Europe, in Italy or in Austria or wherever—if you go to your local baker, two days later, the bread is bad. You buy it again.
So even when you look at the ingredients of the bread, you see a gum of this and this and this and it's just, I never saw a recipe like that. You look on canned food, on processed turkey, whatever it is, they can do all that stuff and then they have small restaurants who try to do something on their own. … They make it so difficult. Instead of saying OK, we're going to help you to do better food, more nutritious food, and healthier food, and get the local farmers and community involved in it. If I make cheese and I use unpasteurized milk, they're going to shut me down.
Do you think the trend toward wanting local food will change that?
I think some of the regulations have to be changed in certain things, and in certain instances the regulations are good, too. You will always have people who will abuse it, or have people who don't know how to do it. I think there has to be some regulation. … But I think to say you cannot do this or you cannot do that? You know, what difference does it make if I have a room, a specialized room, to make ice cream? As long as the kitchen is really clean, it doesn't make any difference. Because once the ice cream is there, it freezes, it's in the freezer, they open the freezer, they close the freezer, there always will be bacteria. And I never heard of anybody who got killed in a restaurant because they ate ice cream. You hear more so in the supermarkets, where you buy something and it has salmonella. And it's generally from the factory, where they throw all the shit out in the fields and all the artificial hormones.
What does a city need to do to grow its culinary scene?
I think we have to support when there are young chefs doing restaurants, upscale restaurants especially, not just go for a special occasion, but go. It's like going to a basketball game or a football game. If you like football, you're going to support the team. If you like basketball, you're going to support your team. You're going to spend money on the ticket. And the same thing is with the restaurant, if you like it. If you don't care about food, well, then it doesn't really matter. You can go to the Olive Garden or any of the chain restaurants, where everything is a formula.
People are loving places such as Alinea in Chicago and French Laundry in California, both pretty experimental restaurants. Is that the new thing?
Everybody wants to do that. Everybody wants to cook in a restaurant where they have white truffles and foie gras and caviar and everything. … But you also have to be able to cook regular food and do it well. Why do we love Italian food so much? … Because it's not complicated. It's always simple, but always with good ingredients, seasonal ingredients. So if you have a restaurant somewhere and you use seasonal ingredients and cook them the right way, the food's going to taste good. It doesn't have to be complicated like my son (Byron) cooks—very complicated. It's like, crazy almost. You say, "Oh, my gosh, how did he think of it?"
That's interesting that his food is so different from yours.
Yeah! So he has a totally different (style) and what I will do in maybe six, eight years from now, when he's 28, I will give him the money to open a small restaurant, maybe 20 seats.
In Charlotte, maybe?
Wherever he wants. I'm not going to force him somewhere—then he's going to say, "Papa, it didn't work because of you." I said you choose the place and then, you cook what you like to cook. You manage it, you have to be responsible for payroll. You don't have to pay me the money back. But you're going to have to make a living on it. I'm not paying you on top of it.
Culinary school is getting so expensive. Would you recommend it for chefs?
I think it's a good thing, you know, like you go to the (Culinary Institute of America) or Johnson & Wales. But, you can go to Harvard Business School and still not be a good businessman. So the school gives you a good foundation, but you still have to love what you do. You have to have the passion for it. … I would tell them, "Go for a year or two years at least and work in a restaurant. Then, after that, if you still love it, you go to school." Then you'll see if you're going to like it.