QCTC: This Is How They Roll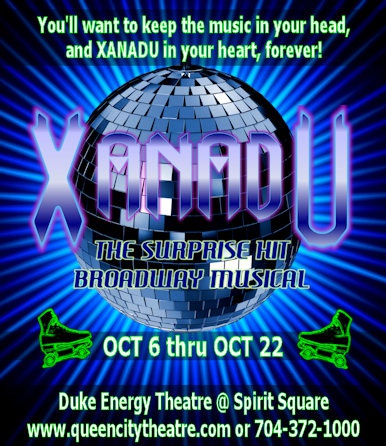 The wacky kids at Queen City Theatre Company are turning the stage at the Duke Energy Theatre at Spirit Square into a roller rink. A disco roller rink.
The cult movie classic Xanadu later became a Broadway musical hit. And now, QCTC brings the 1980s magic to Charlotte. The show follows the journey of a beautiful Greek muse (Olivia Newton-John in the film version) who descends on Venice Beach, by way of Mt. Olympus, to inspire a struggling artist to fulfill his ambition. Our protagonist, Sonny, wants to create the first roller disco.
In case you can't tell from the above description, it is a comedy. Musical hits from the over-the-top decade of disco include "Magic," "I'm Alive," "Evil Woman," "Have You Never Been Mellow?" and, of course, "Xanadu." The actors are called on to act, obviously, but also to sing and skate.
Roll on over. The adventure runs from Oct 6-22. Tickets, showtimes.