Queen Charlotte Makes Groundhog Day Debut (Plus: The Weekday Roundup)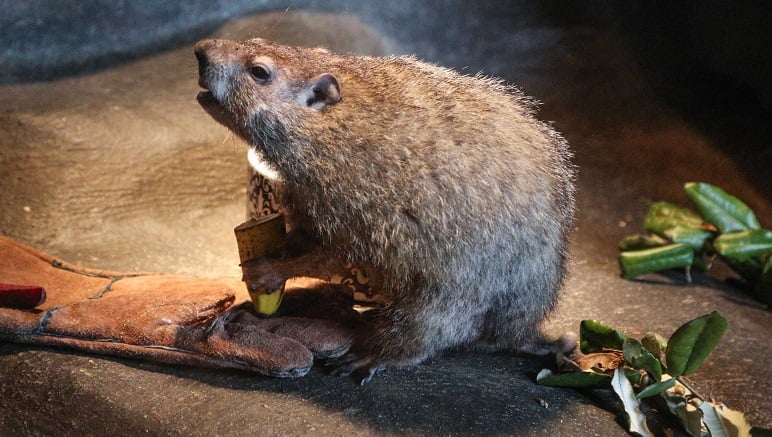 Less than a year old, the new Queen Charlotte celebrated her first Groundhog Day today. The furry 4-pounder had a private ceremony to decide whether or not winter will stick around, as she was reportedly too young and shy for the usual, large-scale affair. Marvin Bouknight, director of the Charlotte Nature Museum, says that their groundhogs have a 60-percent success rate. Since she did see her shadow, the official Queen Charlotte prediction is indeed six more weeks of winter.
As the groundhog gets older, she will be ready for the limelight. She replaces the previous Queen Charlotte, who died from cancer last year. "She was a good queen," Bouknight says. "She was very endeared by all of the staff. They loved her."
Check out what the rest of the week has in store below.
MONDAY
MOTION CITY SOUNDTRACK
Commit This to Memory was a pop-punk cry that resonated with teens across the globe. A decade later, Motion City Soundtrack tours to mark the record's anniversary, proving that the album title's request is fulfilled.
TUESDAY
LIBERTY WALK
Fifteen sites uptown are represented in the Liberty Walk, an interactive tour of bronze markers telling the early history of Charlotte and Mecklenburg County. Pick up a brochure at the Visitor's Information Center at 330 S. Tryon St., or just start in front of the Wells Fargo Plaza at 301 S. Tryon St., and follow the markers in the pavement for a trip through the historical adventure of the city's Revolutionary War days.
WEDNESDAY
GET TO KNOW THE SHOW: JOSEPH & THE AMAZING TECHNICOLOR DREAMCOAT
Charlotte thespian/director Dennis Delamar dishes on Joseph & The Amazing Technicolor Dreamcoat. The chat includes a behind-the-scenes look on the making of a national tour.
THURSDAY
PHANTOM OF THE OPERA
At this point, the Phantom has been revived a hundred times over. But that doesn't mean there isn't room for something new and thrilling to take the stage when that organ sounds. Cameron Mackintosh's take is lauded for both its scope and special effects.