Queen City Diner for Late-Night Grub, Vapor Lounge to Chill, How We Got Here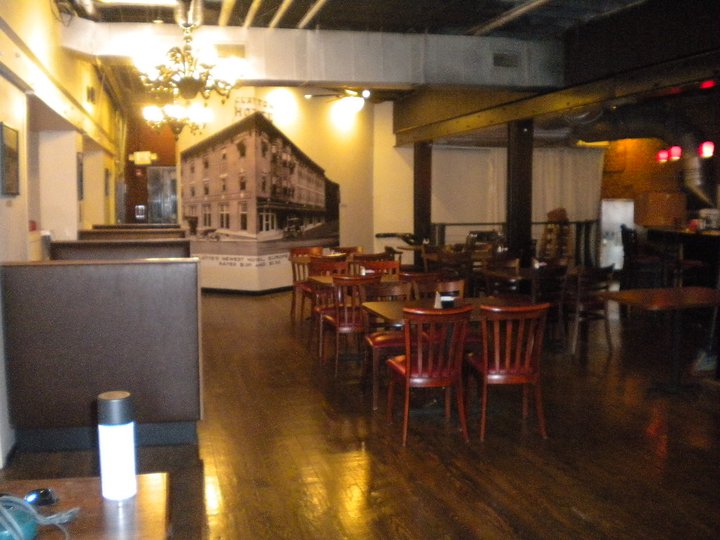 The three-story building at 116 W. Fifth Street has gone through many changes over the last five years. By the summer of 2007, after a successful three-year run as Menage Ultra Lounge, which at the time was extremely cutting-edge for Charlotte nightlife, the nightclub closed its doors. Just a few months later however, in the fall of 2007, it reopened as HOM (pronounced Home). This concept gave each level its own name and distinct feel: Liv on the bottom level, Feast in the middle, and Play on the top level. I liked HOM, but it only lasted about fourteen months.
Come fall 2009, there was a new concept for the building. Latorre's was a popular Latin restaurant and bar next door, but the business on the restaurant side had started to wane. Stefan Latorre, a prominent lawyer and businessman who owns much of that block on Fifth Street, decided to close Latorre's in its then-current location (which is now home to Dandelion Market) and move the upstairs bar to the top level of the space formerly occupied by Play. So Latorre's would continue to operate as a Latin nightclub sans the restaurant, and it appears to be doing well a year and a half later. It has more space than before, including VIP seating and a great rooftop patio.
During this time however, the first and second floors of 116 W. Fifth Street went through a couple of more incarnations. In the fall of 2009 after Latorre's moved to the top floor, Fiji Sushi Bar and Lounge opened on the second floor, which is the ground level, and Kashmir Nightclub opened on the first floor, which is the basement level. Those two nightspots lasted less than a year. It should be noted, though, that every time a new bar or nightclub opened in these spaces, the operators invested a lot of time and money into the renovations. It hasn't been your typical one-club-closes-changes-the-name-and-new-club-opens-in-its-spot-just-like-it.
Now this brings us to where we are today. Currently at 116 W. Fifth Street, Latorre's continues to operate on the top floor, Queen City Diner opened on the middle level a few months ago, and on the bottom floor Vapor Lounge opened a couple of weeks ago. If you've been able to keep up with all the changes I've outlined here, then you probably are wondering how long this incarnation will last. Your guess is as good as mine, but the success or failure of these ventures won't be for a lack of effort.
I've gone to Queen City Diner twice during the last month and a half. First off, it's great to have a 24/7 diner in the heart of uptown. I remember not too long ago that if you were out clubbing or barhopping in uptown, you'd be hard-pressed to find a kitchen open past 1 a.m. other than a couple of places like Fuel Pizza. Now, Queen City Diner is opened all day and night, seven days a week. And the food is pretty good. On my first visit, which was a Wednesday night in March, I had a burger and sweet potato fries—the fries were excellent. On my second visit, which was last weekend in the wee hours of Saturday morning, I chose breakfast and got pancakes, grits, and bacon—also delicious. (It should also be noted that last September another 24/7 diner, Midnight Diner, opened about a mile away where uptown and South End meet.)
While Queen City Diner is open round-the-clock, beneath it Vapor Lounge is open Wednesday through Saturday, 5 p.m. to close (closing time is 2 a.m. on weekends). One good thing management is doing is not charging a cover to the lounge, which you enter through the diner. This will entice people to visit and even stay awhile, which can be beneficial to the diner if they come back up to eat. Vapor Lounge has nice décor, as its predecessors did, and features live music and DJs on select nights.
This concludes your nightlife history lesson of 116 W. Fifth Street. We shall see what the future holds.