Queen City Forward: Where Business Meets Art
Charles Thomas's group supports startups that have a social conscience. He's also a professional photographer and arts educator. Here, he discusses how his varied passions intersect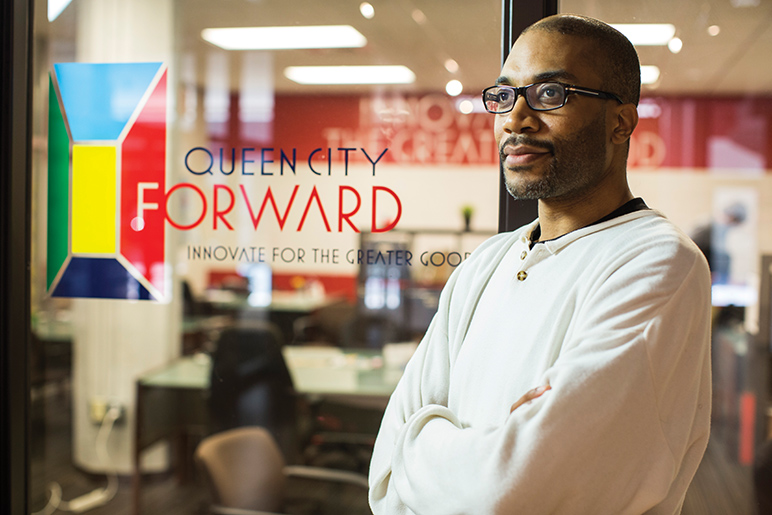 Queen City Forward's programs support "social entrepreneurs." What does that mean?
A social entrepreneur is an individual that is using business models and principles to solve a social issue. I always refer to Toms Shoes, where for every pair of shoes purchased, another is given away. Or you think of a Ben & Jerry's, where the ice cream they make is great, but they have a holistic view of their company—things like where they get their food, how they treat their employees, what they do with their profits.
You have an economics degree from Duke but also served as director of educational programming at The Light Factory Contemporary Museum of Photography and Film. How do these different experiences affect the way you approach your work?
Entrepreneurs are kind of crazy-out-there like artists. They're passionate about their creative endeavor. The difference is that entrepreneurs have to think about the revenue in order to sustain and scale and grow. I'm an economics guy, so I love spreadsheets and numbers. But I also appreciate beauty and art.
You still own a photography business, Sankofa Photography. What kind of photography are you drawn to?
My main focus is portraits. I recently published a coffee table book, Giving Back: A Tribute to Generations of African American Philanthropists. They're beautiful, black-and-white photographs of people who give back in a variety of ways. My artistic mission as a photographer is to show a positive vision of the African American community, particularly African American men.
I read that you practice origami. What prompted your interest in that?
I had a desire to fly airplanes but couldn't afford and didn't have the time to take flying lessons. In lieu of that, I started making paper airplanes—this is at age 30 or something. So I bought a book and made all the paper airplanes in the book. At the end of the book was an origami design for a crane, so I made that. And I realized that origami has the power to transform the way we look at our world.
It's amazing to use one piece of paper to create a work of art. So taking a square sheet of paper and converting it into a piece of paper that can fly or is a bird or a structure or [to] tell a story—from one sheet of paper—that's amazing.