Queen City Summer Fest, Margarita Wars, Blue Blaze Brewing Grand Opening and More, June 23 to June 26
With the first day of summer, we have the Queen City Summer Fest, Margarita Wars and more. Hello, summer! We've missed you.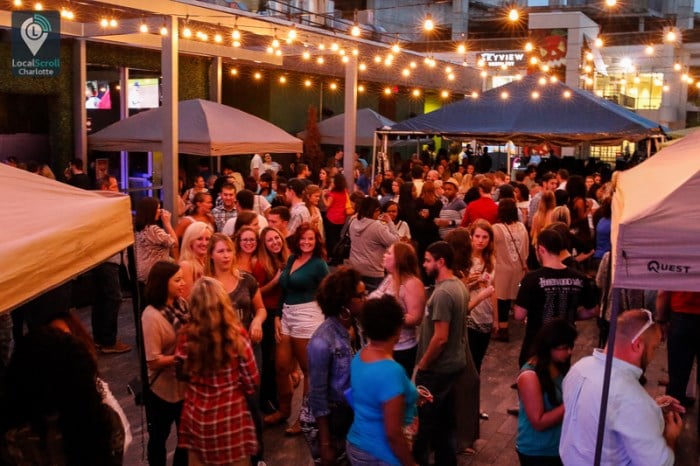 Thursday, June 23
Networking at Nan's
Hopspot and Nan and Byron's invites you to bring your business cards and smooth-talking charm to a free networking event tonight from 6 until 8. As a bonus, if you download the Hopspot app, you'll get a free drink to ease those networking nerves. Nan and Byron's is at 1714 South Blvd.
Friday, June 24
Queen City Summer Fest
Rooftop 210 says hello to summer today with the Queen City Summer Fest. Along with free food, you'll have access to lawn games, live music, a silent auction and giveaways. The welcome-to-summer party begins at 6 p.m. at 210 E. Trade St. There is no admission fee.
Sunset at Metropolitan
The summer concert series at Metropolitan ends tonight after getting a one-week extension. This free evening of live music starts at 5:30 p.m. and ends at 8:30 p.m. at the corner of Charlottetowne Avenue and S. Kings Drive.
Uptown Charity Bar Crawl
You get to drink. A charity (2 Steps Forward Foundation) gets cash. Everyone wins. A $10 ticket ($15 the day of) gets you free entry to Howl at the Moon, Whisky River Blackfinn and Suite and drink specials like two $1 drink tickets at Howl at the Moon. Buy tickets here. Registration is at Howl at the Moon, 210 E. Trade St., from 6 p.m. until 8 p.m.
Charlotte Pizza Tour
If "pizza tour" aren't the two most beautiful words when used together, we don't know what is. Starting tonight and running until Sunday evening, the Charlotte Pizza Review (Yes, apparently, that's a thing) is offering a shuttle bus tour of three area pizza locations for a special pizza tour. A tour costs $39 and includes food and transportation. Buy tickets here and learn more about your pizza stop options here.
Saturday, June 25
Margarita Wars
This event pits some of Charlotte's saltiest bartenders against one another to shake and stir the best margaritas the city has to offer. The best part? You're the judge as to who gets crowned the winner of best and most original margaritas. A $23 ticket buys you eight samples, so good luck getting out alive. The battle gets underway at 2 p.m. at Rooftop 210, 210 E. Trade St. Buy tickets here.
Strikes For Kids Celebrity Bowling Event
This event features more than a dozen National Football League players donning bowling shoes instead of cleats. A ticket to watch the football players bowl is $15 per adult and $10 for kids (children 6 and younger are free). To bowl with the big dogs costs $80. The games start at 1 p.m. at Piedmont Social House, 2135 Ayrsley Town Blvd. Buy tickets here.
Monster Mash Bar Crawl
Sure, summer just started this week, but Halloween can never come too early. Registration for this deadly evening starts at 5 p.m. at Tilt on Trade, 127 W. Trade St., before (be)heading to SIP, Fitzgerald's, Prohibition, Roxbury and Connolly's on Fifth. More than 30 makeup artists will be on site to help you nail that killer monster look. Get your tickets here.
Blue Blaze Brewing Grand Opening
You have a new brewery, Charlotte. Join the newest addition to the brewery scene with food trucks and live music today at Blue Blaze Brewing, 528 S. Turner Ave., from noon until 10 p.m. There's no admission charge.
Sunday, June 26
Murphy's Dirty 30 Mud Volleyball Tournament
All we can say is, "Don't wear your church clothes to this." For $40 or $240 for a team of six, you'll get at least three rounds of the dirtiest and most disgusting volleyball games you'll surely ever play and a free T-shirt (which will probably be too dirty to wear again). The tournament starts at 1 p.m. at Bryton Development, on Savoy Lane in Huntersville. Register here.
Summer Pops
The annual summer concert series has only one more concert after this, so go now if you want to be a part of a Charlotte summer tradition. This week's theme is "Oh, the Places You'll Go," and it'll feature music that "takes you to destinations near and far." Tickets are $12 and children younger than 18 get in for free. Gates open at 5 p.m., and the show begins at 7 p.m. at Symphony Park, 4400 Sharon Road. Buy tickets here.
Verify dates, times, prices, and other info at the web addresses listed for each event.
Be sure to bookmark www.charlottemagazine.com/Blogs/Dusk-Till-Dawn to stay plugged into Charlotte's nightlife and social scene. Click here to sign up to receive the weekly Dusk Till Dawn e-newsletter.
Want your event featured in Dusk Till Dawn? Follow me on Twitter @Jared_misner and let me know about your event, or send me an email at dusktilldawnblog@gmail.com.
Send Jared an email at DuskTillDawnblog@gmail.com, or send him a tweet @Jared_Misner.

Also by Jared Misner:

→This Weekend's Social Events
→Bowling For Books, First Friday Fort Mill, Electric Luau Party, Soulmatic Carolina Music Fest and More, Aug. 6 to Aug. 9
→The Moon Walk, Candy Fest, Silly String Party, Booze Cruise and More, July 30 to Aug. 2
→Christmas in July, More Christmas in July, National Dance Day, National Tequila Day and More, July 23 to July 26