Queen City Theatre Company Announces Gayest Season Ever!
Take that, protestors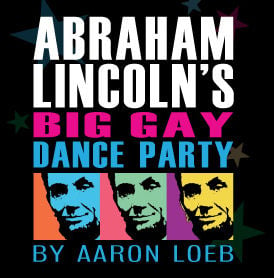 If you thought the uproar (more than 2,000 emails plus being denounced by the local Catholic bishop) over Queen City Theatre Company's production of The Most Fabulous Story Ever Told (a gay retelling of the Book of Genesis) might scare the company into tamer fame, you don't know co-founders Glenn T. Griffin and Kristian Wedolowski. Their 2012-13 season will be even gayer than last season.
They'll kick things off with Abraham Lincoln's Big, Gay Dance Party, a comedy by Aaron Loeb. If they gain the rights to the play — and those are still pending — the fellas will give this play its regional premiere. It won Outstanding Play at the NYC Fringe Festival and Best New Play at the Bay Area Critics Circle.
In Abraham Lincoln's Big, Gay Dance Party, a fourth-grade Christmas pageant in Lincoln's rural Illinois hometown sets off a firestorm when it calls into question Honest Abe's sexuality. A thought-provoking, laugh-out-loud funny, and uniquely American story unfolds, offering surprises at every turn. Each of the three acts lets the audience see the story from a different character's viewpoint – and at each performance, the audience decides in which order the acts are performed, which creates a participatory theatrical event.
It will be a truly democratic theater-going experience. And, there may even be protests, making it that much more American.
The gayness continues in October — although in a much more serious format — with Martin Sherman's stunning Bent. It's a love story set in Nazi Germany, at a time when homosexuals were sent to concentration camps. Martin Sherman's hit play took London by storm in 1979 when it was first performed by the Royal Court Theatre, with Sir Ian McKellen as Max. It was later made into a sparse, powerful movie with Clive Owen — and Mick Jagger in a small role as a transvestite.
"People knew about how the Third Reich treated Jews and, to some extent, gypsies, and political prisoners," Sherman has said. "But very little had come out about their treatment of homosexuals." Gays were arrested and interned at work camps prior to the genocide of Jews, gypsies, and handicapped, and continued to be imprisoned even after the fall of the Third Reich and liberation of the camps.
Recent Broadway hit Next to Normal is next up, and there's, actually, no gay theme in it. The music is by Tom Kitt, and book and lyrics are by Brian Yorkey. QCTC stages the production in January 2013. It's the regional premiere of the Tony- and Pulitzer-winning musical. The acclaimed, groundbreaking musical is an exploration of a family trying to take care of themselves and each other as the mother comes unwound.
---
The season closes with more gay in May with another regional premiere — Kiss of the Spider Woman. The book, based on a novel by Manuel Puig, is by Terrence McNally, music's by John Kander, and lyrics are by Fred Ebb. Winner of multiple Tony Awards including Best Musical, Kiss turns a harrowing tale of persecution into a dazzling spectacle complete with fantasy sequences. Valentin and Molina are cellmates in a Latin American prison; one is a revolutionary undergoing torture, and the other is (surprise!) an unabashed homosexual serving eight years for deviant behavior.
No firm dates have been set yet. But this announcement should give protestors plenty of time to mobilize.