Queen's Feast, NASCAR Hall of Fame Fan Appreciation Day and Induction Ceremony, NFC Championship Kickoff Party and More, Jan. 21 to Jan. 24
The name of the game is Panthers. You've got multiple opportunities this weekend to cheer our team on as it makes its way to the Super Bowl.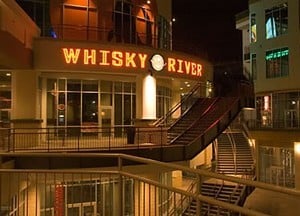 The Panthers are playing. There's not much else to say. Super Bowl 50 is in reach. Hold your breath for our Panthers and enjoy these events, Charlotte. See y'all out there (and keep pounding!).
Thursday, Jan. 21
Dinner at Fran's
Birdsong Brewing partners with Fran's Filling Station to bring you this four-course meal (each paired with a Birdsong brew). There will be a "beeramisu." Enough said. The dinner is at 6:30 p.m. at 2410 Park Road. Tickets are $45. You can buy them (and look at the full menu) here.
Third Thursday Networking
Draught hosts this monthly mixer for professionals looking to make connections and enjoy a few beers. The free event is at 601 S. Cedar St., and it begins at 7 p.m. RSVP here.
Friday, Jan. 22
Flashback Friday
Turn back time tonight at Roxbury, as this Uptown spot goes back to the '80s and '90s. This popular spot has a swag bag to give away tonight, so hold on to that raffle ticket you get at the door. The flashback party starts at 9 p.m. at 116 W. Fifth St. Tickets are $5 and can be bought at the door.
Queen's Feast
It's back. The semiannual sweep of city restaurants is here, and it lasts until the end of the month. If you're unfamiliar, this is a twice-yearly "Charlotte Restaurant Week" or sorts that features some of the city's best restaurants offering three course meals for either $30 or $35. For more information on participating restaurants, menus and hours, go here. Dig in!
NFC Championship Kickoff Party
Our "Cardiac Cats" pulled another one through last weekend, so we have another party to throw. Whisky River, 210 E. Trade St., hosts this party as the Panthers prepare to play the Arizona Cardinals as the last stop before the Super Bowl. Tickets are about $12, and they include a T-shirt and entrance to the party. Buy them here.
NASCAR Hall of Fame Induction Ceremony
Racing bigwigs convene in Charlotte tonight, as the NASCAR Hall of Fame honors Jerry Cook, Bobby Isaac, Terry Labonte, Bruton Smith and Curtis Turner during this year's ceremony. Times and prices vary depending on the package purchased, but tickets start at $45 for the event at 400 E. Martin Luther King Jr. Blvd. Visit here for more information.
Saturday, Jan. 23
Get Rocked with the Checkers
Here's a whole night of fun. Buy a ticket for $25 and you'll get an hour of beer before and after the Checkers hockey game, one Red Bull-vodka before and one after the game (for the first 150 people to purchase tickets online), free entrance into Prohibition, your Checkers game ticket, and entrance on the party bus to and from the game. Registration begins at 5 p.m. at Prohibition, 200 N. Tryon St. Buy your tickets here.
Panthers Pep Rally
Coming off the win against Seattle, our Carolina Panthers have every reason to party before the NFC Championship Sunday. The party starts at 4 p.m. at the EpiCentre, 210 E. Trade St., as Whisky River, Blackfinn, Strike City, Vida, Vida Vida, Bubble, Suite and Rooftop 210, Tin Roof, Wild Wing Café and Howl at the Moon are all participating. Tickets cost about $14, and they include free entrance to all the above-named bars plus a T-shirt. Buy your ticket here to keep pounding.
The Ultimate Pre-Tailgate
Can you tell this weekend's all about the Panthers? If the EpiCentre seems like it'll be too crowded for you, head to Sydney's Martini and Wine Bar, 401 N. Tryon St., for this free event. Don't forget to wear your best Panthers gear! The party starts at 9 p.m.
NASCAR Fan Appreciation Day
After celebrating its finest, the NASCAR Hall of Fame opens its doors to everyone for this day of free family fun. From 8 a.m. until 5 p.m., the center hosts famous drivers and welcomes fans to partake in any of the exhibits. The Hall of Fame is at 400 E. Martin Lither King Jr. Blvd. For more information on the day's schedule, go here.
Sunday, Jan. 24
We all know the deal with today. The Panthers play the Arizona Cardinals this evening at 6:40. If we win, we go to the Super Bowl. Tickets sold out in minutes, so you might not have been able to grab one. In that case, try one of these spots for a great experience cheering on our boys.
The Doghouse
It's ironic, perhaps, that a bar named after a place for dogs makes us love our Cats so much. This bar at 401 W. Morehead St. is – quite literally – only steps away from Bank of America Stadium, so you'll still hear the action. The bar opens at noon, and you'll want to get there early if you want to beat the crowds. Free entry.
Gin Mill
For $4, you can buy a Panthers shot. That seems worth it. This South End favorite is at 1441 S. Tryon St. Free entry.
Verify dates, times, prices, and other info at the web addresses listed for each event.
Be sure to bookmark www.charlottemagazine.com/Blogs/Dusk-Till-Dawn to stay plugged into Charlotte's nightlife and social scene. Click here to sign up to receive the weekly Dusk Till Dawn e-newsletter.
Want your event featured in Dusk Till Dawn? Follow me on Twitter @Jared_misner and let me know about your event, or send me an email at dusktilldawnblog@gmail.com.
Send Jared an email at DuskTillDawnblog@gmail.com, or send him a tweet @Jared_Misner.

Also by Jared Misner:

→This Weekend's Social Events
→Bowling For Books, First Friday Fort Mill, Electric Luau Party, Soulmatic Carolina Music Fest and More, Aug. 6 to Aug. 9
→The Moon Walk, Candy Fest, Silly String Party, Booze Cruise and More, July 30 to Aug. 2
→Christmas in July, More Christmas in July, National Dance Day, National Tequila Day and More, July 23 to July 26