Quick Hits: A Local Cheese Guide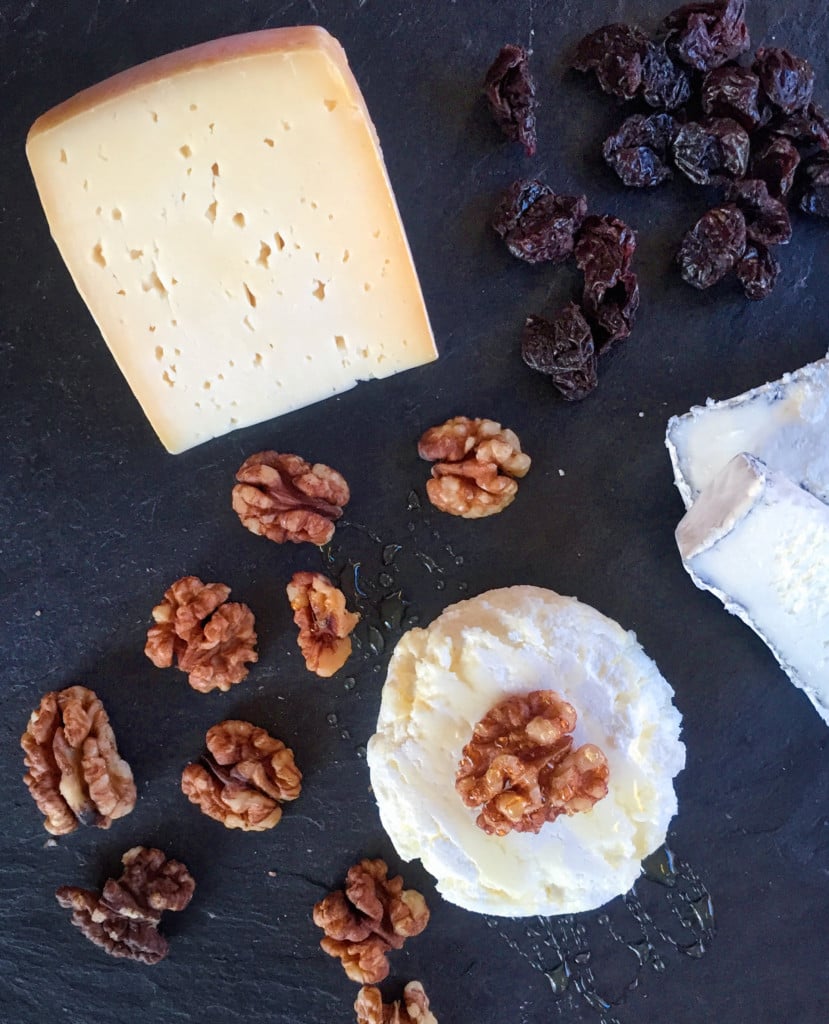 In its purest form, cheese is made of just three things: milk, cultures that acidify and flavor the cheese, and salt (to preserve it and add flavor). Rennet, an enzyme that causes the milk to solidify, is often involved, but not always. Cheese makers sometimes then elect to add things like fruit, herbs, spices, or salt to impart flavor and texture. No surprises there. What might be, however, is the news that wood pulp—also called cellulose—could be in your cheese as well.
If the thought that you might have been eating flavored wood pulp all this time has got you down, may I suggest renewing your faith with a plate of quality cheese. Lucky for us, North Carolina is home to a growing number of cheese makers who are making good, artisanal cheeses. In 2012, a group of artisans even formed the Western North Carolina Cheese Trail in an effort to connect with cheese lovers through tours, education, and combined PR efforts. They also back the Carolina Mountain Cheese Fest—complete with a grilled cheese contest—to be held April 24 this year.
Even if you can't make it to the fest or visit the dairies, many of the members' cheeses are available for purchase around town, along with ones made right here in the Charlotte area. Here is a quick guide for who's making good cheese locally and where to find it.
CHEESE MAKERS IN THE CHARLOTTE AREA
We've included a few spots where you can find each of these; visit their websites for additional locations.
Bosky Acres: specialize in fresh goat cheese and feta, including flavored varieties. Expect cow's milk cheeses on their lineup soon. Find it at: Yorkmont Regional Farmer's Market, Queen City Pantry inside Atherton Market, Matthews Farmers Market, and area restaurants.
Cackleberry Farms: wheels of rustic farmstead cheeses can be found at Coldwater Creek Farms market stands, along with fresh feta and a queso fresca that is delicious when sliced and seared in a pan. Find it at: Atherton Market and Davidson Farmers Market.
Cheval Farmstead Dairy: raise their own goats for their wide assortment of goat's milk cheeses, including a Black Magic soft cheese that is made with organic coconut shell ash. They have recently introduced a Guernsey cheddar. Find it at: Davidson Farmers Market and Queen City Pantry.
Fading D Farm: This Salisbury farm—one of three in the U.S. milking and making cheese from water buffalo—just received its certification in January. They make buffalo mozzarella, aged cheeses, a spreadable cheese, and a grilling cheese similar to halloumi. For now, you can find the spreadable cheese at Orrman's Cheese Shop and Salisbury Wine Shop. Their other products are coming soon and will also be available at Davidson Farmers Market, Salisbury Farmers Market, and Peach Tree Farmers Market.
Uno Alla Volta: chef-turned-cheese maker Zack Gadberry creates silky, fresh balls of mozzarella and burrata, as well as ricotta and feta. His flavored cheeses take advantage of each season's harvest, ranging from pungent ramps to fresh fruits. Find it at: Ferruci's, NoDa Farmers Market, Pasta & Provisions, and area restaurants.
SPECIALTY SHOPS SELLING ARTISANAL CHEESE
These places offer an assortment of cheeses from all over the world, but also make room for local and regional cheeses.
Earl's Grocery
Earth Fare
Orrman's Cheese Shop
Reid's Fine Foods, South Park
Whole Foods Market
REGIONAL CHEESES WORTH TRYING
In addition to the very local cheeses mentioned above, here are some regional cheeses you can find around town that are great for snacking, cooking, or both.
Calvander by Chapel Hill Creamery: Like Asiago in texture and taste, this award-winning cheese is worth keeping around. Grate it over pasta, use the rind to season soup, or just enjoy it with wine.
Chocolate Lab by Looking Glass Creamery: An attractive snacking cheese that comes coated in sea salt and crushed cocoa nibs.
Ellington by Looking Glass Creamery: A pretty pyramid of soft goat cheese that, when allowed to sit for a bit, takes on two textures.
Grayson by Meadow Creek Dairy: The dairy's Grayson cheese is an award-winning cheese similar to the more familiar Taleggio.
Lindale by Goat Lady Dairy: A soft, buttery cow's milk gouda, Lindale is cave-aged at the dairy.
Mountaineer by Meadow Creek Dairy: An aged cheese with a nutty, rich flavor that makes it difficult to leave on the cheese board.
Rosie's Robiola by Boxcarr Handmade Cheese: A luscious cheese with a flavorful, silky center that is fashioned after an Italian classic, robiola.
Stackhouse by Spinning Spider Creamery: Recommended if you like Humboldt Fog. Let this one sit out for a bit before serving.