Quick Study with Ericka Ellis-Stewart
The new school board chair faces large challenges in her first year in elected office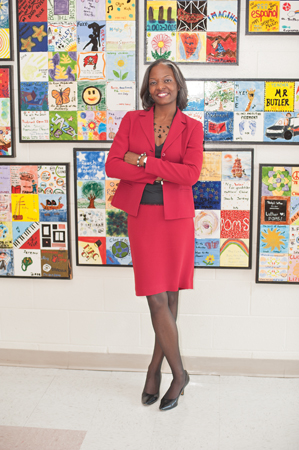 For a rookie politician, it's a daunting time to be leading the Charlotte-Mecklenburg school board. Ericka Ellis-Stewart, thirty-seven, came out of nowhere last fall to win the most votes, being elected board chair in the process. There was no honeymoon period for the Queens University grad and mother of two. Ellis-Stewart must help choose the board's next permanent superintendent and drive the board's budget priorities amid another year of uncertain local, state, and federal funding.
What have the past nine months been like? Life has been a whirlwind. I have put a lot of miles on our cars, but I've listened and learned. I don't see myself as a politician. I am honored to have been selected as board chairman, although it is not a role that I actively lobbied for with my peers.
What has been the biggest challenge? The biggest challenge thus far is determining how to bring nine individuals to consensus on our direction as a collective board. My style is not reflective of a "my way or the highway" approach.
What is the latest on the selection process of a permanent superintendent? Do you have any concerns that the board won't find consensus? The process of screening and vetting candidates has begun. We're finalizing the remainder of the search timeline, which will include a number of community engagement activities. I believe that the board can reach consensus on who will ultimately become CMS's next superintendent if we choose to work through the process using meaningful dialogue.
Do you support interim superintendent Hugh Hattabaugh's tentative request for $27 million in additional funding next year? I agree that teachers deserve a pay increase. They are preparing the next generation of leaders and they have not seen a raise or bonus in the last three years. Instead, they have done more with less, and for the first time in many years, data from CMS and the state of North Carolina shows that our academic gains are beginning to trend downward.
Does CMS need its own taxing authority to raise revenues for its own budget? If so, how plausible is that? That would eliminate some of the guesswork of the current budget development process at the local level. It would require a consolidation of our current city/county management and governance structures. Mayor Anthony Foxx has consistently advocated for consolidation, but it does not appear to be an idea that is gaining traction.
How has your professional background in nonprofit organizations guided how you lead a CMS school board of different personalities and opinions?
Working in the nonprofit arena impressed upon me the importance of choosing your battles and staying focused on the real work of making a difference. It taught me how to listen, remain calm in the face of adversity, and to value dialogue, consensus, and group process.