Quickie Review: Cajun Yard Dog
A taste of New Orleans in the Arboretum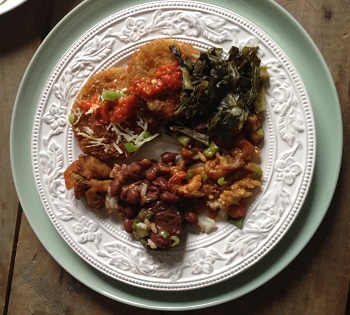 Nestled in the sprawling array of stores that is The Arboretum on Providence Road sits the humble storefront for Cajun Yard Dog. Truth be told, I would not have known this place existed were it not for the eatery's coupons via Clipper magazine stuffed into my mailbox once per month.
Thank GOD I stopped in. I'm going to make a bold statement here: the cajun food here is on the same level as the beloved Cajun Queen, with some dishes being even better. Allow me to elaborate:
First off, the atmosphere is the other side of New Orleans NOT presented at The Cajun Queen, which offers classically designed dining rooms with jazz playing in the background. When you walk into Cajun Yard Dog, you'll notice a pretty dingy floor, loud music, louder patrons, a very busy bar, tons of beads (everywhere), glitter, and the wafting scent of rich roux. If The Cajun Queen is your parents' trip to The Big Easy, Cajun Yard Dog is your Spring Break for Mardi Gras (the one you don't tell you parents about).
But oh, the food. An appetizer of fried green tomatoes offered thick slices with a super crunchy coating, topped with shreds of parmesan and a smoky and peppery dipping sauce. Probably one of the meatiest renditions of the dish I've had.
Before diving into the entrees, the sides should be given some spotlight. Fried okra stayed moist but not slimy under its breading, and collards made with bacon were smoky and stood up to the spice throughout other dishes. The chicken and andouille gumbo had a dark roux and wasn't skimpy on the meat, with huge slices of the smoked sausage throughout and only enough Carolina rice to thicken up the soup.
For the main event, I chose the crawfish etoufee while my companion opted for the red beans and rice. I do prefer Cajun Queen's etoufee, simply because I prefer a darker roux, but the crawfish were plentiful and fresh. My companion's red beans and rice was smoky and unbelievably delicious; plus, one long split sausage graced the top of the bean/rice mountain. The red beans are also available as a side, for those of you watching your carb intake.
Overall, if you can take the noise (and the probable wait, as the eatery is fairly small), come for the food. You won't be disappointed.