Quickie Review: Pasta & Provisions
The storefront has stood on Providence Rd since 1992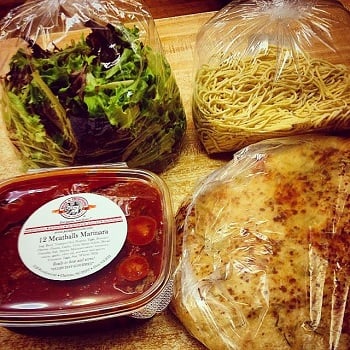 A recent chilly evening (and they've all been chilly) resulted in a dinner provided by Pasta & Provisions. The family-owned store has stood on Providence Road since 1992 and offers everything from fresh pasta to sauce to bread to pizza.
As discussed earlier this week, fresh pasta is in a category all its own; creating a more suited bed for lighter sauces and toppings than its dried variety cousin. Pasta included, here's how our dinner stacked up in terms of taste:
Wild mushroom pasta: Mushrooms aren't the most explosive in terms of flavor, but the use of them did offer a very mild, earthy flavor to this pasta. It reminded me a bit of whole wheat and was good with the pesto sauce.
Plain egg pasta: Eggy, classic, and yummy. Purists will definitely be into this. It also held up reasonably well to the meatballs and marinara.
Rosemary Focaccia: Delicious – plain and simple. The herby crust on the outside paired beautifully with the warm soft bread inside. All you need is a tiny dish of olive oil for dipping.
Almond Creme Cake: Think of something like an almond custard combined with tiramisu and you have the almond creme cake. The sweet nutty flavor goes nicely with a more savory espresso. Careful about the sugar high that will likely follow.
Meatballs and Marinara: The mild tomato sauce which gets its flavor from garlic, onion, parsley and peppers was a little less sweet than I'm used to. The meatballs, however, were not over mixed and remained firm but flavorful.
Basil Pesto: This went well over the wild mushroom pasta. The herbs and earthy mushrooms seemed to complement each other fairly well.
Overall, this is a grocer we would definitely buy from again, if not purely for the fact that the George family is creating a home-cooked, fresh, and delicious meal for the purpose of takeout.