Raising a City Kid to Love Wildlife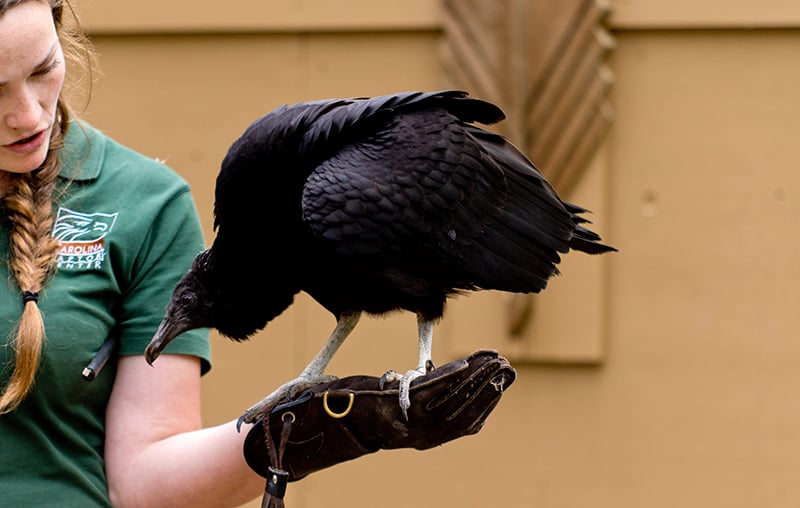 I GREW UP IN THE MOUNTAINS of West Virginia. It wasn't strange to encounter deer, turtles, snakes, and a stray garden hose that we de nitely thought was a snake for a second there. Now my wife and I live in Charlotte, and as we raise a toddler in the city, we want to acquaint her with wild critters of this region—but I'd rather not go out and wrangle them on my own. Thankfully, two institutions, Carolina Raptor Center and Charlotte Nature Museum, do that for us.
---
CAROLINA RAPTOR CENTER
THE FIRST THING WE DO is check our wingspans.
This is the charge of the first interactive station at Huntersville's Carolina Raptor Center, the 57-acre property inside the Latta Plantation Nature Preserve with more than 25 avian species. Here, a board is painted with silhouettes of different birds. Visitors spread their arms and compare their wingspans.
My family chooses to measure ourselves against owls, due to our inherent wisdom and affinity for Tootsie Pops. (Though a guide later tells us that the eyes of an owl are far too large to allow a big brain.) My wife and I measured close to the majestic spread of the Eurasian Eagle Owl, while our daughter can't even match the three-foot wingspan of a barn owl.
Without any electronic gadgetry, this station quickly gets us thinking about how we relate to birds. We snap a few photos and head to the scheduled 1 p.m. feeding in the "Vulture Culture" region of the campus.
The Carolina Raptor Center is a labyrinth of mini-trails and wooden signs that mark the distances between its bird attractions, broken down by group: hawks, falcons, owls, eagles, and vultures. Most people don't care for vultures, given their bare heads and love of roadkill. Yet, as the turkey vulture inhales a limp mouse during the feeding, our guide dispels most negative notions about the creature. The vulture is not only an integral part of our ecosystem, but a fascinating animal that's in danger across the world. As farmers in countries like India pump drugs into their livestock, our guide explains, vultures who feed on the animals are being poisoned. She goes on to describe North Carolina's most common vultures—the black vulture and the turkey vulture—and how to tell the difference between them. Turkey vultures fly with their wings in a "V" shape and wobble in the air, while the steady black vultures soar with their wings straight out. Plus, most of the underside of the wings of the turkey vulture is white, while just the tips of the black vulture are white.
The lesson enraptures the older kids in the crowd gathered to watch the feeding. Our own child, almost two years old, simply points at the creatures, smiles, and offers a few intelligible words. There's something comforting in knowing that as she grows up, the funny-looking-yet-captivating animals here can inspire awe in her, too.
Until then, Mom and Dad take in the new knowledge from today for themselves. And on the way home, we're surprised to spot a vulture at the side of the road, dismantling some road kill that would otherwise stink in the sun.
For the first time, I can tell you it's a black vulture.
CAROLINA RAPTOR CENTER
6000 Sample Rd., Huntersville
704-875-6521
NOTE: In the spring of 2017, the center will break ground on a new, 13,000-square-foot environmental education center at Latta Plantation. It's scheduled to open in the winter of 2018
---
CHARLOTTE NATURE MUSEUM
FOR 65 YEARS, Charlotte Nature Museum has proven that kids don't have to be sitting down to learn.
Sure, the 13,000-square-foot facility has several indoor activities, from hangouts with live creatures and animal exhibits to puppet shows. But the strongest aspects of the center are the areas that require walking and a bit of sunscreen. During a Sunday visit, we don't linger inside long before we make our way to the Paw Paw Nature Trail, a winding jaunt through a 100-year-old forest situated between Dilworth and Myers Park. Even with its native inhabitants—squirrels, turtles, bugs, owls, and wild owers—this controlled and maintained environment gives 65,000 visitors a year the chance to safely connect with nature. On the fourth Saturday of each month, a naturalist guides visitors down the path and offers insight into the self-contained ecosystem.
The Nature Museum is part of a network of institutions in Charlotte that includes Discovery Place in uptown and Discovery Place KIDS in Huntersville. While those two museums deliver interactive science to kids, the Nature Museum integrates the natural backdrop of the region, its flora and fauna, with only a chain-link fence separating it from the 98-acre Freedom Park.
We pass the Butterfly Pavilion, where older kids frolic among the insects and pose for Instagram photos, and head for Fort Wild, an outdoor exhibit for all ages below the main floor of the Nature Museum. It's exhausting to even watch a toddler load a wagon with wood, play a few notes on deconstructed wind chimes, continuously enter and re-enter a teepee, scale boulders and logs and more boulders, and then tend to a garden. Yet this is the next hour of our lives, culminating in a symphony of toddler activity as they collaborate on these activities.
The Charlotte Nature Museum adapts to the visitor, old or young. Wildlife Lab participants explore the science behind elephant ears and a hawk's vision. Visiting naturalists teach older kids about the complexities and dangers of the natural world, brandishing artifacts like teeth and claws from adventures. And outside, in Fort Wild, toddlers dig through the dirt and collaborate, their curiosity growing.
CHARLOTTE NATURE MUSEUM
1658 Sterling Rd.
704-372-6261