Raising the Steaks
BLT Steak is bringing a new level of sophisticated steakhouse cuisine to the city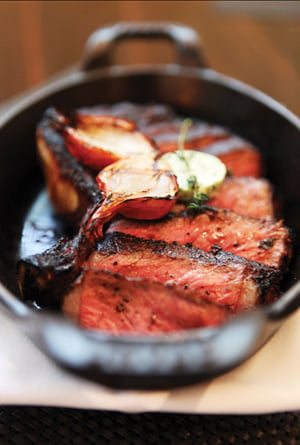 The fact that a restaurant like BLT Steak is in Charlotte is remarkable. This city should not have a restaurant such as this, one that thrives in far more exotic locales. New York, Los Angeles, Kowloon, Miami, yes. D.C., Atlanta, Vegas, maybe. But Charlotte? No way. Yet here it is. And although it basks in the glow of the newly unveiled Ritz-Carlton, BLT Steak shimmers in its own light. The concept has been perfected — this is the eleventh BLT Steak concept by acclaimed Chef Laurent Tourondel. It is bistro cooking at its core ("BLT" stands for "Bistro Laurent Tourondel") with a simple à la carte menu that provides ample opportunities to share Tourondel's vision, which is to take ingredients at their peak, treat them with care, and cook them perfectly.
There are some surprises, such as the rustic chicken liver pâté (served as an amuse bouche with grilled peasant bread) or the signature Gruyère popovers. Cracking one of these open and enjoying the aromas and textures that spew forth is one of the more enjoyable experiences I have had in any restaurant. A quick shake of sea salt from the large aluminum saltshaker and a few curls of creamy butter bring out the cheesy, doughy flavors of this simple baked good. Our appetites whetted, we sip a pinot from Oregon's Willamette Valley from the large wine list and listen to the waiter describe the menu. Affordable wines are on this impressive list but will be a challenge to find; most bottles of the hundreds available are well above $70. Still, there are plenty of options, and the kind staff will help you find something within your budget.
Each evening, the kitchen, run by Chef de Cuisine Aksel Theilkuhl, features nine or ten specials in addition to the core menu. Among the starters, sweet roast- ed beets pair well with bitter endive and Gorgonzola. Other traditional salads include a bibb lettuce salad and, of course, a Caesar. But our favorite first courses are fish, specifically two species of tuna. The tuna tartare is a Laurent signature, and with good reason. Chunks of sashimi-grade tuna and avocado are molded into a perfect cube over a soft ponzu sauce to wake it all up. Hamachi is meaty and fresh, livened by shaved cucumber, herbs, and a bracing splash of soy. However, the steak tartare special fell markedly flat. Disappointing, given BLT Steak's otherwise brilliant treatment of raw flesh. Expecting the diced beef to spring to life, it sat on our palates uncomfortably. We spoke with our waiter about this, and were told the chef likes the ingredients to speak for themselves. Well so do I, but this one needed help, especially for $28.
BLT Steak
110 N. College St.
704-972-4380
$$$$, R, BF, L, D, FSB.
bltsteak.com
BLT Steak is, after all, a steakhouse. And carnivores (like me) can satisfy their bloodlust in myriad ways. There is filet mignon, rib-eye, porterhouse, and strips, but there are also more interesting cuts like an affordable hanger steak ($26), a bone-in rib-eye, a Kobe beef strip (for a blistering $26 per ounce) and even an Angus burger ($16). In addition to steak and poultry, there are also a few fish entrées including proper Dover sole, whole roasted bronzino, and a honey-marinated black cod. Theilkuhl gives this Alaskan fish a flowery honey infusion and cooks it until just done, with a slightly opaque center. This speaks volumes about the attention to detail that occurs in the kitchen. The cod, like every cut of meat or fish we tried, save for one slightly overcooked rib-eye, was cooked exactly the way it should be.
A bone-in rib-eye's thick char gives way to tender marbled beef, and a veal chop arrives exactly medium rare, as the chef recommends, and comes alive when paired with one of the many sauces. (In this case, a red wine and veal stock reduction, but also excellent is the classic béarnaise and the chimichurri.) Each cut has a distinct flavor and texture, a result of aged USDA Prime Angus beef—and a watchful, disciplined kitchen staff. All chops and most sides are presented in Staub cast iron vessels of all shapes and sizes, which gives the table farmhouse charm when all arrive at once. Sides ($7) are meant to be shared. There are classics like stacked onion rings, creamed spinach, and crunchy leek hash browns, but also dishes that reflect the restaurant's Southern orientation with satisfying results, such as Brussels sprouts and bacon, collard greens, and the jarringly good Gorgonzola and grits. In the latter, creamy grits bubble beneath a sharp Gorgonzola crust in a small oval cauldron, and are a refreshing change from the otherwise de rigueur potato dish. Desserts ($10) are house made and feature classics like lemon meringue pie, chocolate tart, and carrot cake. However, on several visits we could only muster coffee and an aperitif.
The space is vibrant and alive, but intimate. Medium dark and brown tones abound and round modern lights illuminate each table. Service is friendly and attentive, featuring a team approach that can be a bit schizophrenic, with no fewer than eight servers and managers needed to guide us through dinner. There are only seventy-five seats in the dining room and about twelve at the small bar. One night it was three deep, with couples on a big night out, drinking and dining before a concert at neighboring Time Warner Cable Arena. The setting is also very hip, located a half story below Trade Street, just off the Ritz-Carlton lobby, which seems to be develop- ing into quite a hangout in its own right. Located just outside BLT Steak, it is dark enough to provide cover for trysts, but not too dark that you won't be seen—and the Ritz has recently added a new lobby bar to take some pressure off the BLT staff. BLT Steak serves breakfast and lunch as well, since it's the only restaurant in the hotel.
The BLT Steak and Ritz-Carlton combination is a good hallmark for Charlotte. It is a signature space on a power alley in a growing city. Make no mistake, though — BLT Steak is not for the timid. It would be pretty easy for a couple to blow $300-plus on drinks and dinner. This didn't seem to bother anyone on the nights we attended. In fact, people seem to be partying like it's the gay nineties around here. And why not? If a restaurant like BLT Steak can thrive in Charlotte, maybe those good times are on their way back.
E-mail: editor@charlottemagazine.com. All of Jon Luther's visits are anonymous. Read past reviews at www.charlottemagazine.com.