Rare Roots Hospitality Opening Seafood Restaurant in Uptown
Restaurant group behind Dogwood Southern Table and The Porter's House expect Fin & Fino to open in early spring 2018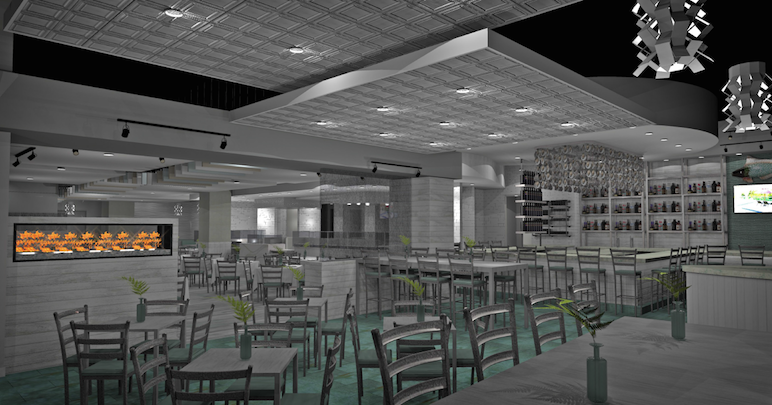 Rare Roots Hospitality will open Fin & Fino, a seafood concept, in the spring of 2018. Rare Roots owner Jon Dressler signed a lease on the space formerly occupied by e2 emeril's eatery, Emeril Lagasse's restaurant, in the Mint Museum building, back in the fall. E2 closed in 2015, and the restaurant had been unoccupied since. Construction will begin soon.
With the construction boom of offices and apartment buildings on that end of uptown, Dressler says he believes the area can now support a restaurant of that size. Fin & Fino will have the most space of the Rare Roots Hospitality restaurants, which includes Dressler's, Dogwood, and The Porter's House, though the main dining room is similar in size to that of Dogwood. There is a larger bar, as well as two private dining rooms.
The menu will have a seafood focus, complete with a raw bar. The interior, designed by Kim Dressler, will evoke the ocean with white tile, stainless steel, and sea glass tones, giving it a seaside feel while remaining upscale.
As with his previous restaurants, Fin & Fino will open with a number of staff moved from other concepts. Rare Roots executive chef Scott Hollingsworth will oversee menu development, and Dogwood chef Ryan Daugherty will shift to be the head chef in uptown.
Brittany Kellum will run the restaurant's bar program with help from Rare Roots beverage director Brian Lorusso. Kellum currently works behind the bar at Dogwood Southern Table, and is someone to watch closely in the city's bar scene. Her drinks are balanced and finessed, and she's beyond ready to run a bar of her own. Tim Buchanan will move from The Porter's House to be general manager, giving Fin & Fino a stellar opening staff.
Fin & Fino was one of the several restaurants in town whose permits were held up by the county government computer hacking, but permitting is once again moving. If all continues as planned, the restaurant will open in early spring for lunch (Monday-Friday) and dinner.