Rasslin's Long Charlotte History
Once upon a time, professional sports in Charlotte meant one thing: wrestling.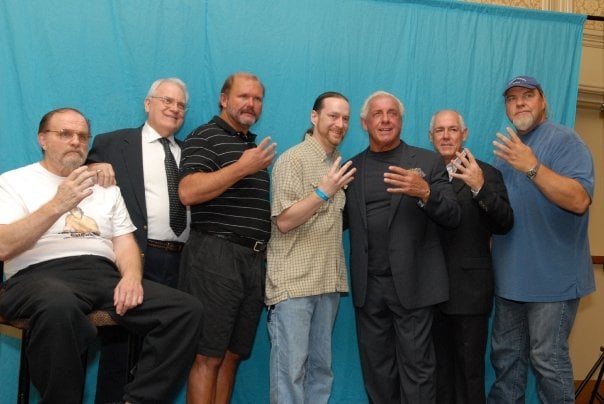 When the original Four Horsemen—Ric Flair, Ole Anderson, Arn Anderson, and Tully Blanchard—reunited for the first time in twenty years at the NWA Wrestling Legends Fanfest in August 2009, the University area Hilton was overrun with fans eagerly waiting in line for signatures and photographs.
"The Horsemen started at noon and signed their last autograph at 8:15 that night," says Greg Price, who organizes Fanfest organizer. He had to extend the session to accommodate all the fans. The 2009 installment of the annual old-school wrestling convention (its ninth) attracted more than 1,200 fans. This was twenty-two years after Charlotte-based Jim Crockett Promotions was sold to Ted Turner and refashioned as World Championship Wrestling. Imagine what it was like in the 1980s when the Horsemen and their opponents were the city's rock stars.
Professional wrestling in Charlotte dates back to 1933, when promoter Jim Crockett Sr., a Jackie Gleason-like character who preferred custom suits for his more-than 300-pound frame, moved here to promote entertainment and sporting events. Crockett promoted Glenn Miller and Henry Mancini concerts and the Harlem Globetrotters, but "wrestling ended up being the mainstay," explains his son David Crockett, who, along with his siblings, inherited the wrestling business after his father's death in 1976. Jim Crockett Promotions booked weekly, biweekly, and monthly wrestling events in the Carolinas, the Virginias, Tennessee, and Kentucky. The wrestling was part of WBTV's lineup when the station went on the air in 1949. David Crockett attributes its success to its speed. "Our wrestling in the South was quick paced and very athletic," he says. "Up North it was a lot of Greco-Roman style."
Jim Crockett Sr. often operated on handshake deals and had a knack for attracting talent. Says George South, a regional mainstay who at forty-seven wrestles to this day: "Everybody wanted to come here because the weather was good, the money was good, and the travel was easy."
The sport's popularity continued into Crockett's fifth decade under the second generation's guidance and abetted by the booking prowess of Dusty Rhodes. The business reached its peak in the mid-1980s. Remembers Tully Blanchard, "Wahoo McDaniel wrestled Flair and I wrestled Dusty at what is now Bojangles Arena on Christmas afternoon, and it was a traffic jam."
With Crockett Promotions' shows airing nationally on TBS, Charlotte-based wrestlers became celebrities in their own right. Blanchard recalls actor Gene Hackman coming backstage in L.A. to have his photo taken with he and Arn Anderson.
In 1986 four wrestling shows drew a total of 46,000 fans to the Charlotte Coliseum in a little over two months. "Where else do you find you can sell over 40,000 tickets in a city that size?" says Jim Cornette, the mouthy manager of the Midnight Express tag team, who lists those gate totals in his book The Midnight Express and Jim Cornette: 25th-Anniversary Scrapbook. "Wrestling does not draw that now. I don't know a city in the country per capita that drew better than Charlotte in 1986."
The success was hard fought. Jim Crockett Jr. raced WWF (now WWE) to acquire new territories and cover TV markets. Yet the golden era was short-lived. The Crocketts sold the business to Ted Turner in 1988.
"Wrestling in Charlotte began to fade," remembers South, who still meets fans angry about the move. "Rasslin' had been here for fifty years and all the sudden it just stopped."
While Ric Flair sightings are common in Charlotte, many wrestlers moved away, and a few retired here. WWE rolls into town every six months, but independent wrestling still has a local foothold. Events are usually relegated to VFWs, high school gymnasiums, and armories in outlying areas. Aspiring stars and second-generation grapplers train in the back of warehouse dedicated to HighSpots, an online retailer that sells wrestling biographies, DVDs, belts, and action figures worldwide out of a business park off Wendover Road.
While Charlotte can't recapture the magic of 1980s wrestling, Fanfest organizer Price, a former wrestling photographer and promoter who owns the rights to the National Wrestling Alliance name, hopes that new fans can discover its magic through family-friendly indie events or at least re-live it during Fanfest (which takes place August 5 through 8).
"The entire weekend will stay with me until the day I die," says Adrian Rohr of last year's Fanfest. The thirty-four-year-old and lifetime Charlotte wrestling fan was one of hundreds who turned up to see the Horsemen reunite. "As a kid I hated [the Horsemen] so much and couldn't wait for them to be on the receiving end of a beating from one of my favorites. They were so good at what they did."
Adds Cornette, who compares Charlotte during his seven years there to Camelot: "It was so culturally ingrained here in the Carolinas. There were no professional sports here. Ric Flair was the sports hero for the Carolinas. All the wrestlers were recognized. We were the pro-sports celebrities. The wrestling was so good and stars that came from there have been so remembered."