Real Estate Pros Talk Exterior Design Trends in Charlotte
In a housing market as dynamic as Charlotte's, these trends can change as quickly as homes are bought and sold. Here are a few of the features builders and buyers are choosing most this year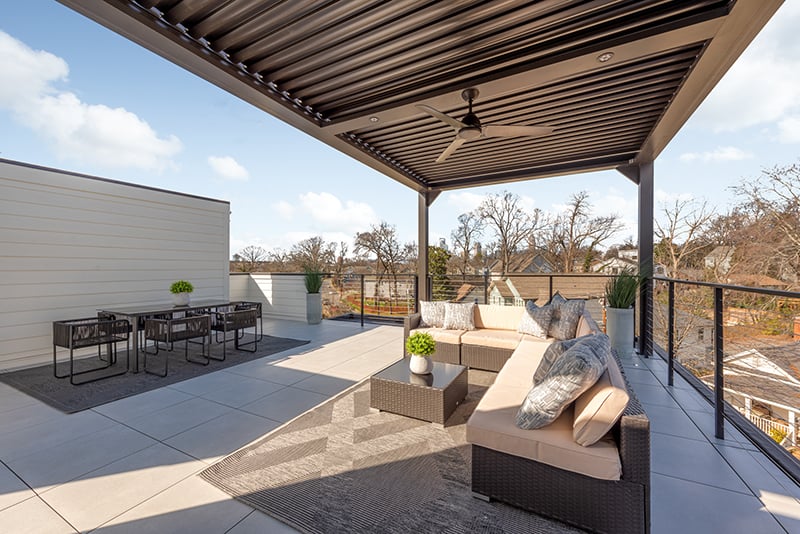 ROOFTOP
TERRACES
They're becoming standard features of the luxury townhomes that continue to crop up all over town, particularly in neighborhoods with views of the skyline. "Buyers in South End and uptown definitely seek out those city views," says Matthew Alexander, a broker for Premier Sotheby's International Realty. "I think (builders) are trying to take advantage of any type of city view, and it's relatively inexpensive to do with a flat roof."
Rooftop terraces, especially with great views, can tack an extra 5% to 8% to resale value, and homes with them tend to sell more quickly. Alexander says owners of newer townhomes often treat their terraces as outdoor living rooms, installing bars with keg taps, flat-screen TVs, cornhole boards, umbrellas, outdoor rugs, and string lights.
They aren't exclusive to uptown-adjacent neighborhoods, either. "Chiott Custom Homes is doing some projects now along Queens Road that will have some really nice rooftop terraces," Alexander says. "You can do a lot of different configurations, and developers know they add value."
---
DARK EXTERIOR
PAINT
In the past three years, homeowners have been less inclined to put white and bright hues on their exterior walls, trim, and front doors. "Now, I'm seeing developers opt for darker exteriors, not just in our market, but other markets across the country," says Maren Brisson-Kuester, a broker with Corcoran HM Properties. "You see it all over Instagram and design posts."
Colors like charcoal and black can give houses a modern visual edge by, for instance, creating a bold contrast against a green landscape. Some owners who don't want to commit to the entire exterior paint the front door or shutters dark and keep the rest light. "I work with Hopper Construction, and they're doing this on their newer projects," Brisson-Kuester says. "Cream and Iron Ore with wood accents are becoming a common choice for exterior builds."
If you want to sell, darker exteriors and accents can make your house stand out. "Buyers don't necessarily request it, but they're always pleasantly surprised they like it as much as they do," she says. "I actually just completed my own home and painted it Sherwin-Williams' Iron Ore, so I fell in love with the trend personally."
---
TANDEM
GARAGES
Traditional two-car garages place vehicles side by side, which doesn't work well on the long, narrow lots where developers build townhomes. Solution: end-to-end, longitudinally as opposed to laterally. "Parking is a premium in urban areas, so it's becoming more common for builders to include tandem garages in three- or four-level townhomes," says Lisa Sherman, a sales consultant with Empire Communities. "Typically, it's more expensive to go out than it is to go up."
Sherman has sold units in Landings at NoDa and West End Towns, a new townhome community in Seversville, and garages are standard in both. They offer a mix of 16-foot-wide tandem garages and traditional side-by-side garages, which are 21 feet wide. Tandems come with an unavoidable drawback: In two-car households, the one parked closer to the door sometimes needs to be moved to let the other one out. But if you have just one car or truck, they're great for storing smaller motor vehicles like Jet Skis and scooters.
Tandem garages save on materials, too. They require one small door and they're less of an eyesore than their large, front-facing counterparts, which can become the unintended focal point from the curb. You want people to admire your home, not your garage. "In (our townhomes), you don't really see the garage because it's tucked in the back," Sherman says. "At West End Towns, they all have driveways, too. It's a newer trend, but awesome to have."