Real Estate's Silver Lining: Decreases in Sales Prices and Interest Rates
With home prices still down, opportunities abound close to uptown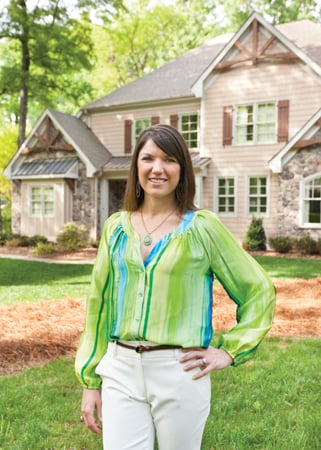 David Sheehan knew it was time. He'd purchased his 2,200-square-foot Plaza Midwood home in 2010 and wanted something larger, with a bigger backyard for his six-year-old daughter, Ava. "I felt like I was going to have to move out to south Charlotte to get what I wanted," says the thirty-three-year-old attorney. "My brother always jokes that you can have a 6,000-square-foot home, a basketball court, and a swimming pool—all for $600,000 in Ballantyne. But I want to be close to where I work in uptown."
Convinced he couldn't afford a home in neighborhoods like Foxcroft, Myers Park, and Eastover, Sheehan resigned himself to searching in areas farther away from the city. That is until his Realtor surprised him by discovering homes within his price range in his preferred locations. "I couldn't believe that areas once out of my reach were now within my grasp," says Sheehan.
Sheehan is like many buyers in the market today—taking advantage of considerable decreases in sales prices and interest rates at thirty-year lows. Homes in Dilworth and Myers Park that were once selling for more than $1 million are now in the mid-$700,000s.
"A lot of people with children make that progression to the outer suburbs, but you're starting to see the turnaround," says Ryan Willis of Boxwood Realty. "I feel like it's a better investment to be closer in to town, too. It's the center of the city and there's more to take advantage of in terms of culture, dining, and nightlife."
When Becky Silverstein and her family moved here from Dallas in 2007, they looked for a home in Cotswold, Myers Park, Eastover, and SouthPark. "But the inventory was so low in our price range and the prices were much higher," she says. So they settled on a home in the Arboretum area. "We absolutely loved the home, the neighborhood, everything. But we always wanted to be closer to town."
After following local home prices and interest rates closely the past couple of years, the Silversteins decided to make their move. They found a buyer for their Arboretum home and recently purchased a home in Cotswold, an area that saw an 11 percent decrease in average sales price between 2010 and 2011 alone. "We never really would've been able to get into that house in 2007," says Becky. "We saw it as an opportunity to change our lifestyle. Spend more time as a family and less time commuting."
Although Sheehan hasn't found the perfect home yet, he's confident that he won't have to do any more house hunting in the 'burbs. "If you're in a position to sit back and wait, I think you'll find that house," he says. "The trick is finding everything you want."
Dilworth's Deals
Value seekers looking for a large home near uptown will find a lot to like in the current market. Here are three deeply discounted Dilworth properties (one active, two sold) that highlight the area's activity.
Highest listing price: $1,050,000 (2008)
Current listing price: $850,000
Year built: 1941
Square feet: 3,200
Beds: 4
Baths: 4
Acreage: 0.19
Highest listing price: $1,139,000 (2008)
Sale price: $625,000
Sale date: 3/14/12
Year built: 1940
Square feet: 3,660
Beds: 5
Baths: 3
Acreage: 0.10
Highest listing price: $1,024,000 (2007)
Sale price: $750,000
Sale date: 1/3/2012
Year built: 1929
Square feet: 3,140
Beds: 4
Baths: 3
Acreage: 0.30