Real Wedding: Aimee & J.T.
September 25, 2010 Old Orchard Creek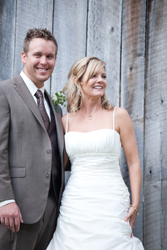 Though J. T. Fink and Aimee Belk, Denver, N.C. residents who work for Bank of America, got engaged on the beach at Emerald Isle, they dreamed of an autumn orchard wedding. Luckily, they knew just the spot. "My uncle owns Old Orchard Creek in Lansing [North Carolina]," says the bride. "It's beautiful! We were married in the apple orchard and had the reception next to the blueberry orchard."
Aimee, radiant in a Paloma Blanca gown from Mecklenburg Bridal, was unaccompanied as she entered the grove. "My father passed away in 2008," she says. "J. T. felt my dad had already 'given me away' based on a conversation they'd had while he was in the hospital." J. T. wore a suit purchased from Macy's, and Janice Odom, a friend of Aimee's family, led the couple in hand-written vows.
Afterward, chef Chris Coleman catered a reception feast of glazed chicken, pulled-pork sliders, and baked mac 'n' cheese, followed by a four-tier cake by Stick Boy Bread Co. for the ninety-three guests. After hours of dancing to the Scoot Pittman Trio, the attendants moved the party to a rental cabin. "Though we had our own cabin, we ended up staying with the rest of the bridal party and spent our wedding night in a bunk bed," laughs Aimee. "But we left a day later for St. John!"