Real Wedding: Andrea & Lucas
May 14, 2011: Faena Hotel + Universe Buenos Aires, Argentina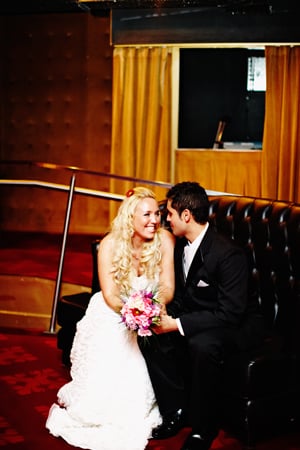 The love story of Andrea Perullo and Lucas Ledesma Pavon spans seven years, 5,000 miles, and two continents. It was love at first sight.
Andrea, a Charlotte-based doctor of Chinese medicine and travel photojournalist, met Lucas, a dashing secret service agent for the president of Argentina, and the two began a long distance love affair.
She learned Spanish. He flew to the Big Apple. They met in almost every country in South America.
Five years later, Lucas proposed to Andrea on a sandy beach in Brazil. Although they decided to reside together in Charlotte, the couple chose a glamorous hotel in Buenos Aires, Faena Hotel + Universe, for their wedding.
Together, they planned the entire ceremony, from writing their own vows to designing custom rings. Andrea displayed vintage suitcases, antique globes, and masks from around the world for a travel theme. From invitations to menus to vows, the entire wedding was in both English and Spanish. Seventy guests flew to Argentina from Australia, China, and the U.S. for the sunset ceremony, nine-course feast, live music, and the finale of an exquisite dulce de leche cake with dark- and white-chocolate icing.
Good friends serenaded the wedding couple with love ballads, and the bride's best girlfriend created a slideshow of their travels around the world. The groom chose the song for the couple's first dance, "Bésame Mucho," and they've been kissing ever since.