Real Wedding: Ashley & Scott
June 1, 2013: Family Friend's Home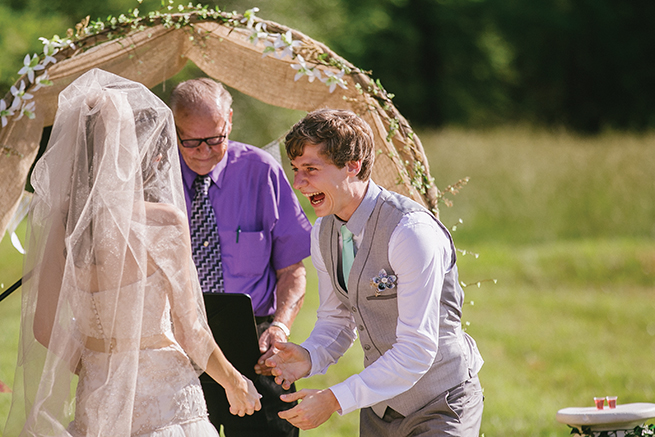 Scott Mason might win the award for best groom reaction. His absolute joy completely overwhelmed him when he saw Ashley Fragas walking through the doors to their outdoor ceremony. She was indeed stunning in her champagne lace and tulle Justin Alexander gown, on the arm of her father, in his Army dress blues.
The bride's grandfather officiated and helped them not only to recite their own vows but asked witnesses to come forward to promise to help honor their marriage. Customizing their ceremony by incorporating several favorite marriage traditions from various faiths, the bride and groom took communion and washed each other's feet, the ancient Jewish ritual symbolizing their love and service to each other, while friends who traveled from Greensboro to Washington sang the couple's favorite songs and hymns.
Guests cooled off with handmade paper fans and took hayrides through the woods and open fields of a family friend's property to a vintage car barn. The bride made all of the international-themed décor for the reception—flowers, garlands, paper streamers, balloons, and signs that showed the distance to Hawaii, where Ashley's family is from, and England, where Scott is from. Goodman Catering served food from around the world, including English savory pastries and Hawaiian kalua pig. They ended the evening with heart-shaped Chinese lanterns, sparklers, and a send-off in a vintage 1957 Thunderbird.