Real Wedding: Brittany & Clint
April 21, 2013: Morning Glory Farm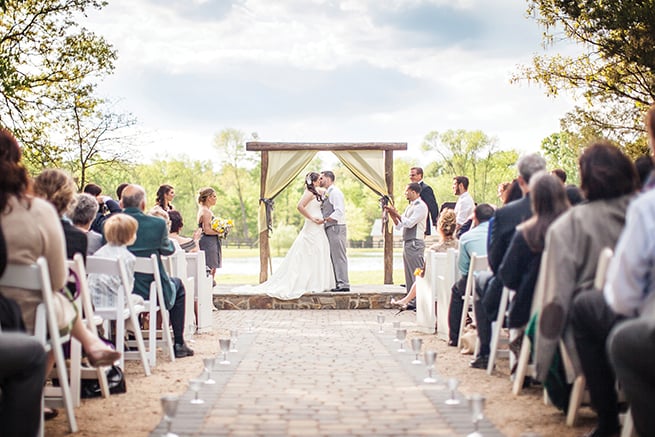 These Charlotte natives met at Ridge Church and Skyped daily as "interested friends" during her summer abroad in Berlin. Inseparable within a week of her return, Brittany Skala says, "I guess you'd say we were modern/old-fashioned that way." Five years later, Clint Boland nervously proposed in Central Park. The bride, a photographer for Discover Love Studios, and Clint, a videographer with Microhound Media, assigned each other the tasks of recording the day.
"We wanted our wedding to be fresh and clean, simple," says the bride, "like that feeling you get when you walk into sunshine in the morning, or the smell of linen." As soon as the pair found Morning Glory Farm, with its unique packages and barn full of props, everything came together. Dr. Frank Turek delivered a personal homily with a sand ceremony—now a precious memento in their home. The couple wrote their own vows, which they have really listened to and soaked in, thanks to Crown Alley's recording of the whole ceremony.
Split Second Sound played classic oldies, and Visions Catering prepared a mouthwatering buffet of honey-lime glazed salmon, Parmesan-crusted chicken, sweet potatoes, and pasta. Guests savored red velvet cake or vanilla cake with raspberry filling from The Wow Factor Cakes before sending the newlyweds off to their Montego Bay honeymoon to swim with dolphins.