Real Wedding: Megan & Mitch
September 25, 2010 VanLandingham Estate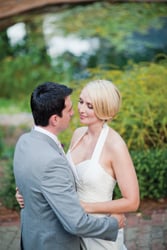 When the 2009 swine-flu outbreak interrupted their planned vacation to Mexico, it was a blessing in disguise for Megan Murphy, a business-travel client manager, and Mitch PeGan, a medical-device salesman. The couple rerouted to the Bahamas, where the music lovers discovered the Marley Resort & Spa—and got engaged.
For their wedding, they chose to show off their hometown. "We love Charlotte and wanted our families from the Midwest to see our life," shares the bride. On the big day, 200 guests gathered on the grounds of the VanLandingham Estate to watch Megan, wearing a Modern Trousseau gown from Hayden Olivia Bridal, exchange handwritten vows with Mitch, outfitted in a gray Theory suit, as the Rev. Tara O'Neill presided.
Afterward, guests mingled around the estate, enjoying food stations and a candy bar masterminded by All You Can Treat. Atlanta DJ Steve DeNiro got the party started, but the after-party, held at Whiskey Warehouse and arranged by wedding and event planner Ivy Robinson, was his true time to shine.
And though the couple had two hotel rooms reserved (one at the estate and a second at the Charlotte Marriott City Center), they ended up holding an after-after-party at their house for the rest of the night. Assures the bride, "We have no regrets!"