Real Wedding: Seti & Harry
September 14, 2013: Harvey B. Gantt Center for African-American Arts + Culture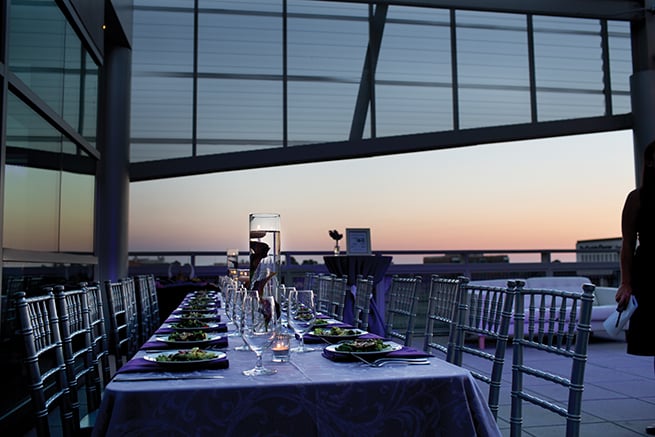 This gorgeous modern bride and groom had their hearts set on a rooftop wedding uptown, with a contemporary reception combining Harry Byrd's Southern roots and Seti Yemane's Ethiopian culture. Family from Sweden, France, and Canada and Richmond and D.C. descended upon the city for a long weekend of festivities and celebration.
While Pastor Greg Baker from Central Church of God performed a traditional American ceremony, Seti found a piano version of Ethiopian wedding song "Musheraye" ("My Bride") to play as her parents walked her down the aisle. After guests mingled on the mezzanine for specialty purple Love Potion cocktails and Ethiopian sambusas, Mr. and Mrs. Byrd danced under a canopy of palm fronds, with her Ethiopian relatives singing and ululating to start the rooftop festivities.
Kelly Martin of Head Over Heels found silver Chiavari chairs from Linen Loft and a mix of soft purple damask and silver linens from Party Reflections for a clean yet romantic look. She styled cylinder vases with submerged purple calla lilies and pillar candles to suit the modern aesthetic of both the couple and the Harvey B. Gantt Center. Southern Gourmet presented delicious Southern staples, like Cape Fear crab cakes, Charleston shrimp and grits, and Vidalia chicken; while International Café served Ethiopian favorites—chicken doro, beef tibs, vegetables, and spongy yeast bread injera. Guests danced to Charlotte DJ Services' mix of Justin Timberlake, Robin Thicke, Jay Z, and Ethiopian music until 1 a.m., when the couple passed along a line of elders, as is customary in Ethiopia, for a prayer and blessing from each before departing for their St. Thomas honeymoon.